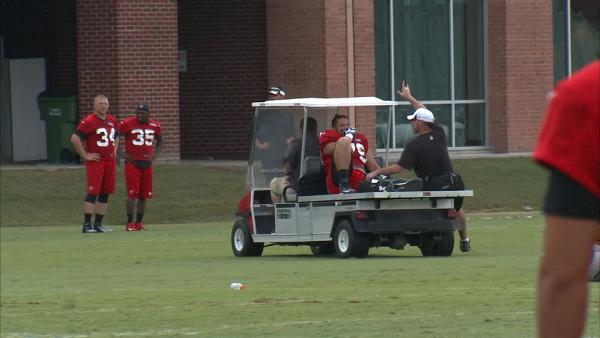 ATLANTA (CBS ATLANTA) -
The diagnosis is in for the Falcons' Mike Johnson and it isn't good.
The fourth-year offensive lineman suffered a dislocated left ankle and fractured his fibula during practice on Tuesday.
Because of the injury, he will likely miss the entire season.
CBS Atlanta News Sports Director Larry Smith spoke to Dr. Sam Labib of the Emory Sports Medicine Clinic.
He is an ankle specialist who will operate on Johnson in the next few days once the swelling goes down.
While he can't comment on Johnson's specific injury nor his timetable for recovery, he is optimistic that the former Alabama star can be 100 percent again.
"Once this is all said and done, we wait six to eight weeks for the bone to heal. Then we start aggressive physical therapy. We're very optimistic, obviously," said Labib. "I cannot tell you exactly what we are going to do and what the outcome is until I see him and work on him."
Labib says that ankle sprains are the most common injury in sports, making up 10 percent of all emergency room injuries.
Copyright 2013 WGCL-TV (Meredith Corporation). All rights reserved.