AR deputy fired after video surfaces of him shooting small dog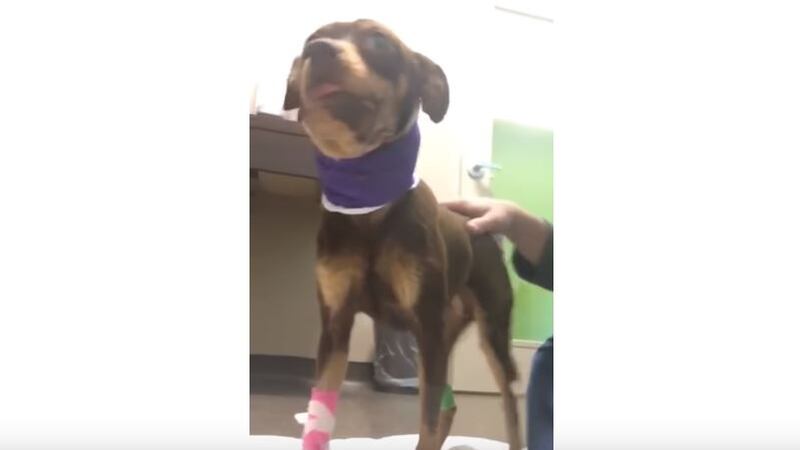 Updated: Jan. 7, 2019 at 11:04 AM CST
FAULKNER COUNTY, AR (WMC) - An Arkansas deputy was relieved of duty after video surfaced of him shooting a small dog.
Twitter user @catiejwoodson obtained video of the incident, which quickly garnered a lot of attention on social media.
(WARNING: THE VIDEO IS GRAPHIC. WATCH AT YOUR OWN RISK.)
Faulkner County Sheriff's Office said their deputies were responding to a call about an aggressive dog.
The dog's owner Doug Canady told NBC affiliate KARK that it all started when a woman pointed a gun at Reese's the dog and said the dog tried to attack her.
"I told her to put the pistol away there is no reason to have it out -- the dog is just barking," Canady said.
The video shows a deputy speaking with a homeowner as two small dogs run around a yard. At one point, one of the dogs starts barking and the deputy shoots the animal.
The sheriff's office identified the officer as Keenan Wallace, a K9 officer, and relieved him of duty the next day, according to KARK.
"My heart broke when he shot her. What did that poor dog do?" Canady said.
Since then, a GoFundMe has been set up to help for the owners to pay for medical expenses for Reese's the dog.
According to the page, the dog's medical expenses are estimated to be between $7,000 and $10,000.
The fund has already surpassed that in two days, nearing $15,000 as of Monday morning.
A video update of Reese's was shared on YouTube with her owner Doug.
According to the GoFundMe, Reese's has had some complications with her emergency vet treatment and is still in need of care.
Copyright 2019 WMC. All rights reserved.