Full investigation promised after Montgomery school shooting
The victim has been released from a hospital. Charges are pending against the suspect.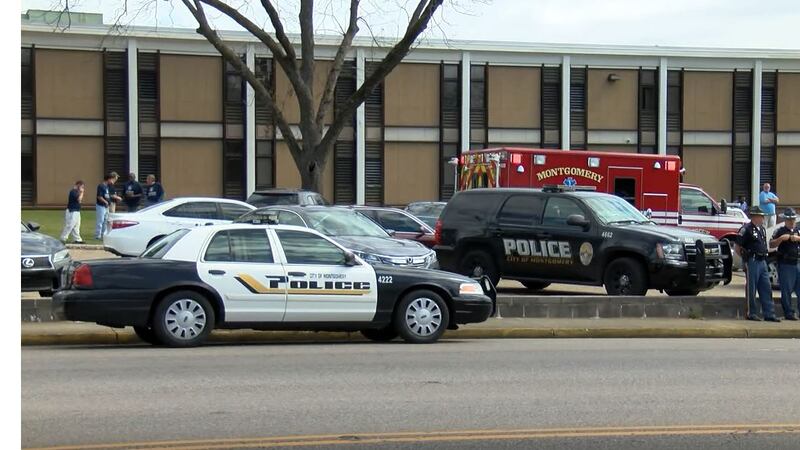 Updated: Feb. 26, 2019 at 6:28 PM CST
MONTGOMERY, AL (WSFA) - New details are being released regarding the shooting that happened at Montgomery's Robert E. Lee High School shortly before 11 a.m. Tuesday.
Montgomery Mayor Todd Strange held an afternoon news conference where he confirmed the 17-year-old victim, shot in the arm while in the school's gym, was treated at an area hospital and later released to recover at home.
Police had already said the unnamed victim suffered a non-life-threatening gunshot wound to the arm, which MPS officials further confirmed was treated by a school nurse until medics arrived.
Strange, who promised a complete investigation, was joined for the news conference at the Montgomery County Board of Education office by multiple other officials. They included Montgomery Police Chief Ernest Finley, Montgomery Public Safety Director Ron Sams, Special Operations Chief Scott Tatum, and Montgomery Public Schools Superintendent Dr. Ann Roy Moore. Each provided updates related to their specific roles in the investigation.
The mayor said - based on current information - the shooting does not appear to be a random act. However, he cautioned the investigation is ongoing. It's also still unclear what the shooter's motive was.
Once the shooting happened, law enforcement converged on the campus. There were no gunshots being fired at the time officers arrived, however, prompting an extensive and time consuming room-by-room sweep.
The suspect, Tatum confirmed, was taken into custody at an off campus location shortly after police responded to the shooting. A handgun believed to be the one used in the incident was also recovered.
While the suspect's name is known only to law enforcement, Tatum said he is a juvenile. Strange added that, based on an "initial indication," the suspect is likely to be a fellow Lee High School student.
Tatum said the suspect is being questioned in police custody and charges are pending. Meanwhile, detectives have already interviewed more than 30 students and faculty members who may have witnessed the shooting.
Sams said student safety was a priority and pointed to groundwork completed long before the shooting that prepared officials for such a day. The director said a recent active shooter exercise was held, and it involved some 300 MPS teachers and a multitude of first responders.
Tatum also credited MPS staff for quickly moving the school into a lockdown mode during the active shooter situation while police rushed to the scene. He also gave credit to the Alabama Law Enforcement Agency, Bureau of Alcohol, Tobacco, Firearms, and Explosives (AFT), and the Federal Bureau of Investigation (FBI) for their help.
[WATCH: WSFA 12 News anchor Sally Pitts did a Facebook Live from the scene.]
The investigation is far from over, and there are a lot of pieces to the puzzle that have not been put into place.
For instance, it remains unclear how the weapon got into the school. MPS spokesman Tom Salter said the campus is equipped with metal detectors, which were in use Tuesday.
It's also unclear how many shots were fired, only that one victim was struck.
Another question relates to the school's access points.
"The main entrance is the front where you have your metal detectors," Moore said. "Lee High however is a very old school with multiple ways of getting in and out and so even though you may deter students or others from going into some of those other entrances, I won't say that it's not possible that sometimes that does happen."
Further complicating matters, the gym is an out-building on the campus, which the mayor said could be accessed from outside the main building.
The mayor believes the city's new Star Watch program will be a valuable tool in this case. The program allows police access to multiple security camera feeds in real time, and it's being put to use in this investigation. Strange said some camera feeds from the school have been reviewed but said others still need to be checked.
Moore, who praised the "top notch" cooperation between the school system and law enforcement, said she will review the safety plans at all MPS schools in the coming days.
She, and others, also acknowledged frustration from parents who had to wait across the street from the school for hours, unable to pickup or be with their children due to the lockdown. She said training worked in this situation and added it was "handled in a very, very outstanding manner."
Moore further stated that simply checking out students during such a situation as Tuesday's does not work, and she urged parents to allow law enforcement to do their jobs.
A large number of parents and area residents gathered across the street from the school. In a powerful moment, the crowd joined in a circle and held hands while a man led them in prayer for peace.
Part of the reason the lockdown lasted as long as it did was for safety. It took several hours to take attendance to account for every student, the mayor explained. Tatum added that police also had to conduct secondary safety sweeps to clear the entire campus.
This is not the first shooting incident involving Lee High School. On March 16, 2017 a 15-year-old sophomore was shot in the neck while outside the school talking to friends. The gun was fired from off campus, but the bullet struck an unintended target, police said at the time. Another student, Quinterrious Norman, was charged in that shooting.
Despite this being the second student to be shot at the school in two years, MPS is not part of any plan to allow staff to carry firearms, and the mayor came out against any plan to do so.
"I'm going to be mayor another 10 months," Strange said. "I don't think that we can recommend that we arm teachers and administrators, unless there's a specific circumstance that I can't think of right at this point and time, but at the end of the day that's not our decision. But if they ask for my recommendation, that's what it would be."
"At school we don't pass out guns," Moore added. "We pass out pencils and paper. And so then we have to deal with what comes into the school, and we're going to try to manage that situation at a higher level so that we don't have that potential for someone being injured the way we had today."
Lee High School will be open on Wednesday and additional councilors and security will be in place.
Copyright 2019 WSFA 12 News. All rights reserved.