Shower Power: Nonprofit starts campaign to give Birmingham homeless a fresh start
Updated: Apr. 4, 2019 at 6:52 PM CDT
BIRMINGHAM, AL (WBRC) - If you look good, you feel good. That's why Be a Blessing Birmingham is launching a campaign to help the homeless have a fresh clean start with a shower.
"You just don't know the power of a shower and what it does for a person living in the streets. It can give them the confidence they need to apply for a job, get that job, and become self sufficient to get off the streets," says Erica Robbins, the founder of "Be a Blessing Birmingham"
The grass roots non profit is raising money for a mobile shower unit. It's a trailer that has at least 3 stalls for showers, and could be moved and set up around the city.
"Everyone deserves a shower. Just like everyone deserves to have a place to sleep, everyone deserves food and water. These are basic human necessities that everyone deserves to have," says Robbins.
She is passionate about helping the homeless. In the last four years since she started "Be a Blessing Birmingham," she's become an advocate for the street homeless in Birmingham. They know her and trust her. One need continues to repeat in her countless conversations with the homeless, and that is a place to get clean.
"I decided this was something I wanted to pursue after many nights of coming home from either being out here (Linn Park) or being at a warming station and having people coming up to me and asking me if there is anywhere they can take a shower, and then I go home and get in my shower and cry because I am able to take a shower knowing that I had people that I had to tell that I didn't' have a place for them to go," says Robbins. "It's not fair. Its human decency and common compassion to make showers available to anyone."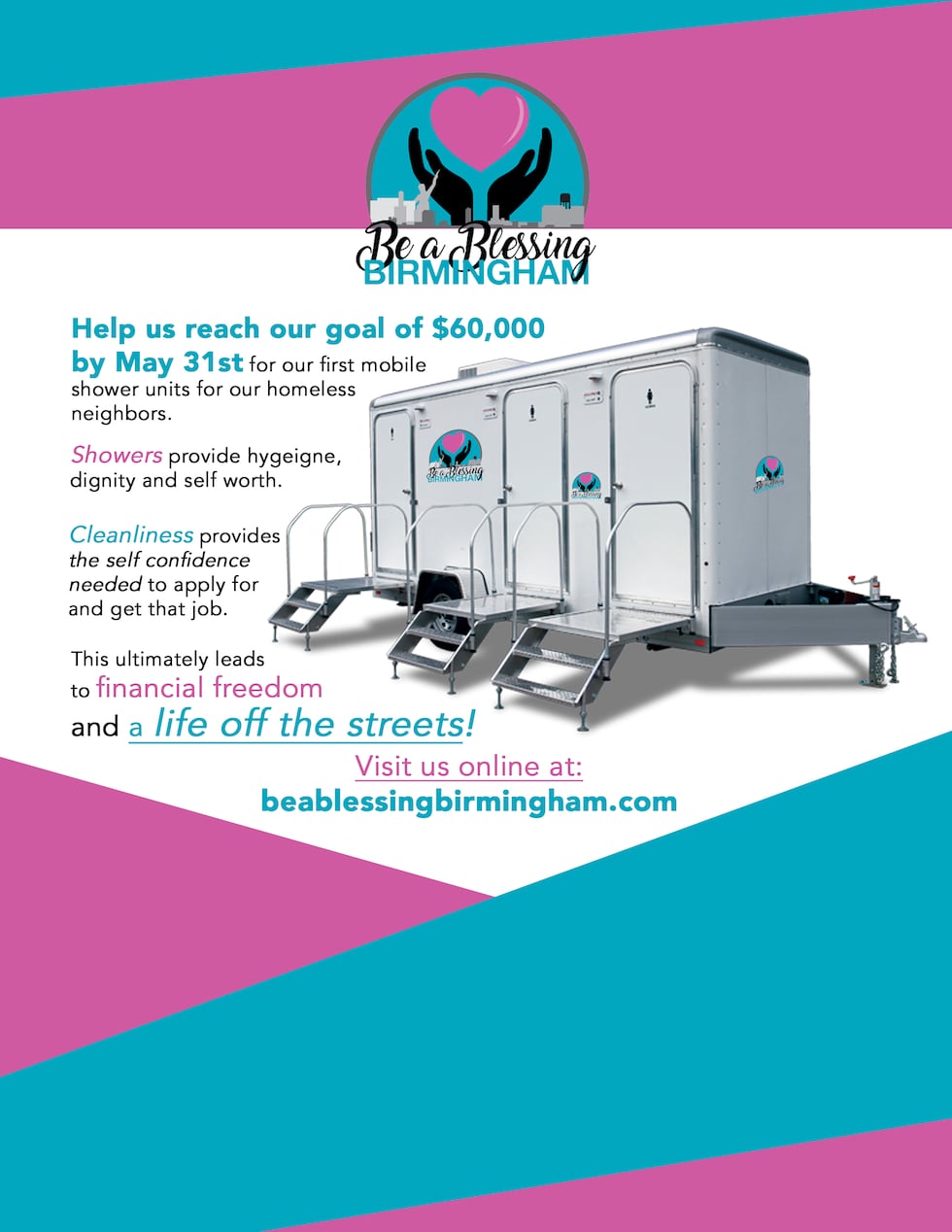 The portable units are used in other cities like Birmingham. Robbins has been talking through the details with other non-profits, but she says everywhere the report is the same. A mobile shower boosts confidence, and that leads to jobs and self-sufficiency.
"When you're able to take a shower then you feel better and then you feel like you're able to do what you need to do to get your life back on track," explains Robbins. "A lot of people that are out here, they don't want to be out here and they need a hand up. Something as small as a shower is that stepping stone to help them gain independence so they can get off the streets and that's in turn better for us as a community."
The shower costs about $60,000. Be A Blessing Birmingham is hoping to have the money raised by the end of May, so they can have the shower in place before the hot summer months. You can find out more about how to donate on their Facebook page.
Copyright 2019 WBRC. All rights reserved.