Alabama House passes bill that would ban nearly all abortions
Updated: May. 1, 2019 at 4:42 PM CDT
MONTGOMERY, AL (WSFA) - The Alabama House of Representatives passed a bill Tuesday evening that would ban nearly all abortions in the state.
House Bill 314 passed with a vote of 73-4. It will now go to the Senate for debate.
According to a news release from the House Democratic Caucus, several Democratic representatives walked out of the House chamber in protest.
The bill would make it a felony for someone to perform or attempt to perform an abortion. There are exceptions in cases where the mother's health is at risk.
Rep. Terri Collins, R-Decatur, is the bill sponsor. She has said the intent of the bill is for it to challenge the U.S. Supreme Court's Roe v. Wade decision.
Opponents say the proposal is unconstitutional and the legal fight would cost the state money.
"This bill is not only unconstitutional, it is fiscally irresponsible and inserts government into what should be a personal medical decision," said Rep. Napoleon Bracy. "Given the massive challenges our state faces, including the pressing prison crisis, it is disgraceful that we are considering - again - spending potentially millions of taxpayer dollars on what is surely to be a failed lawsuit."
During the debate, someone in the House chamber gallery put a green substance on the glass walls.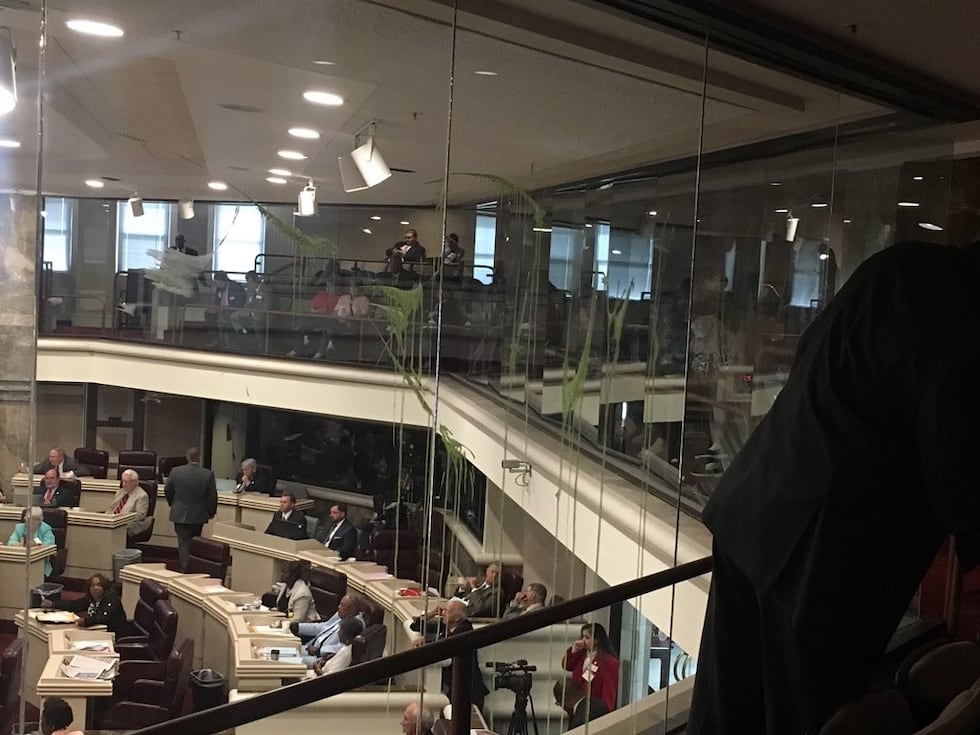 According to security guards, 48-year-old Anne Susan DiPrizo of Vestavia Hills was arrested and charged with disorderly conduct. House Security said she observed the debate and loudly began yelling the word "dumb." She took out a container of sidewalk paint and began to mark up the window. House security came over and DiPrizo allegedly swung and threw paint on them.
House Security arrested her, and she was taken to the Montgomery County Jail.
Copyright 2019 WSFA 12 News. All rights reserved.