More details released about slain Auburn officer, suspect
Updated: May. 20, 2019 at 6:41 PM CDT
AUBURN, Ala. (WSFA) - The names of an Auburn police officer who was shot and killed Sunday night and the two other officers who were injured were released Monday morning.
Auburn Mayor Ron Anders Jr. identified the officer who died in the line of duty as veteran Officer William Buechner, pronounced Beek-ner. He served on the force for 13 years.
"To Will Buechner, we're sorry. We thank you for giving your life on behalf of all of us to protect us all," the mayor said. "Please pray for his family, his loved ones and his friends. Please pray for the men and women of his other family, the Auburn Police Division."
Merle Henkel, the interim head of school at Trinity Presbyterian School in Montgomery, said the school was deeply saddened to hear of Officer Buechner's death. Known as BJ to many, Buechner was a 2000 graduate of the school.
"While I did not know BJ personally, I've spoken to several faculty members and staff members on campus today and he was remembered fondly by all who knew him," Henkel said. "He was a true hero who gave his life serving others. Our prayers and thoughts go out to his family, his classmates and the Auburn community."
He leaves behind a wife, son and step-daughter.
Lee County Coroner Bill Harris said an officer, later confirmed to be Buechner, was airlifted from the scene but died at an area hospital. Two other officers were injured but are expected to recover, according to Auburn Police Chief Paul Register. Buechner's body has been sent to the Frederick Dean Funeral Home in Opelika.
The officers were responding to a domestic disturbance call, but when they arrived on the scene they were fired upon by the suspect.
Officer Webb Sistrunk, an accomplished K-9 officer, is still being treated at a hospital. He's been with the department since 2011. Officer Evan Elliott, a 2018 addition to the Auburn police force, was treated and released.
The shooting happened just after 10 p.m. Sunday at a home in the 3000 block of Wire Road. Our crew found the scene at Arrowhead Park, a 165-lot mobile home park a short distance from Auburn University. You can hear some of the 911 audio in this NBC News report.
The suspect, Grady Wayne Wilkes, 29, of Auburn, was taken into custody around 7 a.m. Monday in the 900 block of Lee Road 9, within a mile of where the shooting happened. The capture came after citizens reported suspicious activity.
Cameras captured video of Wilkes being taken into the Lee County Detention Facility. The barefoot and shackled suspect was led into the building with a coat covering his head. A mug shot later released by the sheriff's office showed injuries to the man's face.
Wilkes, "who was in the military for a number of years," worked locally and did not have any prior dealings with the Auburn Police Department prior to Sunday's shooting, Chief Register said.
The chief declined to discuss specifics of the case due to the ongoing investigation. He could confirm the person who called in regards to the initial domestic situation escaped without injury.
Lt. Col. Tim Alexander, director of public affairs for the Alabama National Guard, confirmed Wilkes has been with the Alabama Army National Guard since December 2010. Wilkes is an infantry fire team leader with a rank of corporal.
Wilkes is now charged with capital murder, three counts of attempted murder, and second-degree domestic violence and is being held without bond. The suspect is expected to sit before a judge in the next few days.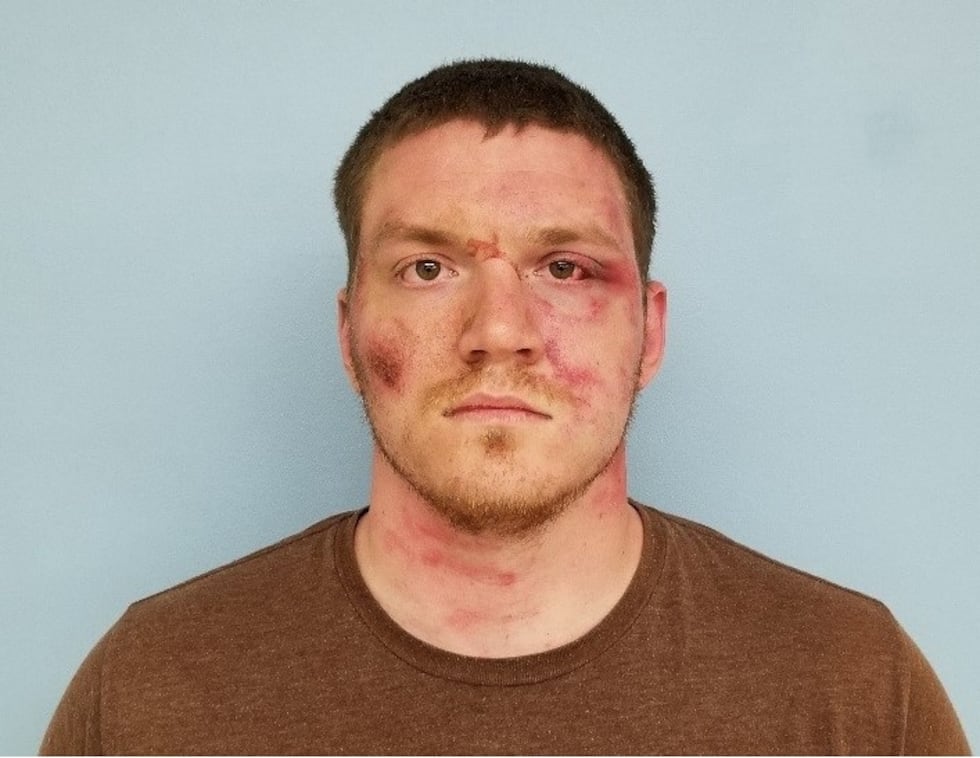 Denoting the seriousness of the charges Wilkes faces, Lee County District Attorney Brandon Hughes said, "yes, if you shoot a police officer, we are going to pursue the death penalty, absolutely."
"Because of the hard work of the men and women of the Auburn Police Division, we can rest knowing that the person who is alleged to be responsible for this act is in custody," Mayor Anders said. "Even as they grappled with their loss, our men and women in blue and their colleagues throughout the East Alabama law enforcement community worked tirelessly through the night to find the man responsible.
Multiple agencies are involved in the investigation, which is being led by the Alabama Law Enforcement Agency. Assisting agencies include the Auburn Police and Fire Divisions, the FBI, the Bureau of Alcohol, Tobacco, Firearms and Explosives (ATF), U.S. Marshals Service, Alabama Department of Forensic Sciences, Alabama State Medical Examiner's Office, Lee County District Attorney's Office, Lee County Sheriff's Office, Lee County Coroner's Office, Opelika Police Department, Auburn University Department of Campus Safety and Security, Southwest Lee County Fire Department, Valley Police Department, East Alabama Medical Center Emergency Medical Services and The Alabama Department of Conservation and Natural Resources.
Register said he could not remember the Auburn Police Department losing an officer in the line of duty in the 31 years he's been on the force. The shooting happened just months after another Auburn police officer was shot in the line of duty, but survived. Patrol Officer Justin Sanders, 30, was injured in February while investigating a robbery.
Access to the mobile home park where the shooting happened has been blocked by law enforcement for most of the day. Late Monday afternoon, two rollback trucks were seen leaving the park carrying with two police patrol units. A WSFA 12 News reporter said it appeared at least one window had been shot out.
Monday 5:30 a.m news conference
Sunday night scene video No. 2
Sunday night scene video No. 1
Copyright 2019 WSFA 12 News. All rights reserved.