Kamala Harris gives rare endorsement in Montgomery mayoral race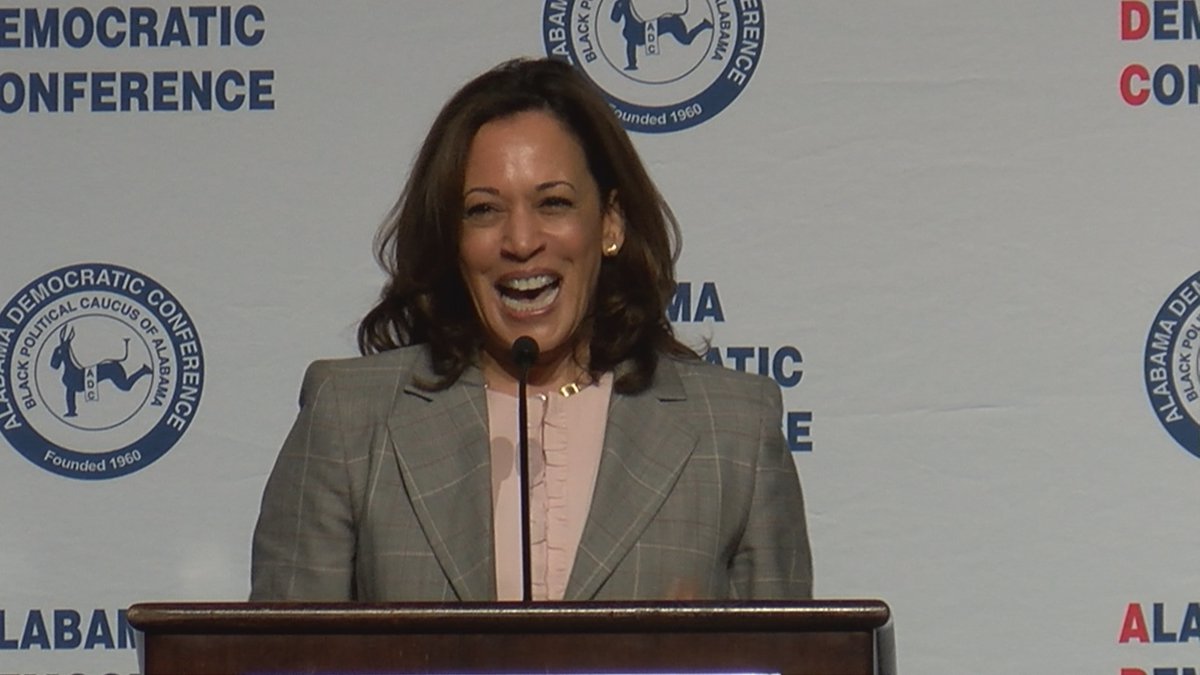 Updated: Aug. 30, 2019 at 4:30 PM CDT
MONTGOMERY, Ala. (WSFA) - Montgomery mayoral candidate Steven Reed is getting an endorsement from a national figure also looking to make history by winning a higher office.
Friday, U.S. Sen. Kamala Harris, D-California, tweeted out an endorsement to her 3.1 million followers congratulating Reed, the Montgomery County probate judge, as he heads into a runoff election in Montgomery's mayoral race. If Reed wins, he'll become the first black mayor in Montgomery history.
Harris, meanwhile, is battling nearly 20 fellow Democrats in an effort to secure her party's presidential nomination for 2020. If she wins, she would be the party's first black female nominee, and possibly the first black female president.
"It's time for a new generation of leadership in Montgomery," Harris' campaign account tweeted, "one that is focused on inclusion, economic growth, and improving public education. I'm proud to endorse him for Montgomery mayor."
Reed retweeted the senator's endorsement to his 785 Twitter followers.
"I know this type of thing doesn't happen everyday," he wrote, "so I'm humbled by the opportunity and grateful for the support."
Tania Johns, Reed's deputy campaign manager, told WSFA 12 News that Reed and Harris have met before, and "they have talked about this race."
The campaign also provided an audio statement from the mayoral candidate in which Reed says he's "grateful" for Harris' endorsement and says, as a former California district attorney and attorney general, "she understands the challenges of keeping our city safe, as well as some of the opportunities in bringing about criminal justice reform."
It's unclear why Harris would offer an endorsement in a city municipal election, especially one more than a thousand miles from her home state, as she focuses on a national presidential campaign. The Harris campaign has not yet responded to requests by WSFA 12 News for comment.
Neither campaign follows the other on Twitter, and a Twitter endorsement by Harris seems to be rare. Including Reed's, Harris has tweeted four endorsements since 2016. The last came in mid 2018 when she threw her support to Democrats Mahlon Mitchell (July 26) in the Wisconsin gubernatorial race and Staci Abrams (May 2018) in Georgia's gubernatorial race.
Harris has made one scheduled campaign trip to Alabama, visiting Birmingham in early June, then traveling to Montgomery to speak at the Alabama Democratic Conference Kennedy-Johnson-King Luncheon.
The Alabama Democratic Conference has not endorsed a presidential candidate yet, but has said it will do so before Alabama's presidential primary. Reed's father, Joe Reed, is the head of the ADC, the black political caucus of the Alabama Democratic Party.
Reed is set to face Montgomery businessman David Woods in an Oct. 8 runoff election. The winner will become Montgomery's next mayor.
Copyright 2019 WSFA 12 News. All rights reserved.