Steven Reed sworn-in as Montgomery's first black mayor
"Today, we are assembled here because we chose destiny over division," Reed stated.
Updated: Nov. 12, 2019 at 5:09 PM CST
MONTGOMERY, Ala. (WSFA) - Placing his left hand on a Bible and his right hand in the air, Steven Reed made history Tuesday morning, reciting the oath of office to become Montgomery's 57th mayor and its first of African-American descent.
Following his swearing-in, Reed shook the hand of each city councilmember and then accepted the mayor's lapel pin from outgoing-Mayor Todd Strange.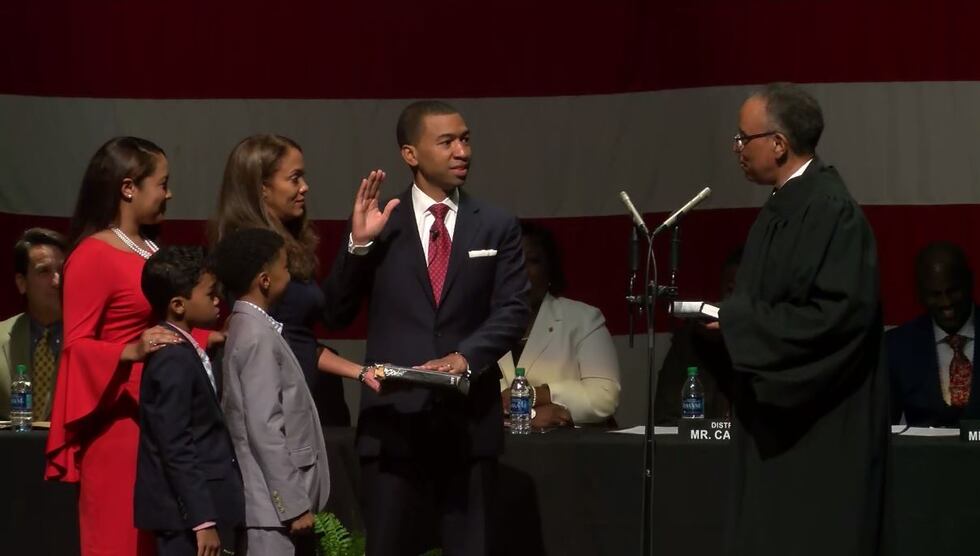 Reed connected Montgomery's historic past to its future and said it will no longer be a hometown for a select few, rather a New South capital for all who live here.
"On this day, we are assembled here because we chose opportunity over opposition," Reed told the audience in a speech of about 20 minutes. "Today, we are assembled here because we chose destiny over division. Today, we are assembled here because we chose the future over fear. Therefore, because our hearts and our actions, I stand here in a position that many of those who were sold on the banks of the Alabama River, just a few feet from here, could only have imagined. This is a culmination of those distant dreams."
Reed stressed that his administration will make sure Montgomery works for everyone no matter their zip code or who they know. He highlighted his family's past, as the son of someone who fought for equal protection under the law for African Americans, now living the dream his parents once imagined.
Reed said Montgomery must lay a new foundation for growth.
"We must lay new fiber, pay our teachers and first responders their worth," the new mayor explained, "implement apprenticeship programs, reinvest in our neighborhoods, and show a stronger commitment to strengthen the ties that bind us together."
Prior to his speech, Mayor Reed's father, Joe L. Reed, spoke, offering his son advice in his new role.
"First, I want to suggest to you, Steve, that you, as you proceed to lead this town, keep God in the forefront. Don't be embarrassed, don't be afraid to pray and don't be afraid to ask other folks to pray for ya. You'll need it."
He added, "there's nothing politically right that's morally wrong," and "give your service, but never your soul."
Reed became mayor in a run-off election, earning 67 percent of the vote.
Prior to the ceremony, a prayer service was held at Dexter Avenue King Memorial Baptist Church. Pastors across the city came together to lead a prayer service for Reed, city government and the City of Montgomery.
Joining city representatives for the prayer event were state officials including Gov. Kay Ivey, Attorney General Steven Marshall and Secretary of State John Merrill.
In addition to Reed, the Montgomery City Council saw three new members sworn-in at a ceremony held before a capacity crowd at the Montgomery Performing Arts Center.
Councilman Charles Jinright was elected President of the Council and Councilman Tracy Larkin was elected President Pro-Tem, both by unanimous decree.
Prior to the ceremony ending, Mayor Reed performed the Morehouse College Hymn with his alma mater's alumni association.
Copyright 2019 WSFA 12 News. All rights reserved.