WSFA chief meteorologist calls on leaders to fix dangerous radar gap
Published: Dec. 20, 2019 at 6:13 PM CST
MONTGOMERY, Ala. (WSFA) - In a severe weather situation, meteorologists rely on the invaluable information provided by advanced radar systems to warn viewers of approaching storms. But what happens when there's a "gap" in radar coverage?
It's a situation that can present major challenges to a forecast and essentially leaves forecasters blinded because in many cases, they're unable to see the most dangerous parts of approaching storms.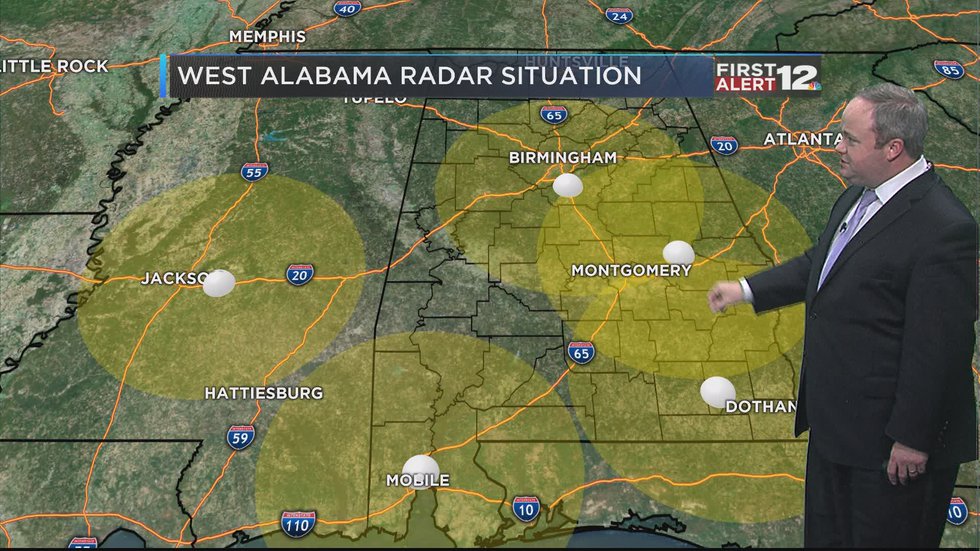 It happened Tuesday night in west Alabama when an EF-2 tornado touched down. Thankfully, there were no major injuries, but that might not be the case next time. And knowing Alabama's weather and tornado history, next time could be very soon.
More than 300 people have died in Alabama since 2000 because of tornado-related injuries.
WSFA 12 News Chief Meteorologist Josh Johnson is well aware of the gap in radar coverage, and he's asking the state's political leaders to fix it.
Johnson took to Twitter and asked several political leaders about the problem, and some responded.
Both U.S. Senator Doug Jones, D-AL, and U.S. Representative Bradley Byrne, R-Dist. 1, said they are aware of the issue and are working on solutions.
Byrne is working to set up a conversation about the matter.
Jones has also called on Neil Jacobs, the nominee to serve as the Administrator of the National Oceanic and Atmospheric Administration (NOAA), to call attention to the gaps in weather radar capabilities in Alabama. He's requested a meeting on the issue before the Senate votes to confirm him.
"Alabama is particularly susceptible to damaging storms as was evidenced by the deadly tornadoes in Lee County last year," Jones said. "Closing radar gaps and providing better warning to communities will save lives in my state."
Copyright 2019 WSFA 12 News. All rights reserved.