Mike Leach says 'pride, tradition' brought him to Starkville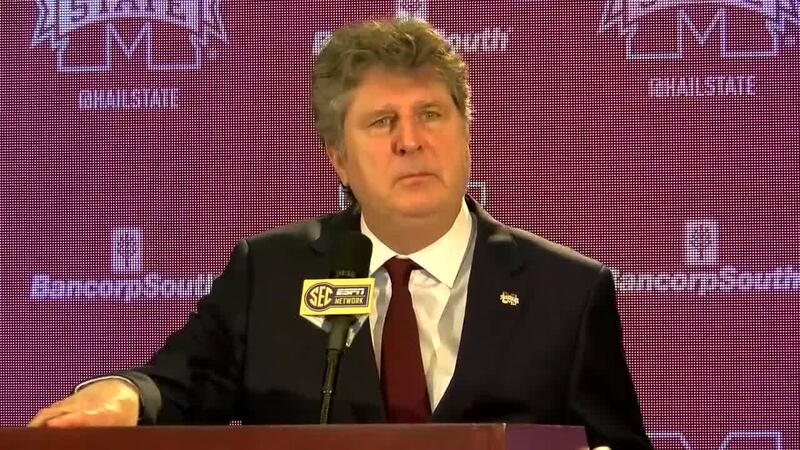 Updated: Jan. 10, 2020 at 1:14 PM CST
STARKVILLE, Miss. (WLBT) - Mississippi State introduced Mike Leach as their new head coach Friday afternoon.
Athletic Director listed off a number of reasons they were interested in hiring Coach Leach.
"Most importantly, we hired Mike Leach because he's a proven winner," Cohen said.
President Mark Keenum presented Leach with his own special cowbell.
"First thing I want to say is how honored I am to work for John Cohen and also Dr. Keenum," Leach opened with.
He said he's always been familiar with MSU and the pride that exists there. He says he's proud of his time with Washington State but is excited about his next chapter in Starkville.
Leach has ties to a couple former Mississippi State coaches: He said former MSU coach Jackie Sherrill took him under his wing when he was younger, and when he started out as a young baseball coach he had a textbook written by Ron Polk.
He said he still uses that book and what he's learned from it while he's coaching football.
Leach acknowledged the problems with installing his offense at MSU. He typically runs an air raid-style offense--much different from the ground and pound style common in Starkville.
He said he wants as much action and as much work he can get in a short amount of time. He said he's always been able to install his offense fast, but admitted that he knows things won't be perfect right away. He said he believes in the air raid offense as it's produced a number of Super Bowl winning teams like the Patriots, Packers and Saints in recent years.
Leach said he has the opportunity and resources to be successful at MSU, and it's a job he chose because of the pride and tradition in Starkville.
Of course, he was asked about the rivalry with Ole Miss, who also has a new head coach in Lane Kiffin.
"I've known Lane for a long time. I actually like Lane Kiffin, but I know you're not supposed to like anything from Ole Miss.
He's aware of the talent in the SEC and said there are great head coaches across the board.
Leach's deal is goof for four years at about $5 million per year.
Copyright 2020 WLBT. All rights reserved.