CAPTURED: Miss. man faked suicide to avoid rape charge, U.S. Marshals say
Purple Heart veteran could be living off the grid after staging his own death.
Updated: Jan. 30, 2020 at 11:57 AM CST
JACKSON, Miss. (WLBT) - UPDATE: Jacob Blair Scott was captured. Click here to read more.
In a dinghy drifting off the shore of Orange Beach, Alabama, police found a note from a man accused of raping a 14-year-old more than a dozen times.
"If you find this, contact Melody Scott," said the note, then listing a phone number. "My name is Jacob Scott, Jackson County." Then under his social security number, it says, "I'm sorry."
That was in July 2018, just before Jacob Blair Scott, 43, of Moss Point, was to be charged.
Jacob Scott was added to the United States Marshals' Top 15 Most Wanted list Wednesday, as authorities say that he didn't actually commit suicide. They say it appears he faked his own death.
"Jacob Scott stands accused of unspeakable crimes against a child," said U.S. Marshals Service Director Donald Washington. "The Marshals will leave no stone unturned until we bring him to justice."
Scott faces 14 charges. He was out on bond and failed to appear for a court hearing.
There wasn't much blood in the dinghy where the note was found, but there was an unspent bullet with blood on it, police said. There was a gun tied to the side of the dingy that police believe was placed there to look like Scott committed suicide.
"He left a note with a gun and small evidence that he thought would fool investigators into believing he had committed suicide," said Jackson field office Supervisory Inspector Carlos Cosby.
And there was $45,000 missing from his bank account.
For a week, rescue workers and police searched the Gulf of Mexico for Scott's body. He never floated to the top, which is said to be unusual for the Gulf.
"All aspects of this case are open, as far as who's hiding him, and who's helping him along the way," said Cosby. "We know he's a military veteran, and he's what we would call a survivalist, so he does have the skills to live off the grid."
Scott is an Army veteran with a Purple Heart.
Authorities describe Scott as 5-foot-10, 225 pounds with brown hair and blue eyes. He has tattoos of a machete knife, scorpion, and a compass with feathers bearing the Bible verse Isaiah 6:7: "With it he touched my mouth and said, 'See, this has touched your lips; your guilt is taken away and your sin atoned for.'"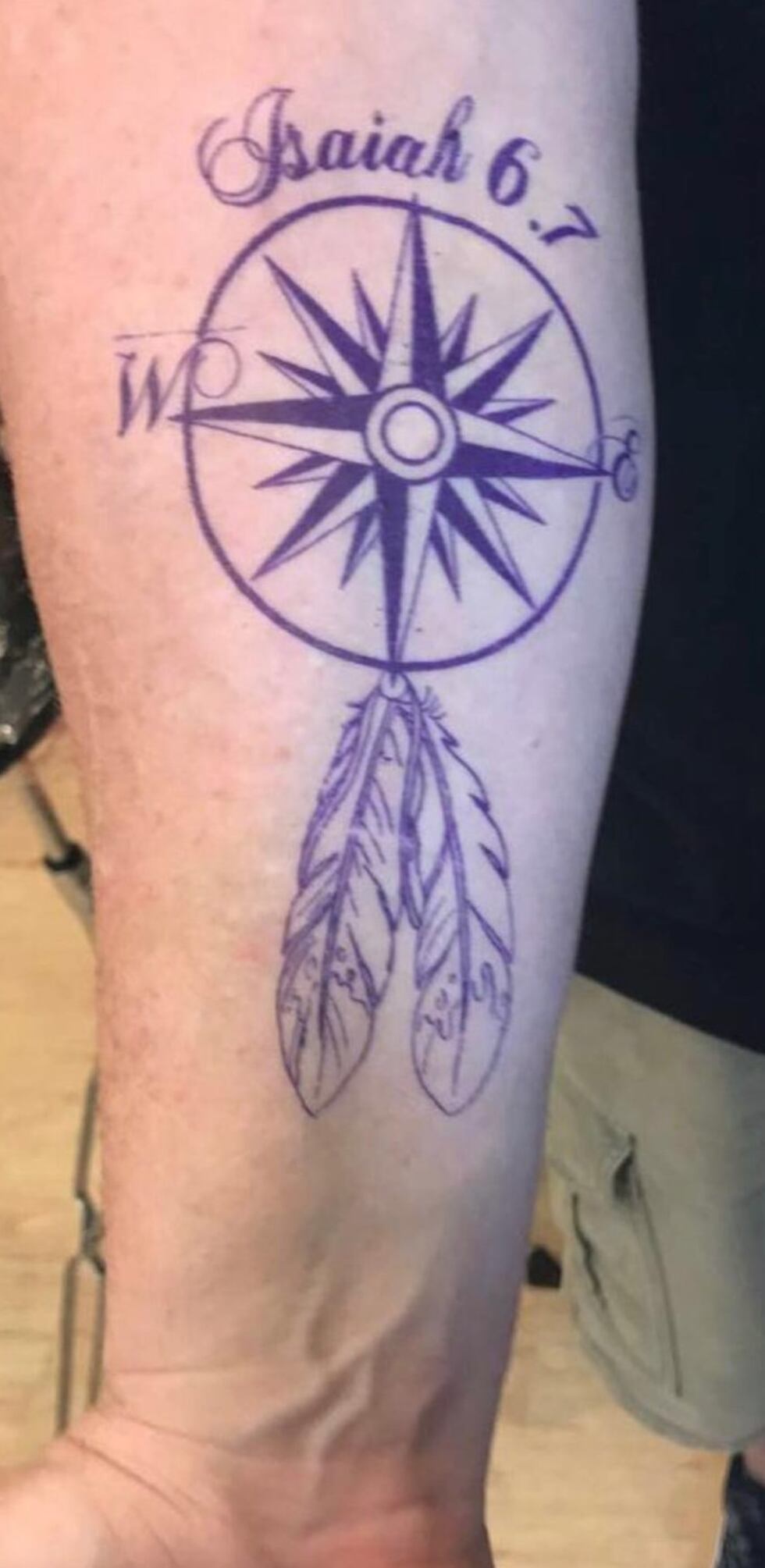 The SunHerald reported last year that Scott's 1994 Toyota 4-Runner was found in a parking lot of a park. Police found empty liquor bottles, a military bag, rope, money, Scott's license and credit cards and his military dog tags.
Marshals have reported spottings of Scott in Mississippi, Colorado, Nevada and Louisiana. His father also has lived in Texas at some point. But Marshals believe he's in Colorado now.
""It's a lot of mountains, it's a lot of woods. He has family -- his mother and sister are in Colorado and we believe that some family members could possibly be giving him some assistance," Cosby said.
We spoke over Facebook with Scott's mother. She said she would talk to us in the next few days, but couldn't tonight. What she did say was that she believes her son's story should have been told from the beginning.
We also tried to reach Scott's ex-wife, the mother of the victim, but were not able to find a working phone number.
The Marshals say they won't lose sight of what the victim has gone through.
"I think we owe it to the family to get justice for this young girl. This is a horrific act she shouldn't have had to go through, and he should be brought to justice for this," said Cosby.
There is a $25,000 reward for information leading to his arrest. If you have any information, call 1-877-WANTED-2 or contact the nearest U.S. Marshals office.
Copyright 2020 WLBT. All rights reserved.