Number of confirmed coronavirus cases in Alabama up to 242
Updated: Mar. 24, 2020 at 4:53 PM CDT
MONTGOMERY, Ala. (WSFA) - Alabama crosses the 200-mark with Tuesday morning's confirmed cases of COVID-19, according to the latest data from the Alabama Department of Public Health.
[Latest headlines on the coronavirus pandemic]
Tuesday afternoon, the confirmed number of cases increased to 242 across the state, up from 215 Tuesday morning.
These are the new numbers by county:
Autauga - 1

Baldwin - 4

Calhoun - 2

Chambers - 5

Cullman - 3

Elmore - 8

Franklin - 1

Houston - 1

Jackson - 2

Jefferson - 91

Lamar - 1

Lauderdale - 3

Lee - 26

Limestone - 4

Madison - 21

Marion - 1

Mobile - 6

Montgomery - 9

Morgan- 2

Shelby - 27

St. Clair - 4

Talladega - 2

Tallapoosa - 2

Tuscaloosa - 10

Walker - 5

Washington - 1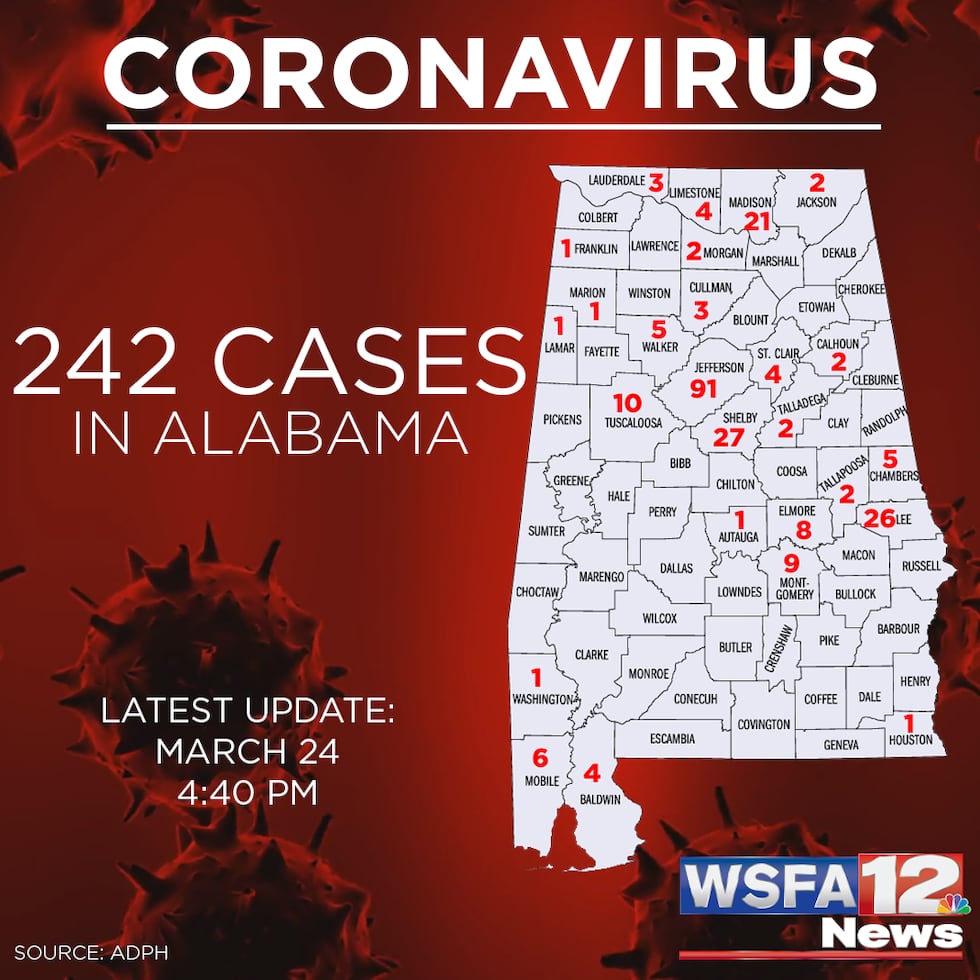 Alabama State Health Officer Dr. Scott Harris says statistics gathered by the state indicate the victims of the disease range in age from two to 97-years-old, with six to seven percent requiring hospitalization.
RESOURCES FOR ASSISTANCE
If you are looking for food, work, or other assistance during the pandemic, check out the resources available HERE.
TESTING CLINICS
Dr. Harris says if you are not experiencing the symptoms of COVID-19, you do not need to take the test. ADPH wants to reserve tests for those experiencing symptoms, those with compromised immune systems, elderly people, and healthcare workers. Commercial labs are still available for people who do not meet those criteria.
Baptist Health opened a new drive-up coronavirus care clinic in Prattville Monday. The clinic is located at 350 County Road 4 West. Baptist's first drive-up clinic opened last week on 2936 Marti Lane and is open from 7 a.m. to 7 p.m.
You must call 334-747-0150 before going to a Baptist Health testing site. Testing is by appointment only.
Ivy Creek Healthcare has opened a coronavirus clinic outside the Elmore Community Hospital Emergency Room. The clinic, operated inside a military-grade tent, will be open Mondays through Fridays from 7 a.m. to 7 p.m. Ivy Creek Healthcare asks patients to call 334-514-3713 and get an appointment before arriving on-site.
Ivy Creek officials say since opening, the clinic has performed a total of 118 tests. Six of those tests have come back positive.
State officials have also opened a new, toll-free number for people who develop symptoms and need to be tested. For more on how to get tested, you can call 1-888-264-2256. This is not a medical helpline.
Copyright 2020 WSFA 12 News. All rights reserved.