First death due to coronavirus in Alabama confirmed
Updated: Mar. 25, 2020 at 8:43 PM CDT
MONTGOMERY, Ala. (WSFA) - The Alabama Department of Public Health has officially confirmed the state's first death due to the coronavirus, Wednesday evening. The ADPH confirms the patient was a resident of Jackson County.
The Jackson County Commission confirmed one of its part-time employees has died after testing positive for the respiratory illness.
"We express our deepest sympathy to the family and loved ones of the patient who died, as well as to the families of everyone who has been affected by this outbreak," said State Health Officer Dr. Scott Harris. "The health of our residents and the community is our greatest priority, and we will continue working together to care for the patients, protect the safety of health care workers, and protect the people in our state."
"It is with profound sadness that I confirm that one of our citizens has passed away from the COVID-19 virus. I extend my prayers and deepest sympathies to the family and loved ones during these extraordinary circumstances. I continue to urge everyone that this virus is real, it is deadly, and we should continue to maintain social-distancing as much as possible. Together, we will overcome these challenges and difficult days," said Alabama Gov. Kay Ivey.
The ADPH reported a surge of more than 100 new cases of confirmed COVID-19 in Wednesday afternoon's data release.
ADPH's official tally indicates cases climbed from 283 to 386 by day's end.
An error with Marshall County numbers initially showed statewide cases at 415, but ADPH's figures have since been corrected to indicate 1 case, not 35, in that county.
Here are the numbers by county:
Autauga - 4

Baldwin - 4

Blount - 1

Butler - 1

Calhoun - 2

Chambers - 10

Cherokee - 1

Chilton - 1

Clay - 1

Cleburne - 1

Colbert - 1

Cullman - 4

Dallas - 2

Elmore - 9

Franklin - 2

Houston - 2

Jackson - 2

Jefferson - 129

Lamar - 1

Lauderdale - 6

Lee - 40

Limestone - 6

Madison - 35

Marion - 3

Marshall - 1

Mobile - 10

Montgomery - 13

Morgan- 5

Pickens- 1

Pike- 1

Russell - 1

Shelby - 42

St. Clair - 6

Talladega - 3

Tallapoosa - 4

Tuscaloosa - 15

Walker - 9

Washington - 1

Wilcox - 1
Total Confirmed Cases: 386
Total Counties Affected: 39/67
Total Deaths: 01
Total ADPH Tests: 2,812
We also checked with area hospitals for an update on the number of COVID-19 patients they're treating, as of Wednesday.
Baptist facilities (East, South, and Prattville) have tested 531 people but 337 of those tests are still pending. A total of 126 tests are negative. 38 people have been admitted and are awaiting results.
Jackson Hospital in Montgomery reports five people have been admitted and are awaiting test results.
East Alabama Medical Center in Opelika said it currently had nine patients hospitalized with COVID-19. One of them is from a nursing home. There are 25 patients who are currently hospitalized with suspected cases of coronavirus. And one patient who was previously hospitalized with COVID-19 has been discharged. COVID-19.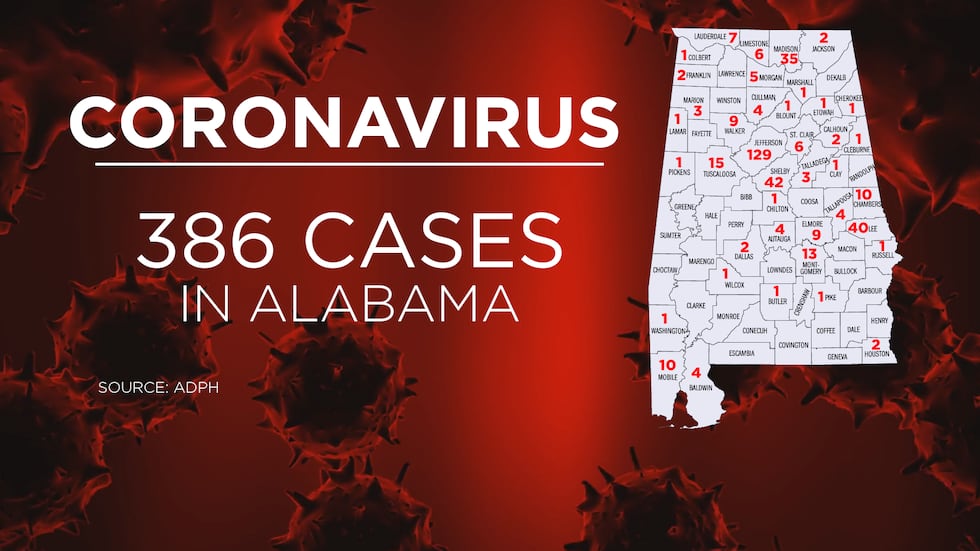 Gov. Kay Ivey and State Health Officer Dr. Scott Harris spoke to media by phone Tuesday afternoon about the continuing coronavirus pandemic. Ivey said her priority is keeping the state's economy going while taking measures to keep everyone healthy and safe.
RESOURCES FOR ASSISTANCE:
If you are looking for food, work, or other assistance during the pandemic, check out the resources available HERE.
[Latest headlines on the coronavirus pandemic]
State officials opened a toll-free number for people who develop symptoms and need to be tested. For more on how to get tested, you can call 1-888-264-2256. This is not a medical helpline.
Copyright 2020 WSFA 12 News. All rights reserved.