Storm shelters open across central, south Alabama; Severe storms likely Sunday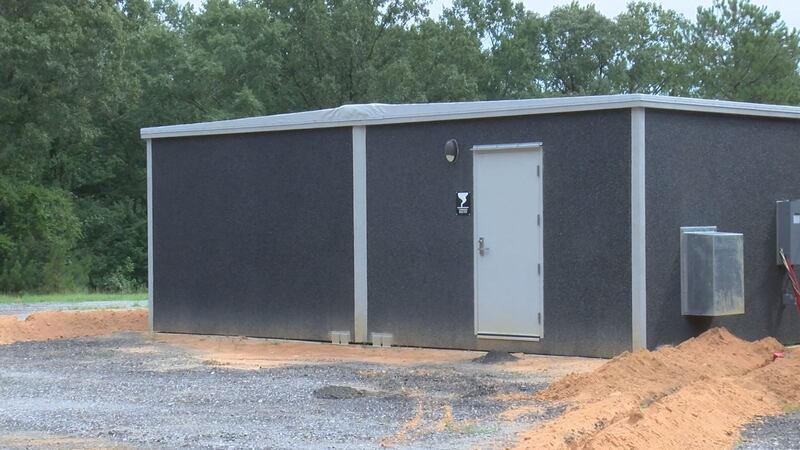 Updated: Apr. 11, 2020 at 4:13 PM CDT
MONTGOMERY, Ala. (WSFA) - The WSFA 12 News First Alert Weather Team has declared Easter Sunday a First Alert Weather Day, as confidence is high that strong and severe thunderstorms will move across the state later in the day.
The First Alert Weather team is reporting that most of our region is under a "medium" risk for severe weather, but that all severe modes are possible, including widespread damaging winds, large hail, torrential rain, and large tornadoes.
WSFA 12 News has reached out to local county emergency management agencies about which storm shelters will be open. The following counties will locations where people can go:
Autauga County (Buildings will open when a Tornado Watch has been issued; Masks will be provided due to the COVID-19 situation):

Bullock County - The basement of the Bullock County Courthouse (212 N Prairie St, Union Springs, AL 36089) and Richard Stone Complex (21578 Hwy 82-E, Union Springs, AL 36089) will be open as shelters. Times are not available at this time as Bullock County EMA says they are monitoring forecasts to determine when to open

Covington County - Per Superintendent Ted Watson, Andalusia Junior High School will open Sunday night. It will be manned by the Covington County EMA.

Crenshaw County: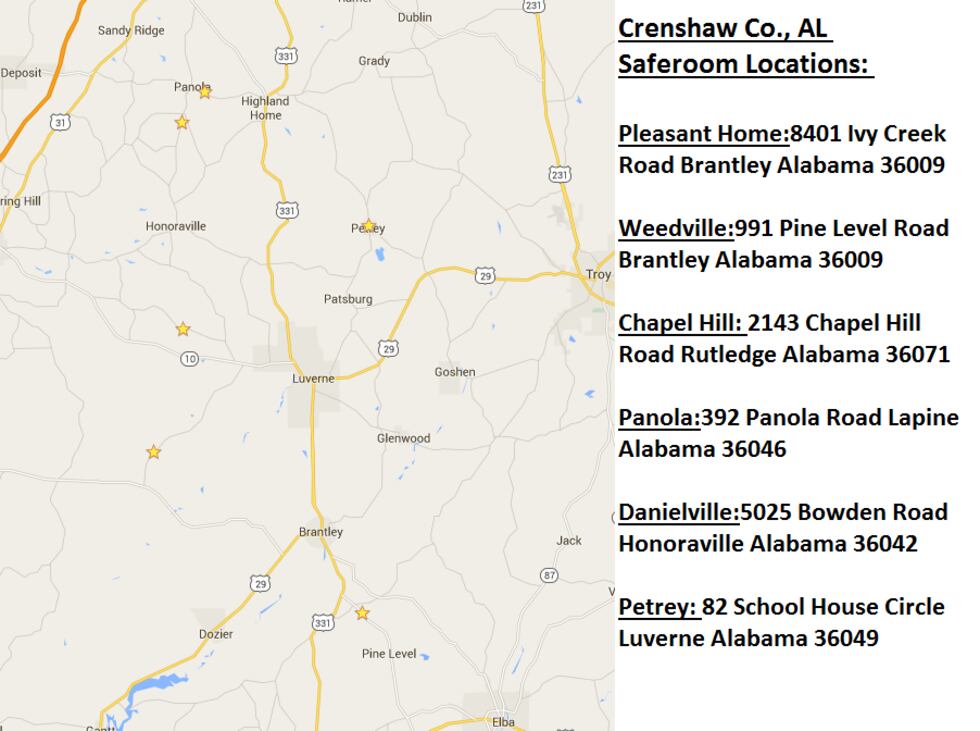 Elmore County (All buildings open when Tornado Watch is issued):

Lee County (Locations will open only if Tornado Watch is issued):

Marengo County- (Only if a Tornado Warning is issued) - Marengo County Courthouse basement (101 E Coats Ave Linden, AL 36748)

Macon County- All shelters have been opened:

Montgomery City - The following community centers will be open once Montgomery County has a Tornado Watch (note: all citizens will be required to wear a cloth mask the entire time they are inside the facilities):

Perry County - West Perry/East Hale Fire Department (Perry County Highway 48 Newbern, AL 36765) and Pernell Community

Pike County (All facilities open at 5 p.m.) -

Tallapoosa County (All open at 1 p.m. until the event is over):

Wilcox County (Will open as needed):
The following counties will not be opening shelters: Butler County, Coffee County, Montgomery County.
Some shelters may not be open due to COVID-19 concerns. It is best to call ahead today and confirm yours will be open so you know where to head in the case of a tornado warning. The Alabama Department of Public Health recommends that a person's first priority should be to protect themselves from a potential tornado, because if a warning is issued in your area, you are more likely to be affected by the tornado than the virus. However, you can take precautions to keep yourself safe from the virus while at a storm shelter, such as bringing hand sanitizer, masks, gloves, etc. Make sure these are packed and ready to go today so you don't have to think about it if a warning is issued tomorrow.
Alabama Gov. Kay Ivey shared the following message ahead of Sunday's potential weather:
Remember to have multiple reliable ways of receiving weather alerts. Download the WSFA First Alert Weather App, have your NOAA weather radio ready and making sure your phone is charged before the severe weather moves in.
Copyright 2020 WSFA 12 News. All rights reserved.