Police officer shot and killed in the line of duty in Moody, Ala.; 2 suspects in custody
Updated: Jun. 3, 2020 at 1:58 PM CDT
MOODY, Ala. (WBRC) - Authorities with the Moody Police Department confirm one of their officers was shot and killed in the line of duty Tuesday evening.
The officer is identified as 50-year-old Sergeant Stephen Williams. Chief Thomas Hunt says Sgt. Williams had been with the Moody Police Department for three years and was a 23 year law enforcement veteran. He was married and had three children.
"He was awesome. He was awesome - just a good man, good person, funny to be around, won officer of the year award a couple years ago. Made rank of sergeant last year, worked night shift for us. Very thorough in his paperwork, very thorough as a sergeant, good teacher and a good mentor. Lot of guys looked up to Stephen. He was a very good close friend," Moody Police Chief Thomas Hunt said.
It all happened at the Super 8 located at 2451 Moody Parkway/Highway 411 just off Interstate 20. Moody Police initially responded to the scene but multiple agencies were called in to assist.
We're told Sgt. Williams was shot multiple times. No other officers were injured in the incident.
Police say two suspects - a male and female - are in custody. The scene is clear.
Sgt. Williams previously work with Calera PD for two and a half years, Alabaster PD for 15 years and Bessemer PD for more than a year and a half.
The St. Clair County Sheriff's Office, JSU Center for Applied Forensics, and ALEA, along with numerous supporting agencies are currently conducting an extensive investigation.
A gofundme account has been set up for Williams' family by someone who has a family member on the Moody Police Force.
The Morgan County Sheriff's Office shared video of the procession to bring Sgt. Williams' body to Huntsville for an autopsy.
U.S. Attorney Jay Town released the following statement on the death of Sgt. Williams:
"Moody Police Sergeant Stephen Williams' end of watch has come much too soon. Our condolences and prayers are with his family, friends, and fellow officers. His loss is a loss for all of Alabama. This serves as yet another heartbreaking and stark reminder of the perils encountered by law enforcement each day."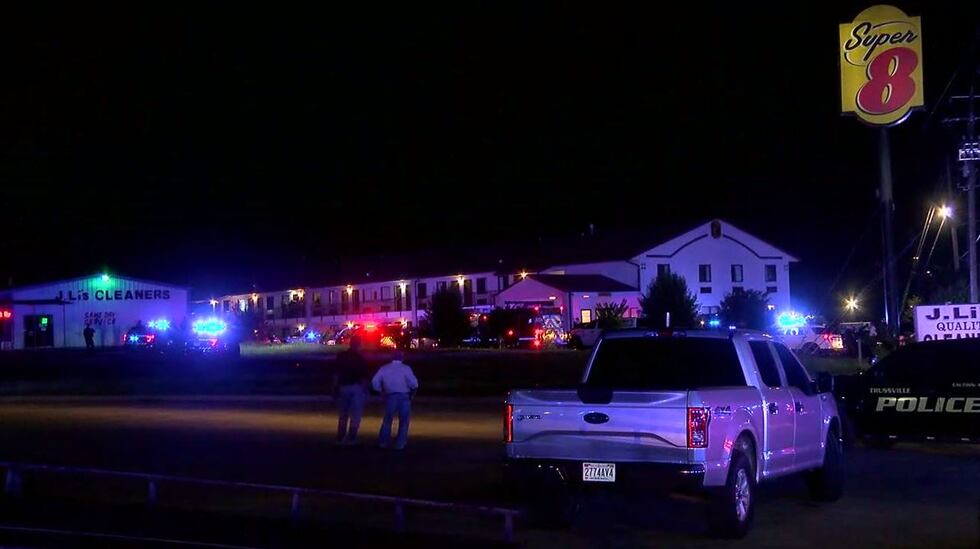 Gov. Kay Ivey released the following statement Wednesday morning:
"I am deeply saddened to hear Sergeant Stephen Williams was killed in the line of duty last night. He served the Moody Police Department with distinction and had a long, honorable career in law enforcement. In the end, he died a hero, fulfilling the oath he swore to do -- to uphold the community he served.
"Beyond his career in law enforcement, he was a father, and now, three children are left without
their dad. We must not forget Sgt. Williams' ultimate sacrifice was that of his family.
"This senseless violence must end. Every day, brave men and women who wear the badge put their lives on the line in order to keep us safe. We are greatly indebted for his service on our behalf. I ask the people of Alabama to join me in prayer for his family, friends and his brothers in arms."
ALEA's Secretary Hal Taylor released this statement Wednesday:
"We are deeply saddened to hear of the loss of yet another law enforcement officer killed in the line of duty. Sergeant Stephen Williams bravely committed 23 years of his life to protecting and serving his community. Our thoughts and prayers are with his family, friends and fellow officers of the Moody Police Department. His service and sacrifice will never be forgotten as we mourn alongside the entire law enforcement community."
Attorney General Steven Marshall issued the following statement Wednesday:
"I was devastated to receive the phone call late last night that another one of our law enforcement heroes had lost his life. I have been slow to make a public statement today because, after a record-breaking year of law enforcement deaths in our state, words just seem so inadequate.
"Sergeant Williams was responding to a call for help at local hotel. He showed up, ready to assist, and was instantly shot dead. At this point, we have no reason to believe that Sergeant Williams's shooting is related to the unrest we're witnessing across the nation. Nevertheless, our state has been plagued in recent months by a lack of respect for law enforcement—most of whom are genuinely good men and women, from all backgrounds, doing an incredibly difficult job.
"Whether black or white, law enforcement or civilian, we are all Alabamians. None of us benefit from lawlessness. As I shared with Moody Police Chief Hunt last night, my prayers and deepest sympathies are with the department and Sergeant Williams's family. My Office stands ready to assist in any way that we can."
District Attorney Danny Carr's released this statement Wednesday:
"District Attorney Danny Carr and the Jefferson County District Attorney's Office sends its condolences to the family of Sergeant Stephen Williams and the Moody Police Department. We are grateful for his devoted service as a law enforcement officer for 23 years. Sergeant Williams' family and the entire community are in our prayers."
St. Clair County Sheriff Bill Murray said the following in a statement:
"I would like to thank the citizens of Moody and all of St. Clair County for their outpouring of support for all Law Enforcement.
Finally, I would ask that we all support the family of Sgt. Williams with prayer."
Copyright 2020 WBRC. All rights reserved.