Caught on Camera: Sprinklers interrupt high school graduation ceremony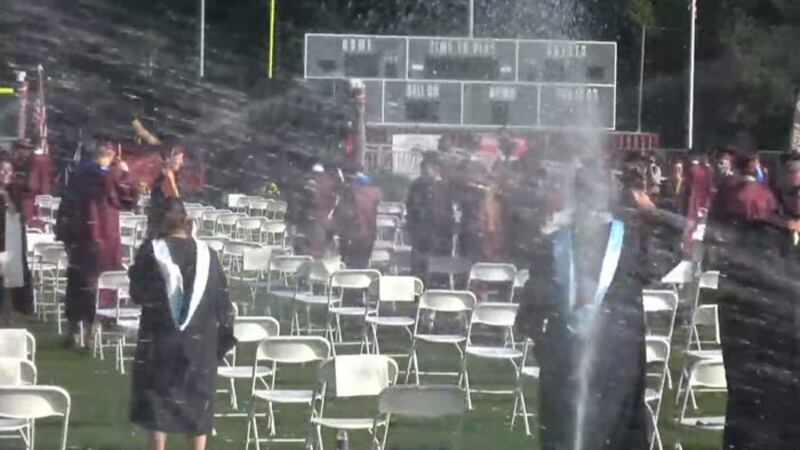 Updated: Jun. 11, 2020 at 3:26 AM CDT
SUMMERVILLE, S.C. (WCSC) - Wednesday morning's graduation ceremony at Ashley Ridge High School will surely be one the school and the Class of 2020 won't ever forget.
The in-person ceremony began at 7:30 a.m. at the high school's Swamp Fox Stadium.
The rows were neatly set with each chair six feet apart. The Ashley Ridge High School class of 2020 was assembled all together for the first time in months. All the graduation details were taken care of, except one.
Someone forgot to turn off the automatic sprinklers on the football field.
In the middle of the ceremony, as principal Karen Radcliffe was introducing the school's valedictorian and salutatorian, the sprinklers went off, drenching the students who were sitting spaced apart across the athletic field.
"It's pretty crazy," graduate Jacob Thompson said. "It was a good surprise and I think everybody got a laugh out of it."
While Thompson watched safely from the back as the sprinklers popped up and interrupted the graduation ceremony, Matthew Duncan was not as lucky.
"I was actually right next to one," Duncan said. "I dodged the first one and then I ran off to the left and got absolutely destroyed by another sprinkler." The graduate says his back was completely soaked.
These students know a thing or two about letting things roll off their backs. Whether it is water from a football stadium sprinkler or the year we know as 2020, nothing has been typical for these young adults.
"We were all looking forward to it. We were all expecting a perfect senior year but we got stuck with some difficult times," Oliver Allen said. "I think we all made the best of it and we all tried to make a good situation out of what we were dealt."
It seems the universe would not allow any school function to go unmarred.
"Since this year has been so crazy I think the sprinklers just added a little bit more to it. I mean why not," Thompson said.
If the final year of high school has taught these students anything, it is how to laugh at a difficult situation.
"We are all a little frightened. We didn't know what was going on but I think the entire class of 2020 was glad we could have a genuine smile and have a little comic relief at the end of the school year," Allen said.
Moments before the sprinkler mishap, Radcliffe may have unknowingly prepared them for the surprise with an illustration. She gave an example of someone walking with a cup of coffee who gets bumped into or has their arm shaken, resulting in the coffee spilling from the cup. She then told the Class of 2020 to think about what is in their cups when life "comes along and shakes you."
"Whatever is inside you, whatever's inside that cup will come out, it will spill out. It's easy to fake it until you get rattled or you get tested," she said.
No one expected a "test" to come that quickly.
Moments after the sprinklers were shut off, she joked, "Hey, y'all complain about the heat, we bring you water," adding, "We have to keep it exciting around here."
Graduation continued on schedule with Radcliffe touching elbows with graduating seniors as she handed out diplomas.
Parents and students also seemed to maintain their sense of humor about the incident. Dorchester District 2 spokesperson Pat Raynor said there were no complaints about the incident.
"It was a moment that the students enjoyed as part of an unusual graduation season," she said. "Parents seemed to enjoy it as well."
Raynor said there is no evidence the sprinklers going off was the result of any kind of prank.
It happens at the 47:10 mark in this video that was live-streamed by the school district:
And the saying goes, after every rain there's a rainbow.
Copyright 2020 WCSC. All rights reserved.