Alabama sees record 40 deaths, another 1,673 COVID-19 cases Tuesday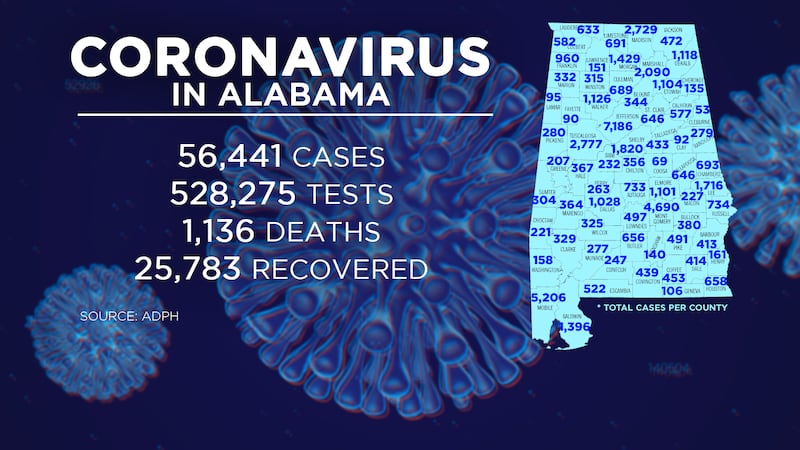 Published: Jul. 14, 2020 at 4:07 PM CDT
MONTGOMERY, Ala. (WSFA) - Alabama hit a grim milestone Tuesday with 40 COVID-19 deaths, a record for the most in a single day. The state now reports 1,136 COVID-19 deaths with 28 more cases that are probable.
Alabama also added 1,673 new cases, bringing the total to almost 56,500. The state has more than doubled the number of cases of the respiratory illness over the last month and the last two weeks have brought more than 17,000 of those, according to the Alabama Department of Public Health.
Montgomery County saw 91 new cases and two additional deaths. Jefferson County added 174 cases. Mobile County added 145 and Madison County, home to Huntsville, posted 194.
[Alabama's COVID-19 Data and Surveillance Dashboard]
Alabama Hospital Association President Dr. Don Williamson said during an interview Tuesday morning that hospitals continue to be stressed. He added that he believes the state is now starting to see an uptick in the number of cases from July 4 gatherings, but not holiday-related hospitalizations, which typically lag.
Williamson has warned the healthcare system cannot support the sustained increase of COVID-19 patients for long.
Meanwhile, Tuesday saw another 18 people hospitalized, pushing up the state's record number of inpatients for the disease to 1,353. It's the ninth straight day in which more than 1,000 were hospitalized.
Montgomery's Jackson Hospital reports 49 inpatients while Baptist Health's three facilities have 82. UAB Hospital in Birmingham confirms another 88.
Since the start of the pandemic, some 7,100 have required hospitalization.
[Coronavirus: Data and resources for assistance]
Alabama has conducted 528,000 tests for COVID-19 with a positive percentage rate of about 11 percent.
Of the 56,000 positive cases, ADPH presumes about half have recovered, a figure it updates weekly.
Copyright 2020 WSFA 12 News. All rights reserved.