July likely to finish as top-3 wettest in last 73 years
Potential for wettest ever at MGM is very much there
Updated: Jul. 29, 2020 at 8:50 AM CDT
MONTGOMERY, Ala. (WSFA) - If you're thinking that this has been an unusually rainy and stormy July, you are very correct.
While July is, on average, is the 3rd-wettest month of the year in Montgomery, this July has been especially rainy. Through the 28th, a total of 8.17″ has fallen at Montgomery Regional Airport. That's where official meteorological statistics are kept for the city -- and have been for the last 73 years.
That puts Montgomery at more than 3″ above normal with just three days left in the month, each of which will feature scattered to numerous showers and downpours across Central Alabama.
Should we see measurable rain on each of July's last three days, Montgomery will have recorded rain in the gauge on 18 of the month's 31 days. If you're into percentages, that's more than 58% of days with measurable rainfall!
Even if it rains just one day through Friday, we will end July with rain falling on more than 50% of days.
Most forecast models suggest another solid 0.5″ to 2″ of rain by 11:59 p.m. Friday evening. Regardless of when this rain falls that would boost Montgomery into record territory for total July rainfall.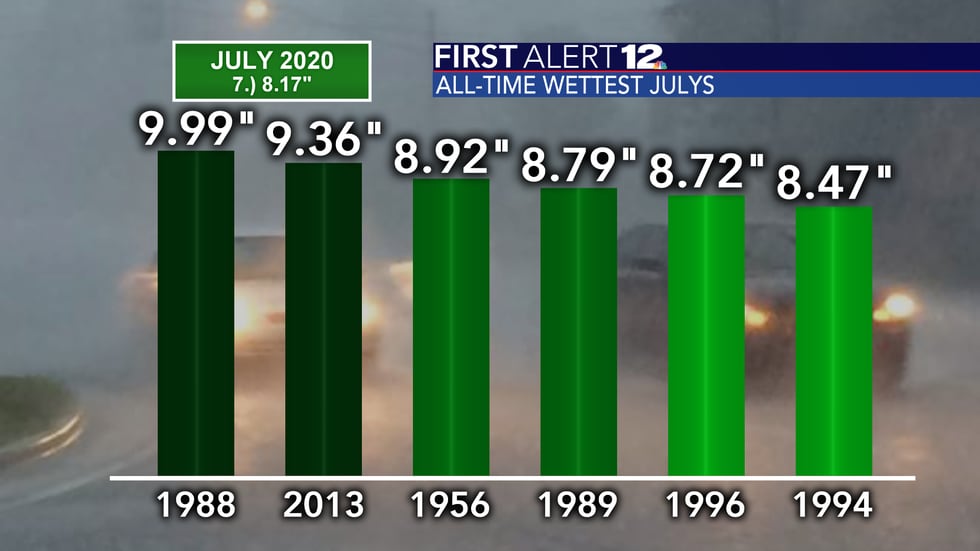 As of Wednesday morning, July 2020 is all alone in 7th place for wettest Julys in Montgomery since data began being kept at the airport in 1948. By the time we get to Friday night, it's pretty much a given we will be in the top five (to get to #5 the airport only needs to record 0.55″ of rain by 11:59 p.m. Friday).
It's even likely that we reach #3 on the list. That would require three-quarters of an inch of rain over the next three days. Based on the pattern we're in, that is looking borderline like a guarantee.
Now to break the record for wettest July since data began being recorded at MGM 73 years ago, we would need to see an additional 1.82″ of rain by the end of the day Friday. Is that possible? Certainly. Is it likely? Eh, it depends on where the heavier showers and storms develop over the coming days.
But it isn't just July that has been unusually rainy this year. Each of the last three months -- April, May and June -- have been above average in the rainfall department. In fact, the only month this year that was below normal was March.
Thanks in large part to the whopping 10.05″ of rain that fell back in February, the year is more than a foot above the average in Montgomery as of July 28th. Expect that number to climb through the weekend as additional showers and storms are on the way.
Anybody have an extra umbrella? Or maybe a boat?
Copyright 2020 WSFA 12 News. All rights reserved.