Second severe weather and tornado season is quickly approaching
November and December are known for bringing an uptick of severe weather to Alabama
Updated: Oct. 22, 2020 at 10:09 AM CDT
MONTGOMERY, Ala. (WSFA) - Halloween and the start of November are rapidly approaching; that means Alabama's second severe weather season is just around the corner. When looking at the numbers, it's plain as day to see that Alabama sees a noticeable and sometimes substantial uptick in severe weather during the early November to mid-December period...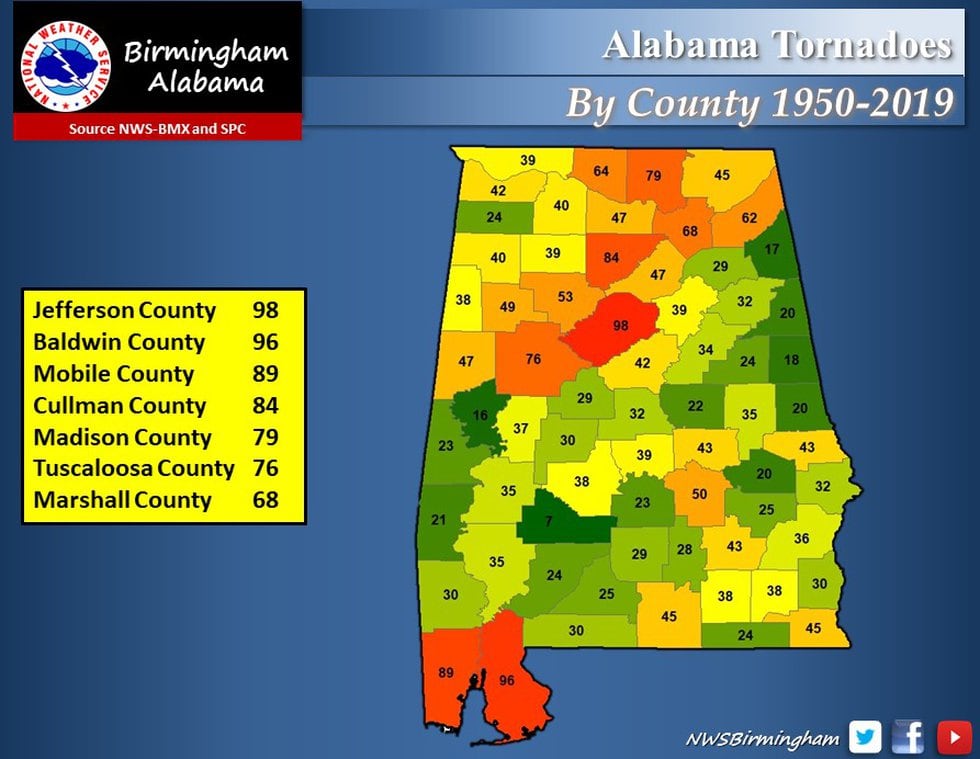 While not as well-known or significant as the primary severe weather season that occurs during the months of March, April and May, this upcoming stretch of about 50 days should not be taken for granted.
April takes the cake when it comes to the epicenter of peak tornado months in Alabama, but November comes in 3rd with 279 tornadoes statewide between 1950 and 2019. December is 6th with a still significant 153 tornadoes during that 70-year span.
According to the National Weather Service in Birmingham, 21% of ALL tornadoes to hit Alabama between 2001 and 2019 have occurred in November or December.
Due to the higher chances of severe weather and tornadoes this time of year, yesterday, October 21st, was designated as Fall Severe Weather Awareness Day.
It's not just Alabama that sees a jump in annual severe weather reports in November and December.
As areas of low pressure develop and move through, warm and moist air from the Gulf of Mexico can get pulled northward into Louisiana, Mississippi, Arkansas, Tennessee, Georgia, Florida, and the Carolinas. This air mass meets up with a shot of cool, dry air pushing southward and brings the ingredients necessary to support severe thunderstorms and tornadoes, including tornado outbreaks.
This unfortunately includes the holiday season. If you look at all tornadoes to strike the U.S. during the Thanksgiving time frame of November 20-30, you'll get a rather daunting result. Between 1950 and 2018, Alabama saw 150 tornadoes during that stretch. That's not only the most in the country, but it bests 2nd-place Mississippi by 28!
Christmas and New Year's are no strangers to severe weather either. During the December 20 to January 3 period between 1950 and 2018, Alabama saw the 5th-most tornadoes in the United States with 81.
As always, be weather ready whenever there's a chance of thunderstorms and severe weather -- no matter the time of year. Have a plan, have a way to get pertinent information and never assume your city or town is immune.
Copyright 2020 WSFA 12 News. All rights reserved.