Tropical humidity and warmth with scattered showers, storms possible
A few showers are expected today, but coverage will grow as we head into Wednesday
Updated: Nov. 10, 2020 at 3:29 PM CST
MONTGOMERY, Ala. (WSFA) - Our overall weather pattern won't change much over the next few days... we are keeping it warmer than normal and muggy today through at least the weekend. Highs will push near either side of 80° Tuesday, Wednesday and Thursday. It isn't just the high temps that are above normal, though - our overnight lows have been more than 20° above average for this time of year!
In Montgomery, we've tied a record warm low of 69° for November 10th... that record was set back in the late 1800s.
We are likely going to break the record warmest low for November 11th and tie the record come Thursday the 12th.
The reasoning behind the warmth and abundant humidity is Tropical Storm Eta down in the southern Gulf of Mexico; moisture from the Atlantic courtesy of easterly flow and an approaching cold front from the northwest are also playing a role in keeping this muggy feeling around. Those features will not only continue pumping in warm and muggy air, but increasing rain and even thunderstorm chances over the next couple of days.
The shower coverage won't be impressive today with roughly a 30% chance of seeing a couple of showers throughout the afternoon and evening hours. Shower chances pick up to 40% late tonight into early Wednesday morning. By far the highest chance of showers and storms comes throughout the day Wednesday into the early portion of the overnight. That will be due to the incoming cold front combining with plenty of moisture streaming northward from Tropical Storm Eta...
It appears as though models want to push the front through by Thursday morning, providing a mainly dry forecast through Friday evening as a brief shot of less muggy air works its way in. It's possible parts of Southeast Alabama see some straggling showers Thursday as the front struggles to clear that part of the state.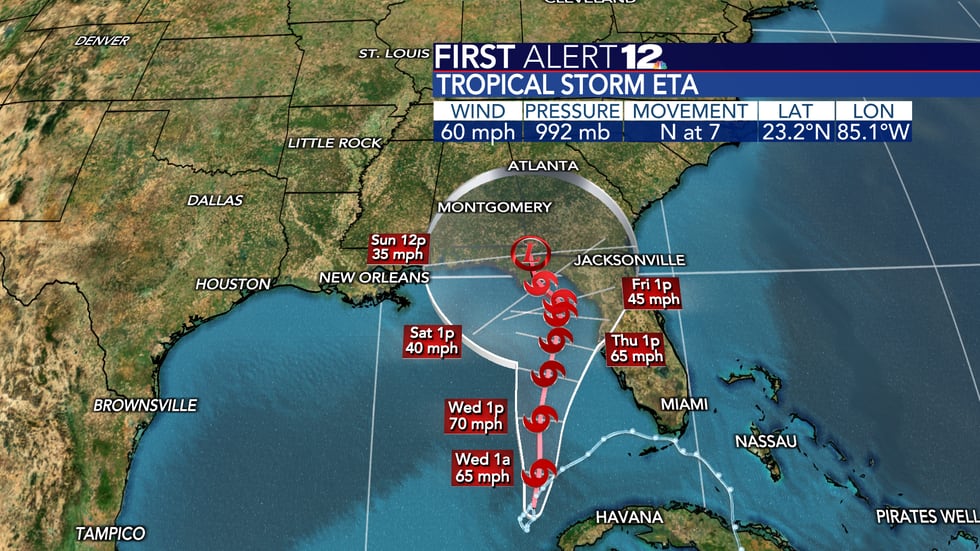 Even with the front pushing through, it will remain above average. Highs will be near 80 on Thursday and 77 on Friday. Skies will likely be partly cloudy to perhaps mostly sunny if enough dry air pushes in from the northwest.
A return to higher humidity levels looms for the weekend as the cold front essentially combines with whatever is left of Eta and lifts back north as a hybrid warm/stationary front.
That won't change temperatures much for next weekend as we stay around 76-77 degrees, but it will bring a return of at least some showers and perhaps a storm.
At this point it's difficult to pinpoint when the best chances of rain will be, so we've gone ahead and broad-brushed a 30% chance from Friday night through Sunday night.
We wouldn't cancel any plans, but keep in mind the rain coverage may increase for all or part of the weekend!
Looking ahead to next week, there are decent signs among forecast models for a cooler couple of days with much lower humidity. As we know, things can change. But that's something to certainly look forward to!
Copyright 2020 WSFA 12 News. All rights reserved.