Montgomery metro area now 'very high risk' on COVID-19 risk indicator
Updated: Dec. 10, 2020 at 5:43 PM CST
MONTGOMERY, Ala. (WSFA) - All of the counties in the Montgomery metropolitan area are now considered "very high risk" on Alabama's COVID-19 risk indicator.
In the updated dashboard from the Alabama Department of Public Health, Montgomery, Autauga and Elmore counties all moved up to "very high risk" after being listed as "moderate" or "high" the week before.
Lowndes County was already listed as "very high risk" last week.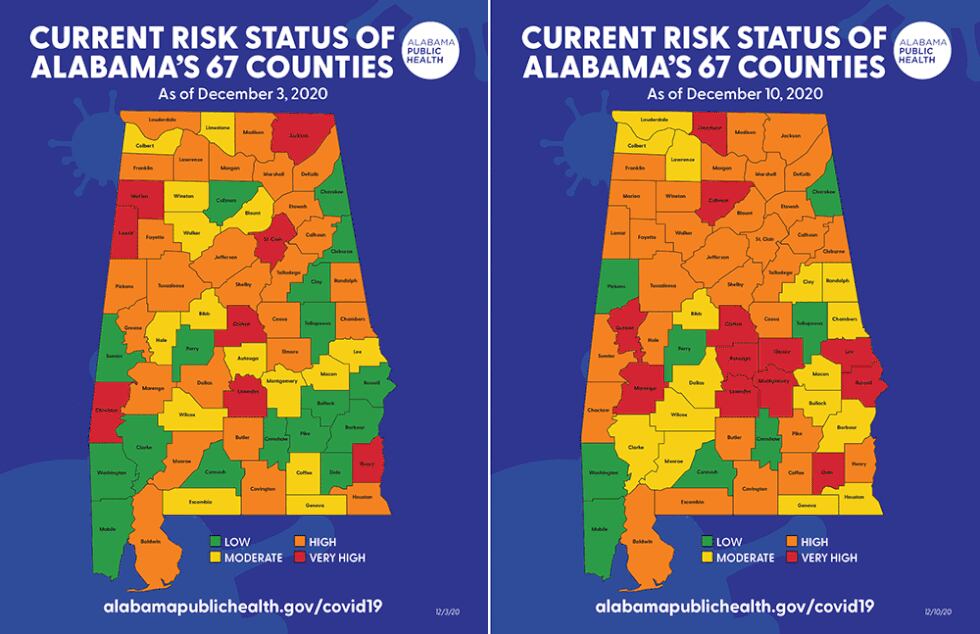 The most recent dashboard, released Thursday, contains data reported through Dec. 5. ADPH says the data are lagged to allow for completeness in reporting. The dashboard will be updated again on Dec. 17.
ADPH says people living in red, orange or yellow should follow guidelines to help move their area toward the low risk phase. People living in green should follow guidelines for low risk to stay in the low risk phase.
Whether the COVID-19 case counts are increasing or decreasing influences a county's risk level. Below is a description of each risk level:
If the number of cases is staying the same or is increasing, the category will be Very High Risk (Red).

If a county has decreasing case counts for 1 to 6 days, they will begin in the High Risk (orange) category.

If a county is in a downward trajectory of 7-13 days, they will begin in the Moderate (yellow) category.

If a county is in a downward trajectory of 14 or more days (or has a rate of 10 or less over the previous 2 weeks), they will begin in the Low Risk (green) category.
As of Thursday, more than 4,000 people have died in Alabama from COVID-19.
The state also continues to set record highs for new COVID-19 cases and hospitalizations. The seven-day average for hospitalizations has topped 2,000 inpatients per day.
In Montgomery, there were at least 159 COVID-19 positive inpatients being treated in the area's four primary hospitals. That includes 113 at Baptist Health's three facilities and 46 at Jackson Hospital, as of Thursday.
Copyright 2020 WSFA 12 News. All rights reserved.