WSFA officially donates old Delano Avenue facility to Mercy House
Updated: Jan. 18, 2021 at 6:23 PM CST
MONTGOMERY, Ala. (WSFA) - It's been a long time in the making, but WSFA 12 News has some big news to share about our old television station facility on East Delano Avenue. It has a new tenant.
It's an organization you may have heard of before, but is about to make its presence known even more in the community.
Monday morning, about 10 months after WSFA made the move to our new facility on Dexter Avenue, management officially handed over the keys to the building at 12 East Delano Avenue to the leaders at Mercy House.
The non-profit ministry held its official ribbon cutting ceremony on the front steps, and it was well-attended.
For more than 65 years WSFA 12 News transmitted some of the state's big stories far and wide from that brick building. Before long the Mercy House will transmit hope and love to those in the surrounding community who it need it the most.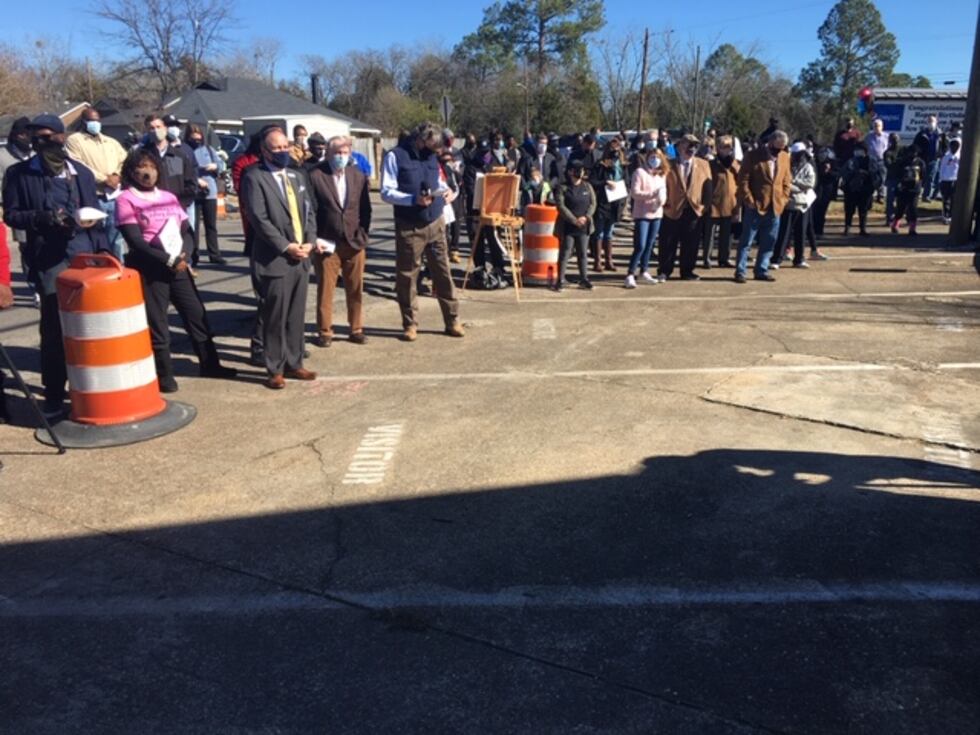 "I want you to know from my heart that this is not a gift for Ken Austin. It is a gift through Ken Austin. It's for someone else," said Mercy House's Ken Austin.
Austin founded Mercy House 16 years ago in a small home off Day Street in West Montgomery. Mercy House is a daytime shelter for the homeless but also a stopping point for young people in the neighborhood, a place to get a warm meal and clothing.
"They dreamed what became the Mercy House. They dreamed of this ministry to our community," said former Montgomery Mayor Todd Strange.
It'll continue to serve that need here and much more. There are plans for an alcohol recovery program and another curriculum to polish up employment skills.
"If you come walk with me, you'll see some people running who didn't walk before," Austin continued.
"When you partner with WSFA, and by acquiring this building, you are now part of the WSFA family," said WSFA 12 News Vice President and General Manager Mark P. Bunting.
And to help the ministry gain its footing in the new place, the Beasley-Allen law firm presented Mercy House with a $30,000 check.
It's an old building with a new tenant who plans to show kindness to those who need encouragement to begin anew.
The Mercy House was serving 33 meals per day but that number has since skyrocketed to 150 meals per day because of COVID.
"The needs in our community are overwhelming, homeless people, people hungry, kids who are not being fed daily," Austin said. "We went to the food bank and started loading up food that we can help families who had a need for food."
Since it started serving Montgomery, Mercy House has become a "ministry about people" (MAP), serving this community from every angle. During the day, the house is a shelter for the homeless, but also a gathering spot for young people in the neighborhood.
Austin says they began taking kids in the community to school and noticed they didn't have the proper clothing they needed. They then decided to turn a room in the Mercy House into a closet for kids and families who needed clothing.
Austin explained how the ministry has evolved from there.
"We realized that those clothes need to be washed. So we develop a washer and dryer room, a washroom inside of the Mercy House so families could come in the community, who didn't have the ability to do that at home, could come to a place and wash and dry their clothes for free. We started doing that and homeless people will come in and wash and dry clothes and we realized that if they're washing and drying their clothes and putting on clean clothes, maybe they need a shower," Austin explained.
So, they diverted another room into showers so people could come in and take a hot shower.
Now, the old WSFA studios will be a new MAP center.
"We realized that we have to train people, we have to empower people to be able to feed themselves and to train themselves, and we want to turn this building into a trade school; a place where we can have trades, livable wage jobs, trades where they could come in and learn coding, plumbing, automotive mechanics, CDL, truck driving all of those things," Austin said.
Austin said Mercy House is partnering with schools outside and inside the facility.
"There'll be a satellite that they could come in there, learn those trades, and get themselves a livable wage job so they can provide for their families and for themselves," said Austin.
Austin says they are just now starting some of the internal renovation work. He hopes to be up and running by March, if not sooner.
Copyright 2021 WSFA 12 News. All rights reserved.