Billboards up across Huntsville call for Rep. Mo Brooks to resign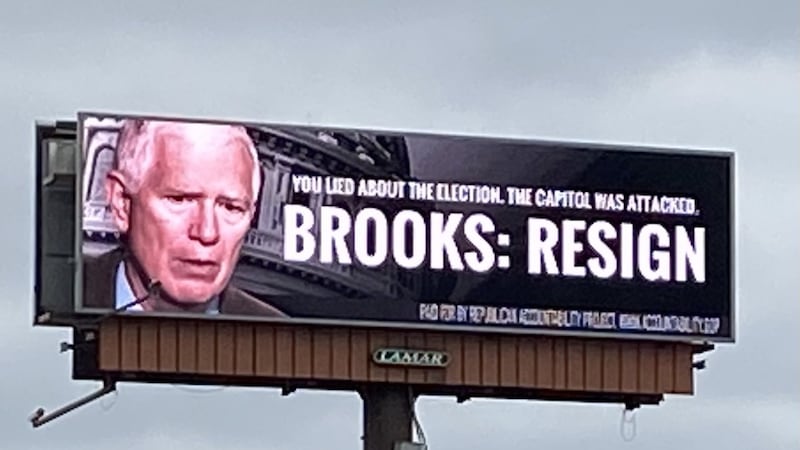 Updated: Feb. 3, 2021 at 11:24 AM CST
HUNTSVILLE, Ala. (WAFF) - A national Republican group is using billboards around Huntsville to call for Congressman Mo Brooks to resign from office.
The Republican Accountability Project has targeted several GOP congressmen across the country with similar billboards saying, "You lied about the election. The Capitol was attacked. *Name of politician*: Resign."
Olivia Troye is a co-Director of RAP and used to work for Vice President Mike Pence on his coronavirus task force.
"Actions have consequences and they should be held accountable and that's why we're asking for their resignations," Troye said.
RAP is taking aim at Republicans who they say played a role in the January 6 insurrection at the United States Capitol.
"This divisive rhetoric has been fundamentally dangerous across our country and so we've taken a stand by saying we're going to hold you accountable and we want you to resign," she said.
The other politicians who the RAP has put on billboards across the country are Sen. Ted Cruz (R-TX), Sen. Josh Hawley (R-MO), Reps. Nunes and McCarthy (R-CA), Greene (R-GA), Cawthorn and Bishop (R-NC), Jordan (R-OH), Gaetz (R-FL), Gohmert (R-TX), and Stefanik (R-NY).
Brooks has been under national attention for his role promoting false theories of a fraudulent election and what he said before the insurrection of the Capitol on January 6.
"You have a responsibility for the people that elected you and you have a responsibility to do what's right for our country and stand for what's right for our country so when you say things like that you are undermining everybody, you're pushing these false narratives and you're putting things in people's minds that aren't true," Troye said.
I reached out to Rep. Brooks for an interview or statement on the billboards, his press secretary declined to comment.
Brooks did send out a tweet last Friday about the billboards, though.
In the tweet, Brooks said, "I PROUDLY stand with Senators Cruz & Hawley; Jim Jordan, Louie Gohmert & 130+ Congressmen fighting for honest elections. Leadership = attacks by voter fraud profiters."
I asked Troye what she thought of his response.
"I would say that the truth hurts and the facts are being pointed out on a billboard and were holding him accountable for what he's said," she said.
The rest of his tweet said "Read Jimmy Carter/James Baker 2005 election theft report for truth & warning."
The report he's talking about is from a bipartisan effort in 2005 which concluded, "Absentee ballots remain the largest source of potential voter fraud."
Troye points out there is no proof of any voter fraud in this past election and more than 60 lawsuits trying to prove it have been dismissed or ruled against.
"There's no factual evidence of any of this so you're going along with conspiracy theories at this point," she said.
Brooks has made no sign of resigning, but Troye said they will persist nonetheless.
"I do think he should resign and if not, if he doesn't resign and he continues to double down then I hope the voters will keep that in mind and this is the point of the billboards too, to remind people, to not let this go," she said.
Troye said RAP isn't just focused on the billboard campaign, though.
"We're also going to encourage principled Republicans to run, to run in the primaries. We're looking for the future generation of the party," Troye said.
She said this is all about returning the Republican party to how it used to be.
"The traditional more Republican Party that many of us Republicans miss and long for, these extremists movements that have sort of taken over the party and the Trumpism, I would say has taken hold of it is just not in line with who true republicans are," she said.
You can see these billboards in four separate spots in Huntsville: At the intersection of Bob Wallace Ave. and Memorial Parkway, off of 565 West next to Toyota Field, off of Slaughter Rd. and Highway 72 West and at County Line Rd. and Highway 72 West.
Copyright 2021 WAFF. All rights reserved.