Ceremony held to honor 23 killed in 2019 Lee County tornado
Updated: Mar. 3, 2021 at 4:27 PM CST
LEE COUNTY, Ala. (WSFA) - It has been two years since an EF-4 tornado touched down in Lee County, killing nearly two dozen people and leaving behind a path of destruction.
Several events will take place to mark the day. One of those was a remembrance ceremony for the 23 lives lost that day. It took place at noon behind the Opelika Courthouse in the courtyard square.
Those who were in attendance who lost loved ones were given a balloon to write their name on. The balloons were then released as Sheriff Jay Jones read off the names of those who died that Sunday.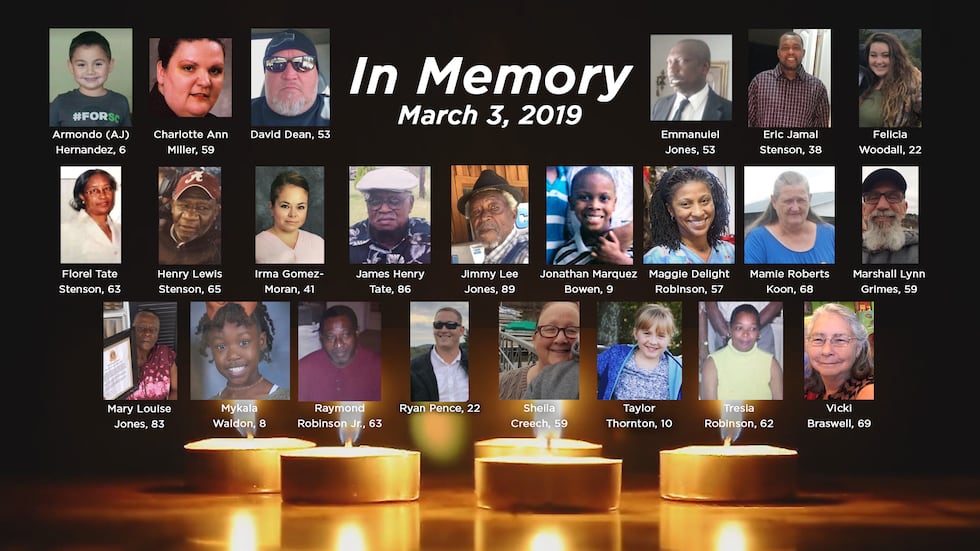 Those killed in the tornado included:
Armondo (AJ) Hernandez, 6

Charlotte Ann Miller, 59

David Dean, 53

Emmanuiel Jones, 53

Eric Jamal Stenson, 38

Felicia Woodall, 22

Florel Tate Stenson, 63

Henry Lewis Stenson, 65

Irma Gomez-Moran 41

James Henry Tate, 86

Jimmy Lee Jones, 89

Jonathan Marquez Bowen, 9

Maggie Delight Robinson, 57

Mamie Roberts Koon, 68

Marshall Lynn Grimes, 59

Mary Louise Jones, 83

Mykala Waldon, 8

Raymond Robinson Jr., 63

Ryan Pence, 22

Sheila Creech, 59

Taylor Thornton, 10

Tresia Robinson, 62

Vicki Braswell, 69
Lee County EMA Director Rita Smith said she hoped the ceremony would bring comfort to those who lost someone. "It is important for them to know that we have not forgotten about them," she explained.
A permanent memorial remembering all 23 victims sits on the property of Providence Church, located in the heart of the Beauregard area. It also honors the first responders and the people who volunteered in the aftermath of the storms.
Gov. Kay Ivey has proclaimed March 3 a day of remembrance.
Copyright 2021 WSFA 12 News. All rights reserved.