Alabama's 2021 tornado numbers are striking; most active month now underway
No state is close to Alabama's 64 tornado reports so far in 2021
Updated: Apr. 2, 2021 at 8:59 AM CDT
MONTGOMERY, Ala. (WSFA) - If you think 2021 has gotten off to a very active start in the severe weather and tornado department here in Alabama, you are certainly not alone. January and February were tame, but March was hyperactive thanks to two tornado outbreaks that impacted the state.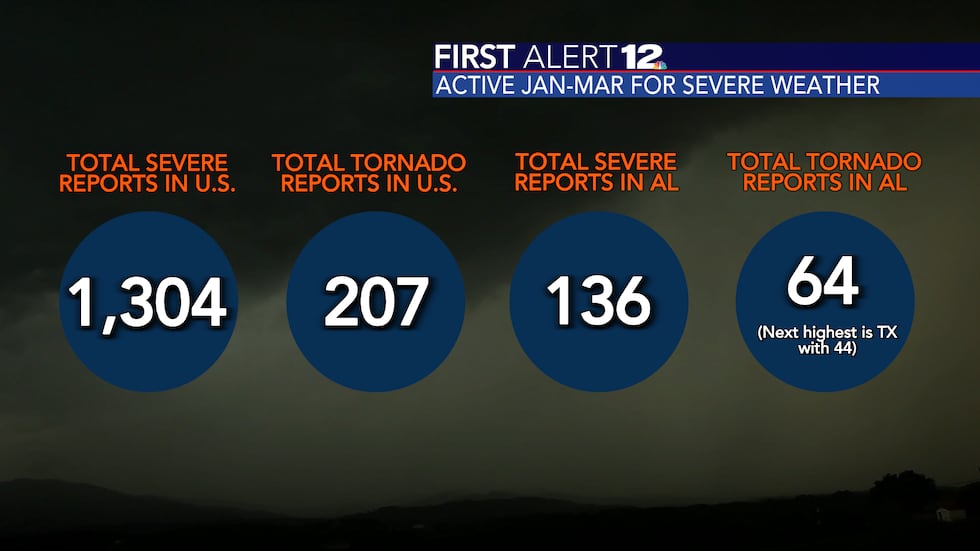 Both of those outbreaks were centered right over the heart of Alabama, which has really inflated our tornado count this year.
Of the 207 tornado reports in the United States through March 31st, a whopping 64 of them have been in Alabama. That's an impressive 31%! The next-highest count is Texas with 44. Beyond that, no state has more than 17 tornado reports in 2021.
When you look at total severe weather reports -- includes damaging wind, large hail and tornadoes -- we are at 136. That places Alabama in 2nd place behind only Texas.
For March specifically, there were 184 tornado reports across the country. That's good for being the most since March of 2012, which saw an incredible 225 tornado reports. Again, a good chunk of those came from the Yellowhammer State.
Alabama also saw four EF-3 tornadoes in March. The only other state to see one such tornado was Georgia, which saw an EF-4 hit the Newnan area. The five total EF-3+ tornadoes to hit Alabama and Georgia in March is good for the most since March of 2012.
One other way to put into perspective how hyperactive March was for the Deep South is to look at the severe weather outlooks put out by the Storm Prediction Center. These are those maps you see circulating all over social media prior to severe weather events.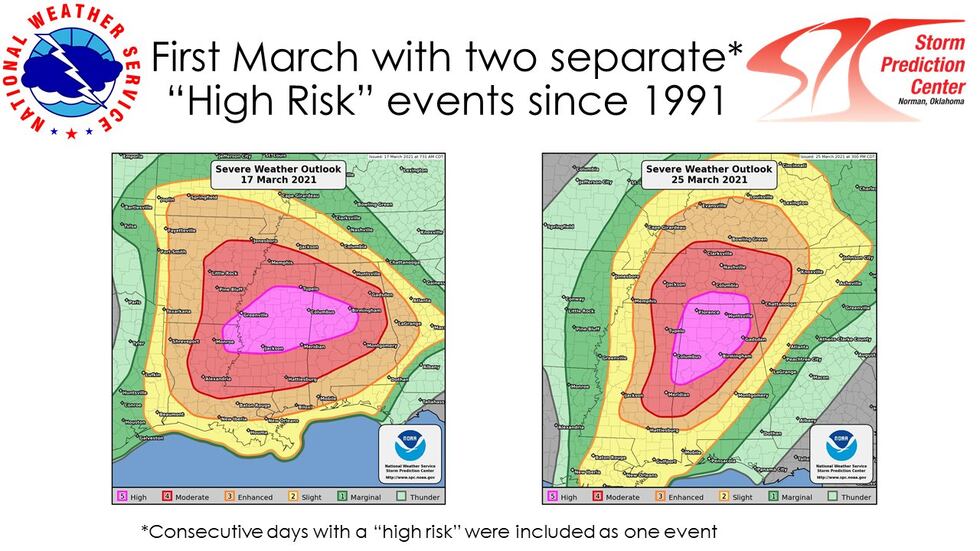 The outlooks feature five categories designed to highlight the chance of severe weather. Those categories are as follows:
1. Level 1: "Marginal Risk"

2. Level 2: "Slight Risk"

3. Level 3: "Enhanced Risk"

4. Level 4: "Moderate Risk"

5. Level 5: "High Risk"
For the first time in 30 years, there were two separate level 5-of-5 "High Risk" outlooks issued by the SPC in March. Both of them included Alabama and were centered over the MS-AL region. That is remarkably rare.
So now that we're in the historically and climatologically most active month for severe weather in Alabama, what can we expect?
Fortunately it's going to be very quiet through at least next Wednesday across the region. Then things will likely change as the pattern will favor not only showers and thunderstorms, but the risk of severe weather as well.
And that includes Alabama and adjacent states.
A risk of severe weather will exist to our west across the center of the U.S. on Wednesday, April 7th as moisture and energy surge north from the Gulf of Mexico. We are likely quiet on Wednesday.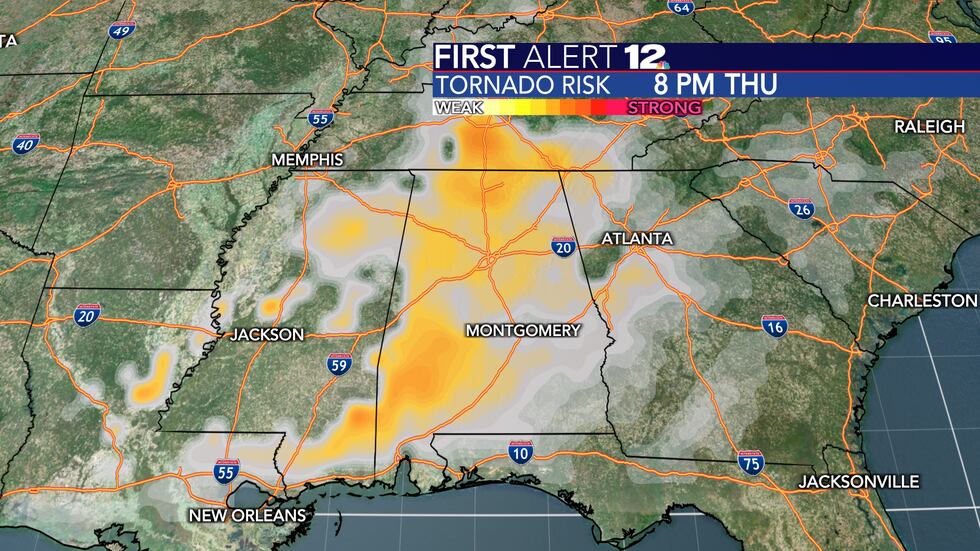 But Thursday and Friday will bring that threat eastward into the Mississippi Valley and Deep South. It's far too early to speculate anything specific, but what we can say is the pattern and signal from our long-range forecast models do support an uptick in severe weather potential.
That includes all hazards -- damaging wind gusts, hail and tornadoes.
Let this just serve as a first alert for late next week here in Alabama. There will be severe weather somewhere in the Southeast with the expected pattern, but exact timing, location and details cannot be ironed out just yet.
Copyright 2021 WSFA 12 News. All rights reserved.