Local churches adapt to pandemic for Easter Sunday
Updated: Apr. 4, 2021 at 6:26 PM CDT
MONTGOMERY, Ala. (WSFA) - For the first time since 2019, worshippers got to celebrate Easter Sunday inside their church instead of from home.
Last year, COVID-19 forced churches across the country to close their sanctuaries and go virtual. But this year, many churches were open for in-person worship.
"There's been so much anticipation just amongst our church to be back together in-person for this day," said Mark Bethea, Senior Pastor of First Baptist Church Montgomery.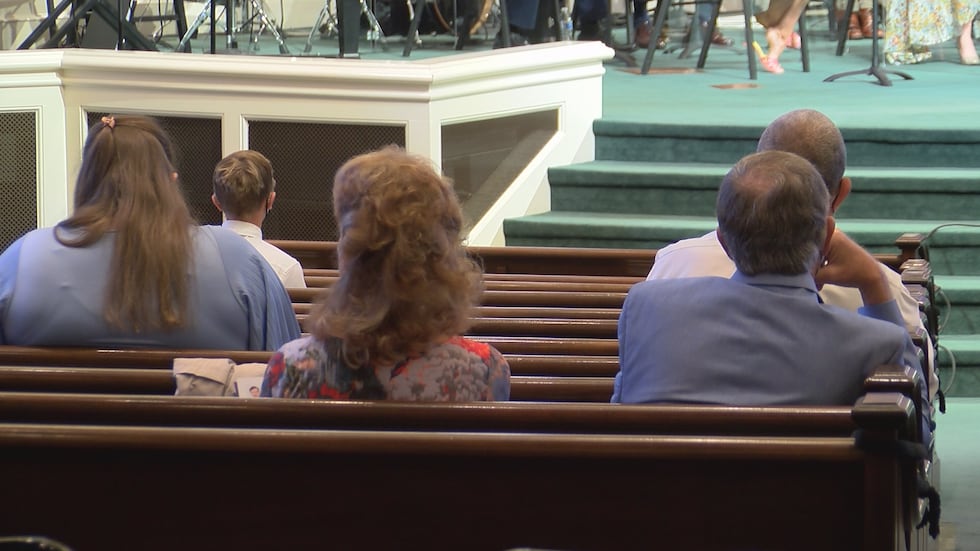 First Baptist Church Montgomery offered three separate in-person Easter Sunday services, as well as an option to watch virtually.
Parishioners were asked to wear a mask throughout the duration of the service, and pews were blocked off to promote socially distancing. The church also opened up a second sanctuary to provide more seating and prevent overcrowding.
"We've just seen people try to follow every guidance that we give them to be safe so that they can worship in person," Bethea said.
First Baptist reopened for in-person services in September, but Easter Day was a celebration Bethea said the church had really been looking forward to.
"To come back together as a faith family, and see one another, and worship together, to lift our voices together, there's a lot of anticipation in my heart for this day," Bethea said.
"We're excited about being open," said Saint James Church Lead Pastor Lester Spencer. "We were shut down last Easter and were online only, but this Easter we are wide open with online as well as in-person worship."
Saint James Church held one sunrise service outdoors as well as two services in-person, both a contemporary and traditional service. They also streamed their services live online. The church asked their guests to wear a mask and socially distance.
Spencer said they still have a lot of people worshiping online, but they are glad to see people slowly start to feel comfortable coming back out.
"People are feeling more and more freedom," Lester said. "Especially as they are vaccinated."
"I think all of us just want to be in community with each other, we want to be in communion, we want to be here with other people," said Becky Taylor, Director of Music Ministry's at the Church of the Ascension.
Church of the Ascension offered three different Easter Sunday services; a sun-rise service in their garden, an in-person service in their sanctuary and an outdoor service.
"We believe that there are still people who are not comfortable with being inside with other people and as we all know the reason that we social distance and the reason why we wear our mask is because we want to be considerate of people who have not been vaccinated yet or might be more susceptible, so we're outside socially distancing," Taylor said.
Despite services being a bit different for the second year in a row, church leaders said the message and meaning behind Easter is the same.
"The message of Easter hasn't changed, whether it's online or whether it's in person," Spencer said. "It's always about the resurrection of Jesus Christ. So, we are excited today to be proclaiming that message through some great worship."
"Without Easter, much of our Christian faith falls apart," Bethea said. "That's what we are celebrating. Today is the peace that God has brought through us through Jesus."
"Life is good and death has been concurred," Taylor said. "We celebrate new life. We celebrate resurrection. We celebrate all of the things that are going to bring us hope and joy in tomorrow and that certainly is a strong message after everything that has gone on this past year."
Copyright 2021 WSFA 12 News. All rights reserved.