Officials: Man killed his mother, stepfather and 2 deputies in Watauga County, N.C. mass shooting
Updated: Apr. 29, 2021 at 6:43 PM CDT
WATAUGA COUNTY, N.C. (AP/WBTV) - Authorities say a man killed his mother, stepfather and two deputies during an hours-long standoff in Watauga County Wednesday. A third officer was also shot in the standoff.
Deputies say 32-year-old Isaac Alton Barnes is suspected of killing 36-year-old Sgt. Chris Ward, 25-year-old K-9 Deputy Logan Fox, 61-year-old Michelle Annette Ligon and 58-year-old George Wyatt Ligon.
Barnes, who is the son and stepson of the Michelle and George Ligon, died at the scene. He is believed to have died from a self inflicted gunshot wound.
The two deputies were shot while responding to a welfare check at a home on Hardaman Circle in Boone after the homeowner and his family did not go to work or respond to phone calls. Deputies entered the residence after discovering all vehicles belonging to the residents were on the property.
The standoff began around 9:44 a.m. Wednesday and ended just before 11 p.m.
Watauga County Sheriff's Office K-9 deputy Logan Fox was shot and died at the scene, officials say. Sgt. Chris Ward died from his gunshot wounds after he was taken to Johnson City (Tenn.) Medical Center.
Deputy Logan Fox is a two-year veteran of the Watauga County Sheriff's Office. He was a K-9 officer who handled Watauga County Sheriff's Office K-9 "Raven." Prior to working at the Watauga County Sheriff's Office as a full-time deputy, he served as full-time deputy with the Ashe County Sheriff's Office.
Sgt. Chris Ward is an eight-year veteran in the field of law enforcement. He married his high school sweetheart and is a father of two, ages 19 and 5. He began his career at the Beech Mountain Police Department in 2013, later moving on to the Watauga County Sheriff's Office where he was promoted to the rank of Sergeant.
During an initial rescue attempt of the deputies, one Boone Police Officer was hit by gunfire. The Boone Officer was protected by his ballistic helmet and uninjured.
There were actually two items that saved the officer's life. A shield blocked one bullet and the helmet deflected the other.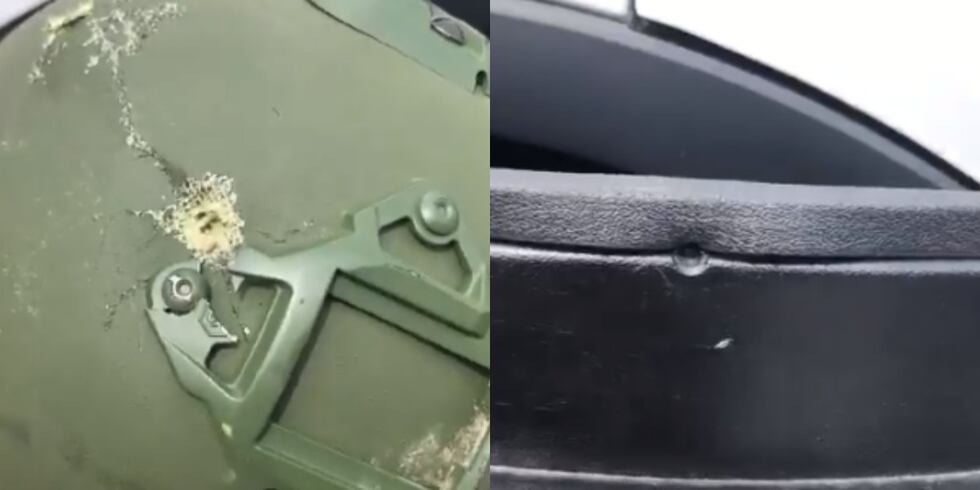 Deputies said as officers entered the home for the welfare check, a person inside the home started shooting.
Watauga County Sheriff Len Hagaman spoke to media briefly on Thursday afternoon.
"We heard on the radio, heard the dispatch go out for this welfare check on the parents, the mother and this stepfather - and so you know they went out," Sheriff Hagaman said. "Next thing we know they're saying "officer down!" and everybody went boom.
Officials say two medical helicopters were called in. One deputy, Ward, was flown out before he died. A second one, identified as Fox, remained at the scene.
"This is an incredibly tragic situation and our thoughts and prayers are with everyone involved as well as their families and our community," said Watauga County Sheriff Len Hagaman. "I greatly appreciate the tremendous support we are receiving from law enforcement agencies across the region and the state."
Sheriff Hagaman says he's convinced the suspect was planning to do something violent in nature - not particularly targeting officers - but possibly the public in general.
The sheriff says officers thought they were going into one situation and instead, the suspect was there.
"He was at the house, which we didn't think he would be," the sheriff said.
Sheriff Hagaman says the department has had some encounters with this suspect before - as they just had calls about this person Sunday.
"There was familiar concern that he might try to do something," Sheriff Hagaman said.
The sheriff says the suspect had a fairly large arsenal of weapons.
Deputies said the shooter remained barricaded inside the home during the hours-long standoff, while periodically shooting in the direction of officers.
SWAT teams from across the state later came to assist in the standoff. WBTV captured a photo of SWAT team members praying ahead of time.
The SBI is handling the investigation and officials say it is ongoing. Investigators are trying to determine the motive for the shooting.
A search warrant, which was executed after the standoff ended, shows at least five guns were found inside the home, though it appears two of them were what the deputies were carrying.
There's an indication that possibly one round was fired by the deputies but no confirmation of that.
Dozens of spent rifle shell casings were found outside where deputies were stationed during the standoff and a few spent rifle casings were found inside where the suspect fired at officers. The warrants do not say who fired what and when.
"I'm confident that we will get through this. It's just a pretty rocky road right now," Sheriff Hagaman said Thursday.
Nearby residents were evacuated, deputies say.
WBTV spoke to several Watauga County residents Wednesday night. Marco Hernandez said he has a friend who is a sheriff's deputy, and was surprised to hear about what happened.
"It's just heartbreaking to hear about that, especially just as we're a small town. It is pretty heartbreaking," said Hernandez.
NC House Rep. Ray Pickett says, "the deputies were ambushed."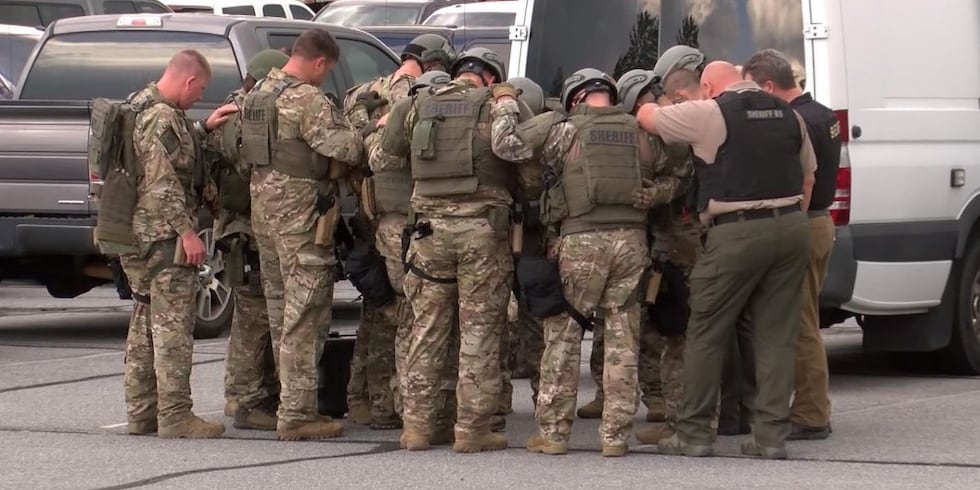 Kimberley Main, an employee at a local Dollar Tree store, said she remembers the last time a deputy was killed in Watauga County. 23-year-old William Mast was killed in a shooting in 2012. Main said Wednesday's violence brings back bad memories for her.
"The Dollar Tree Family is praying for the families involved all the way around," said Main. "We love you."
As of Friday, the scene itself has been cleared. The bullet scarred home is empty for now. Neighbors say it's hard to look at after what happened.
Before it happened, Jacob Shook says he was taking his daughter to a practice on Wednesday when he saw Sgt. Chris Ward and Logan Fox in the front yard of the home.
He knew both deputies and says "Chris waved when he saw me and I waved back." It was just minutes after that when the two deputies were shot.
"It's just horrific," said Shook.
Law enforcement agencies supporting the Watauga County Sheriff's Department at the scene included: Appalachian State University's Police, Avery County Sheriff's Office, Beech Mountain Police, Blowing Rock Police, Boone Police, Caldwell County Sheriff's Office, Henderson County Sheriff's Office, Hickory Police, Morganton Public Safety, North Carolina Alcohol Law Enforcement, North Carolina State Bureau of Investigation, North Carolina State Highway Patrol, Transylvania County Sheriff's Office, West Jefferson Police and Wilkes County Sheriff's Office.
The Watauga County Sheriff's Office was also assisted by a large number of Emergency Management Departments, Fire Departments, Emergency Medical Services, and Rescue Squads from the surrounding area. Samaritans Purse, Billy Graham Ministries and several area churches, including Mount Vernon Baptist Church, were also instrumental in supporting operations related to this incident.
Back The Blue NC set up GoFundMe campaigns for the families of both Sgt. Chris Ward and K9 Deputy Logan Fox.
The investigation is ongoing, and is being led by the North Carolina State Bureau of Investigation. All future media requests should be made to agrube@ncsbi.gov.
Copyright 2021 WBTV. The Associated Press contributed to this story. All rights reserved.