Will this upcoming workweek be a washout?
There will be thunderstorms, but the severe weather threat is very low
Updated: May. 9, 2021 at 10:49 PM CDT
MONTGOMERY, Ala. (WSFA) - We saw clouds increase late this afternoon ahead of rain and storms to our north, and that was the beginning of what will be an active pattern this week. Starting late tonight/early Monday morning and lasting through at least Thursday morning, we will deal with on and off showers and thunderstorms; we can thank a stalled out frontal boundary for those multiple rain and storm chances.
The storm activity to our north will be weakening as it moves into Central Alabama close to midnight and thereafter...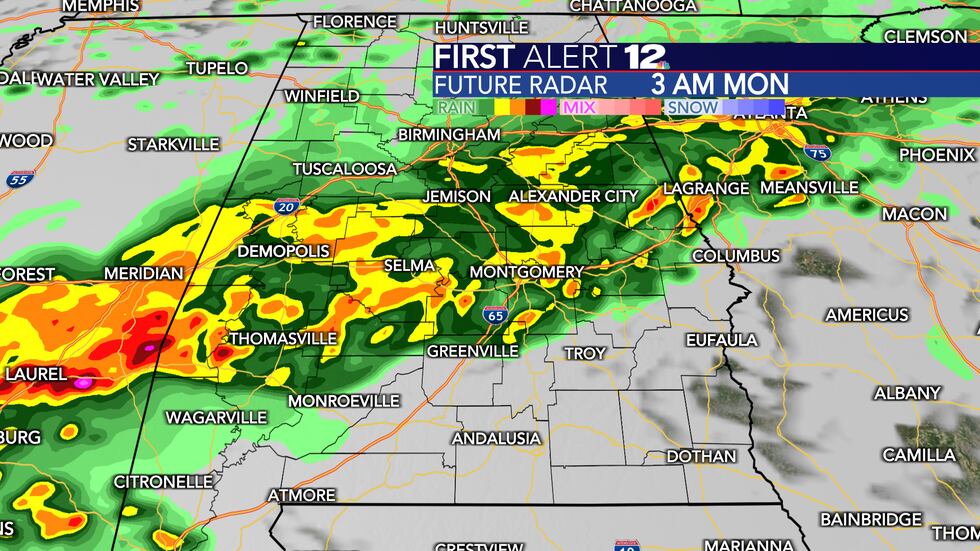 So we aren't expecting much more than some leftover rain and a few storms tonight into Monday morning.
Beyond tonight rain, it's difficult to pinpoint exactly when the highest rain coverage will be due to the complicated pattern and unknown high-resolution details at this juncture. So we'd expect at least some changes regarding our daily and nightly rainfall chances as each day gets closer.
What we can say is that there are high chances for rain and thunderstorms Monday through Thursday morning, but no day will be a washout across the board. And by the end of the day Thursday, most everyone will have picked up a healthy 2-3″+ of rain. Fortunately, flooding isn't a concern due to our recent dry stretch and the rain coming over a four day period.
The humidity will also rise this week as we get moist flow from the Gulf of Mexico. It won't be unbearably muggy, but you will notice the humidity through Wednesday. Despite the increase in moisture, humidity and other ingredients that support thunderstorms, we are not looking at a significant severe weather threat here in Central Alabama.
Could we see some stronger to marginally severe storms on Monday and Tuesday? Yes. We just don't see much more than a few storms capable of quarter size hail and strong wind gusts at this point.
Monday and Tuesday will be warm around 80 overall, but the potential will exist for some to stay in the upper 70s while others hit the mid-80s. It just depends on rain coverage and if any sun pops out.
By Wednesday and Thursday we will be north of a frontal boundary. That means much cooler air characterized by highs in the upper 60s and lower 70s both afternoons. If cooler weather isn't your thing, don't worry! Those cool temperatures will be history by Friday and next weekend as high pressure builds back into the Southeast.
That will bring drier, sunnier and calmer weather with temps heading back well into the 70s Friday and lower 80s next weekend.
Copyright 2021 WSFA 12 News. All rights reserved.