Tornado season 2021: What we've seen and where we're going
We're done with peak severe and tornado season this year
Updated: May. 18, 2021 at 8:22 AM CDT
MONTGOMERY, Ala. (WSFA) - It has certainly seemed like an active severe weather season at times in 2021. We saw a few high-end severe weather and tornado events in Alabama that resulted in "Medium" and even "High" threat outlooks.
"High" threats are not issued much at all unless we're highly confident in significantly impactful weather here in Central Alabama.
So where do we stand now that we've crossed the midway point in May? This is when tornado season starts to fall off quite a bit, but will 2021 cooperate and obey the "normal"?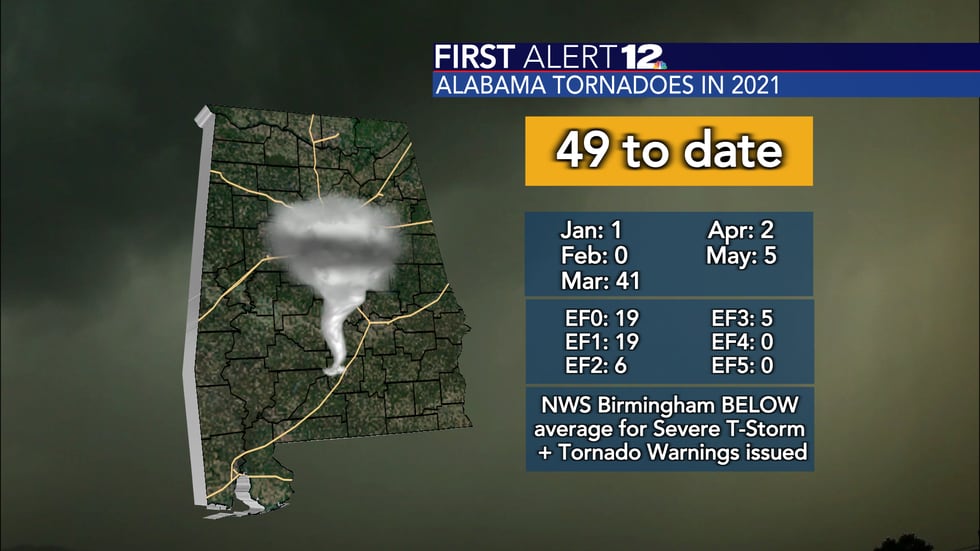 Through May 18th, the state of Alabama has seen 49 tornadoes. Most of them -- a whopping 84% -- occurred in March with a pair of outbreaks. And of the 49 tornadoes, 78% have been weak (EF0 or EF1). However, 11 were rated either EF2 or EF3. Tornadoes of this strength can cause substantial to significant damage.
There have been over 60 injuries due to tornadoes here in 2021, and a total of 6 people have been killed in Alabama.
The 49 tornadoes through May 18th is right around or above normal depending on the "average" of your choosing. Since more tornadoes have occurred each year over the last 20 years, our recent averages are much higher than our long-term average of 30-50 years.
We can thank 2011 and the ability to spot, confirm and document tornadoes in a much easier fashion for our increasing trend in annual tornadoes.
10-year average annual tornadoes in Alabama: 63

20-year average annual tornadoes in Alabama: 61

30-year-average annual tornadoes in Alabama: 50

50-year average annual tornadoes in Alabama: 41
Even with the tornado count being on par or above normal so far in 2021, the National Weather Service offices in both Birmingham and Huntsville are below normal in terms of the number of Severe Thunderstorm Warnings and Tornado Warnings issued through mid-May.
The NWS in Mobile is above average through mid-May in that department.
Looking at the U.S. as a whole, we're running quite a ways behind through May 18th in terms of tornadoes. There have been 426 NWS Local Storm Reports for tornadoes in 2021 so far. On average, the country is above 600 by this point in the year.
The reason? A very quiet April overall. The lack of tornado activity in April has sent the U.S. tornado numbers far below the average after a hyperactive March.
So what about the rest of May and beyond for us here in Alabama? We've got the answer you're probably looking for...
Put a fork in tornado season 2021 because it's done! A hot and dry pattern is going to take over across the Deep South later this week and not let up until at least Memorial Day. That means no severe weather at all whatsoever for the remainder of May!
With June, July and August featuring our lowest average tornado counts, we are officially moving past peak severe weather and tornado season in Alabama!
Copyright 2021 WSFA 12 News. All rights reserved.