Ride of Silence event honors cyclists injured or killed by motorists
This is the Montgomery Bicycle Club's 14th year to hold the event.
Updated: May. 19, 2021 at 10:51 PM CDT
MONTGOMERY, Ala. (WSFA) - The Montgomery Bicycle Club took to the streets Wednesday night to hold its 14th annual Ride of Silence event to honor cyclists who have been injured or killed while biking on pubic roadways.
The ride, which is held during National Bike Month, aims to raise the awareness of motorists, police and city officials that cyclists have a legal right to ride. Although cyclists have a legal right to share the road with motorists, the motoring public often isn't aware of these rights, and sometimes not aware of the cyclists themselves.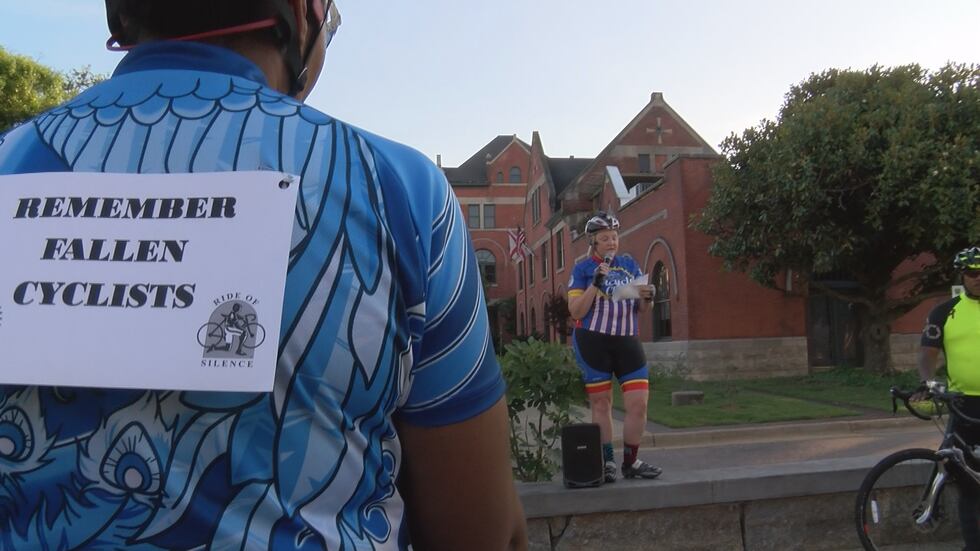 Cyclists began at the corner of Commerce Street and Water Street in downtown Montgomery and made the slow and silent nearly 7-mile ride around the city.
Before taking off, members of the club reflected on the long list of Alabama cyclists who have been injured or killed on public roadways. One of those names is Jim Glassner, a good friend of cyclist David Orange, who took part in the event.
"I was with him, we were riding together," Orange said. "And I'm lucky to be alive and I'm sad that he's not. Not a day goes by that I don't get on the bike and think about him. It's nice that we can do an event like this and remember other fallen cyclists, but most important of all, bring attention to the community that cyclists are just like other people."
"The image we're trying to portray tonight is of a funeral procession," said Robert Traphan, Montgomery Bicycle Club President. "So we're symbolically mourning and remembering the cyclists that have been killed on their bicycles over the years."
The Montgomery Police Department escorted the cyclists, much like an actual funeral procession. Those watching took a moment to stop and reflect.
"People riding bicycles are people, just like people driving their cars or trucks, and when you see someone on their bicycle it's not just an obstacle on the road that's slowing you down. That's actually a person, so it's someone's mother or father or sister or brother, son or daughter," Traphan said.
"We just want to make sure that we get the word out there that if you can get over into the other lane we would rather you get over into the other lane just to give us as much distance as you can between the bicycle and the vehicle," said club member Rosemary Howard.
The general rule for drivers is to keep a 3-foot distance from cyclists, but those in the Montgomery Bicycle Club are hoping motorists stay even further away.
"Stay wider of the rider," Traphan said. "There's a state law that requires at least 3 feet of safe passing but if you can give us double that and give us 6 feet of safe passing that extra space will save lives."
Traphan said for those looking to get on a bike for the first time to remember that a bike is like a car, so when you're riding you need to ride with the same traffic rules. He also said when you are making lane changes to make signals with your hands to alert vehicles around you where you plan to go.
The Ride of Silence event is a national event that has taken place since 2003 after a cyclist was hit by the mirror of a passing bus and was killed in Dallas, Texas.
According to the U.S. Department of Transportation, nearly 850 cyclists were killed in traffic crashes in 2019.
Copyright 2021 WSFA 12 News. All rights reserved.