'I have natural immunity': Ky. Sen. Rand Paul will not get COVID vaccine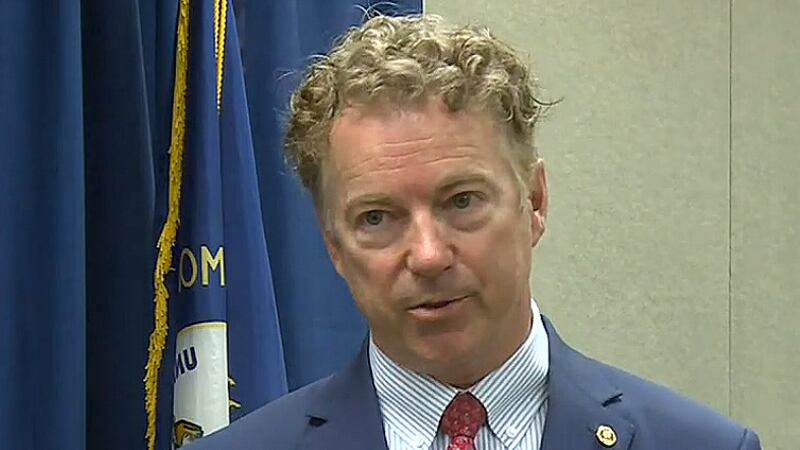 Updated: May. 23, 2021 at 3:16 PM CDT
FRANKFORT, Ky. (WAVE) - Kentucky Sen. Rand Paul said he will not be getting a COVID-19 vaccination stating he already has "natural immunity" from contracting the virus.
Paul made the comment during an interview with radio host John Catsimatidis on WABC AM in New York on Sunday morning. He said he would possibly reconsider if he sees evidence for people who have already contracted COVID getting sick or dying.
"Until they show me evidence that people who have already had the infection are dying in large numbers, or being hospitalized or getting very sick, I just made my own personal decision that I'm not getting vaccinated because I've already had the disease and I have natural immunity," Paul said in the interview.
Paul had previously tested positive for COVID-19 back in March, one of the first known senators to contract the virus during the pandemic.
In the interview, Paul argued that his immunity from catching the virus is an acceptable reason for him passing on the vaccine.
"We should have a choice whether we take the vaccine or not because frankly, all of the studies show that I have just as good immunity as the people who have been vaccinated," Paul said.
The Centers for Disease Control and Prevention has said people who have contracted COVID are recommended to still receive the vaccine because experts do not know how long patients are protected from getting sick again.
A spokesperson for Sen. Paul's office, Kelsey Cooper, sent the following statement to WAVE 3 News:
"Dr. Paul is following the science on the vaccines and masks for those who have developed immunity. Like tens of millions of other Americans who have recovered from Covid-19, Dr. Paul has developed an immune defense to the virus, which is the same goal and result of the vaccines. As such, Dr. Paul believes there are many millions of other Americans who should receive the vaccine ahead of him. That is especially true as clinical trials have shown the vaccines provide no appreciable additional immunity for those who have already recovered from the disease."
Cooper also mentioned a previous op-ed piece Paul had written for The Hill discussing his approval of the COVID vaccines.
"I'm in favor of vaccines. I'm a Duke Medical School trained M.D. and I studied immunology before moving on to my career in eye surgery. Vaccines are a marvel of modern medicine, and the speed and effectiveness of the COVID vaccines have been great."
Copyright 2021 WAVE 3 News. All rights reserved.