Brand new outlook for summer is here
Features the latest temperature and precipitation forecasts for June, July and August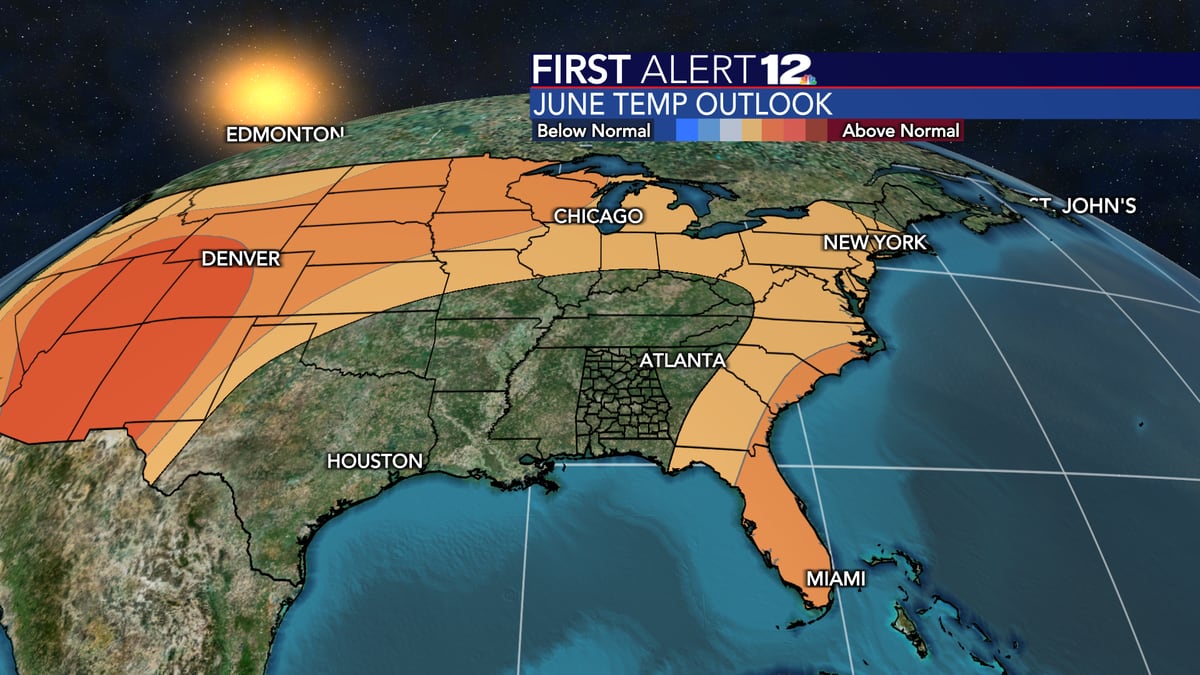 Published: May. 24, 2021 at 9:40 AM CDT
MONTGOMERY, Ala. (WSFA) - Somehow we are already beginning the final week of May here in 2021. That means Memorial Day and June are right around the corner. So what kind of weather are we looking at heading into the summer months?
The Climate Prediction Center (CPC) has released their latest outlooks for not only June, but for June, July and August as a whole as well.
A typical June brings highs of 90-93°, lows of 66-70° and 4.08″ of rainfall. That makes June our 6th-wettest month in Montgomery -- wetter than both April and May. This year, the CPC is calling for average temperatures and above normal rainfall.
That would mean most days will feature highs in the low 90s and overnight lows in the upper 60s. There will almost certainly be some days with highs either in the 80s or above 95°, but it is expected to be a generally "normal" month in terms of temperatures.
This outlook also suggests that we have a pretty good chance at seeing more than 4.08″ of rain. Based off the outlook we would expect a healthy dose of days with those daytime pop-up thunderstorms!
The outlook for June, July and August as a whole places Alabama in the following two categories:
"Above average temperatures favored"

"Above average precipitation favored"
An outlook like that means we can expect more days in the middle and upper 90s than anything else throughout the summer -- especially in July and August. There's a pretty good shot that we'll reach the century mark a few times as well.
Overnight lows are typically in the lower 70s during the summer, so we'd expect lower and middle 70s for the most part.
Confidence isn't as high for the precipitation outlook, but most of Alabama is included in the lightest green color. That represents above normal rainfall, but confidence isn't very high.
With an outlook like that, we would expect a relatively normal June, July and August in terms of rain and thunderstorms. There will probably be more days that feature rain than a normal summer, but that isn't set in stone.
The average rainfall in Montgomery for July and August is 5.06″ and 4.02″, respectively. July is actually the 2nd-wettest month of the year, on average, in Central Alabama thanks to daily thunderstorms.
Copyright 2021 WSFA 12 News. All rights reserved.