Video shows Capitol lawsuit served at Mo Brooks' home, police report filed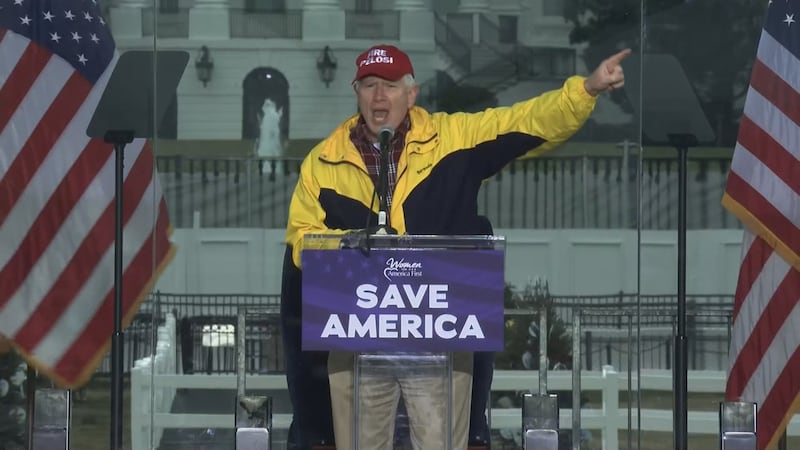 Published: Jun. 6, 2021 at 9:36 PM CDT
|
Updated: Jun. 9, 2021 at 8:45 PM CDT
WASHINGTON (WAFF) - A California congressman has served a lawsuit connected to the Capitol siege to U.S. Representative Mo Brooks. Rep. Brooks confirmed the legal paperwork was received on Sunday, but claims the law was broken to do so.
Officials with the Huntsville Police Department confirm a police report was filed against the man who served Congressman Mo Brooks' wife Martha with a lawsuit.
On Wednesday, June 9th, WAFF reached out to a legal process server in Alabama. For more than 30 years Sheila Brooks has served thousands of papers.
Sheila watched the video of the private investigator and we asked if she thinks the man is guilty of trespassing.
"No, he did not trespass. He was there on a legal matter to serve legal process on Mo Brooks, so he has every right to go into that property to try and serve the papers," said Sheila Brooks.
When serving papers for a lawsuit, Sheila Brooks says process servers are allowed to be creative.
You can take a pizza box to the door, flowers, any kind of pretext that you need to use to get the papers served. In this case, it sounds like all he did was run into the garage as she was getting out of the car," said Sheila Brooks.
Last week, U.S. Representative Eric Swalwell (D-CA) filed a motion requesting more time to serve Congressman Mo Brooks with a lawsuit related to the January 6 Capitol riot.
In a District Court of D.C. motion filing, Swalwell asked for an additional 60 days to serve Rep. Brooks with the summons and a copy of the complaint for the suit. Federal rules state the defendant must be served within 90 days of the initial filing of the complaint.
Swalwell claimed the following reasons as a 'showing of good cause' for the 60-day extension:
Plaintiff says Rep. Brooks knew about the lawsuit in March. "Mo Brooks unquestionably knows about the instant lawsuit," claims the motion. "Just hours after it was filed, Brooks tweeted a series of baseless accusations against Plaintiff in response."

Plaintiff's counsel asked Brooks to waive service. The claim states "neither Brooks nor any member of his staff have responded to this request."

Plaintiff hired private investigators to serve Rep. Brooks the summons in person. The motion notes serving a summons in person is "a difficult feat under normal circumstances that has been complicated further in the wake of the January 6 insurrection at the Capitol that Defendants incited."

Plaintiff attempted to serve the lawsuit to Rep. Brooks at multiple locations in April and May. "Plaintiff has borne all costs associated with these efforts," the motion further states.
Rep. Brooks later tweeted on Sunday that he plans to provide police with security footage proving representatives for Congressman Swalwell trespassed to serve the lawsuit.
In a radio interview, Martha Brooks said the process server came into the garage of their home when she was returning from church.
"He stood there calls me by name, Mrs. Brooks I have come to serve your husband papers and I scream get out of my house," says Martha Brooks on WBHP radio.
Watch surveillance video from the Brooks' home below:
"I went and did some quick research. I looked up Alabama criminal code. Trespassing of the first degree. A penalty up to $6,000 fine and one year in jail," says Mo Brooks.
Huntsville Police say Martha will have to meet with a magistrate about the facts surrounding the case in order for an arrest warrant to be issued.
Read the full motion below:
The motion was granted by U.S. District Judge Amit P. Mehta. See the extension order below:
Congressman Brooks has posted on social media accounts about recent travels around the state of Alabama.
Rep. Swalwell filed the original lawsuit on March 5, 2021. The new extension will allow Rep. Brooks to be served into the month of August.
Copyright 2021 WAFF. All rights reserved.