Dry night, more of the same tomorrow
Classic Summer pattern continues
Published: Jun. 8, 2021 at 7:59 AM CDT
|
Updated: Jun. 8, 2021 at 9:34 PM CDT
MONTGOMERY, Ala. (WSFA) - The rain and storms of earlier have faded - a result of the loss of daytime heating. These storms are driven primarily by surface heating and high levels of moisture in the air, so when the sun goes down, the rain typically fades away.
But, the more things change, the more they stay the same. Tomorrow will be a very typical Summer day with scattered showers and storms popping in the late morning and continuing through early evening. It won't rain all day, for that matter it won't even rain on everyone. We think roughly 50% of us will have rain - and 50% will stay dry. Those rain chances drop to 30% for Thursday and Friday. You can expect just a bit more dry time and sunshine than rain during the Wednesday-Friday window, but no one day is completely dry.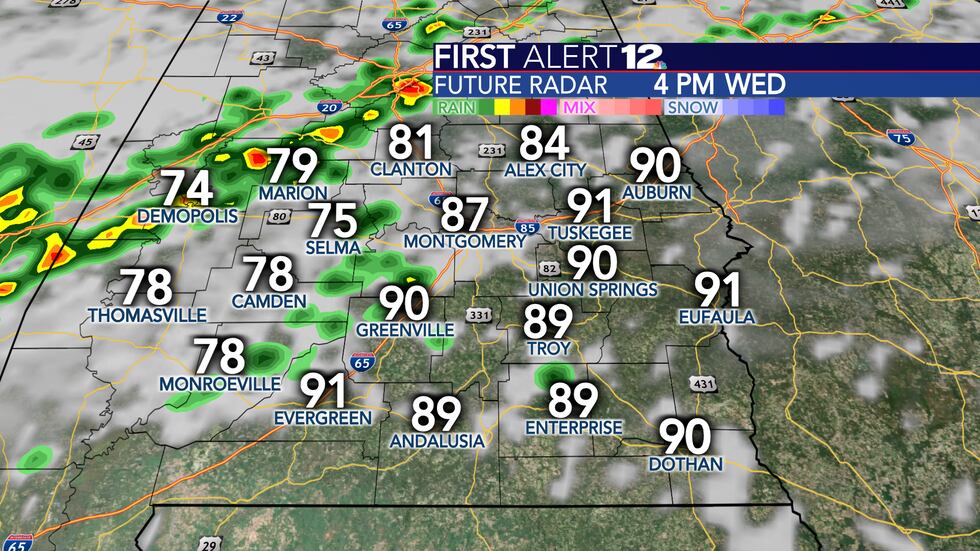 Highs will be right around 90 degrees each afternoon under partly to mostly cloudy skies with humidity values still in that very muggy to down-right tropical category. The good ole air you can wear! When you combine highs around 90 with the humidity, we will have daily heat indices in the 93-99 range.
There will be a slight -- and very needed -- breeze at times each afternoon going forward with wind speeds right around 10 mph.
The sticky and miserably high humidity will stick with us through weekend and into early next week. That will keep our isolated to scattered rain and storm chances going strong through at least Monday or Tuesday. Total washouts are not anticipated, but the exact rain chances will probably change, so stay tuned!
Temperatures will continue topping out right around 90 degrees during the afternoons, with overnight temps down in the lower 70s.
Copyright 2021 WSFA 12 News. All rights reserved.