Tuskegee picks up first win of season, beats UWA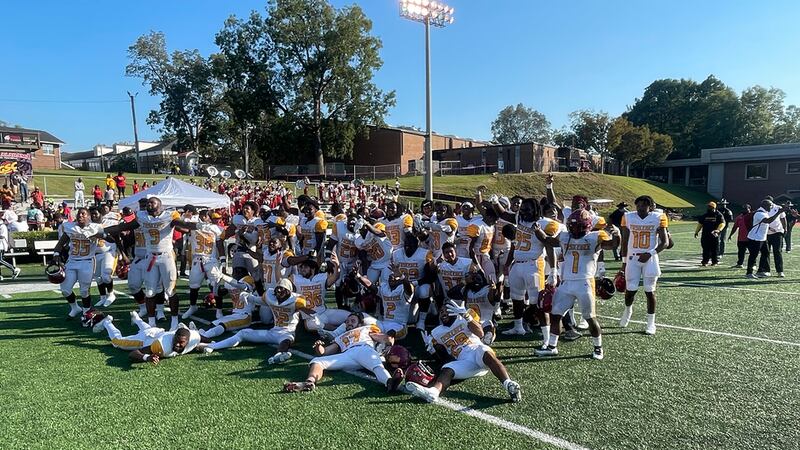 Published: Sep. 15, 2022 at 12:22 PM CDT
|
Updated: Sep. 17, 2022 at 4:55 PM CDT
LIVINGSTON, Ala. (WSFA) - The Tuskegee Golden Tigers picked up their first win of the 2022 football season in a matchup with the University of West Alabama Tigers.
The Golden Tigers were first on the scoreboard as Arnes Huskic kicked a 42-yard field goal with 10:57 left in the first quarter. The UWA Tigers swiftly answered that with a field goal of their own. UWA's Gabriel Dunkle kicked a 26-yard field goal with 7:12 remaining in the quarter, tying the game 3-3.
UWA took control of the game early in the second quarter. Quarterback Tucker Melson passed to wide receiver wide receiver John Hilbert for a 16-yard touchdown.
With less than a minute until halftime, Tuskegee responded with another score. Golden Tigers QB Bryson Williams passed to wide receiver Corey Petty for an 11-yard TD.
The teams finished the second quarter with a tie, 10-10.
The second half of the game ended up being a challenge for both teams as neither scored in the third quarter.
With 5:38 remaining in the final quarter of the game, a 29-yard field goal put Tuskegee back on top.
The Golden Tigers went on to beat the UWA Tigers13-10.
"This was a very important win for us as a program as well as for all of our Tuskegee family," said Head coach Reginald Ruffin stated. "With this being our 700th win in program history, it also shines a light on players who led the way for our university in the past and will hopefully continue to inspire us going forward. This West Alabama program is a well-coached team, and it was a huge boost of confidence for our team and fan base to pull this hard-fought game out."
Tuskegee is now 1-2 for the season. They will take on Allen University in their Hall of Fame game next Saturday at 1 p.m. inside Montgomery's Cramton Bowl.
Sign up for the WSFA Newsletter and get the latest local news and breaking alerts in your email!
Copyright 2022 WSFA. All rights reserved.