First Alert: Rain and storms return Saturday night
A few severe storms are possible south of Montgomery
Published: Nov. 25, 2022 at 5:10 AM CST
|
Updated: Nov. 26, 2022 at 8:33 AM CST
MONTGOMERY, Ala. (WSFA) - We are tracking another storm system that arrives tonight and brings in a very low risk of severe weather to far south Alabama. The main concern would be a pocket or two of wind damage in the most intense storm cores. But, with plenty of wind shear around, we can't rule out a rogue, quick tornado dropping late tonight. This risk is for the far southern sections of the state, roughly along and south of a line from Monroeville to Troy to Eufaula.
The timing for this round of wet weather is mainly 6 p.m. Saturday through 6 a.m. Sunday.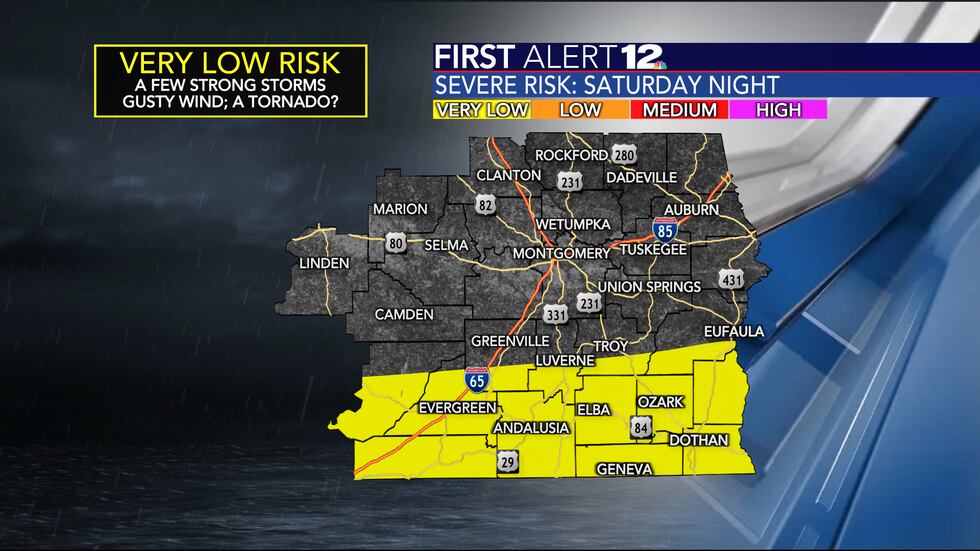 After the stormy weather today, a beautiful stretch will then take shape across Central Alabama. Three straight days of dry weather and plentiful sunshine are in the forecast starting Sunday. Temperatures will be nice in the mid-60s to lower 70s depending on the day of choice, while overnight lows fall into the 40s.
Yet another low pressure system and associated cold front will swing through next Wednesday and Wednesday night. This will bring another round of rain and some thunderstorms to the state.
This system, though, looks to feature more energy to support a higher risk of thunderstorms. Not only that, but there could be some strong to severe thunderstorms depending on how things evolve with this system as we get closer to midweek. This will be a forecast to keep a close eye on for sure!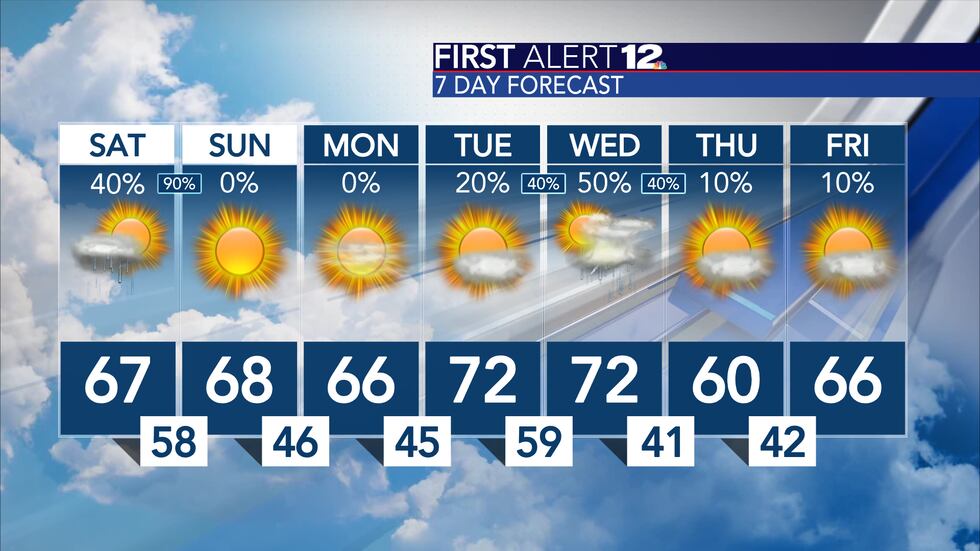 A shot of cooler air follows for the end of next week as the month of December gets underway. It doesn't look like anything ridiculous in terms of cold, but it will be colder next Thursday and Friday.
As always, remember to download the free WSFA 12 News First Alert Weather app. That way you can gain the latest weather information from the First Alert Weather Team wherever you go. Just search WSFA Weather in the Apple App Store or Google Play store today.
Not reading this story on the WSFA News App? Get news alerts FASTER and FREE in the Apple App Store and the Google Play Store!
Copyright 2022 WSFA. All rights reserved.