'Damage too significant to repair': Saturn 1B rocket to be removed from Ardmore Welcome Center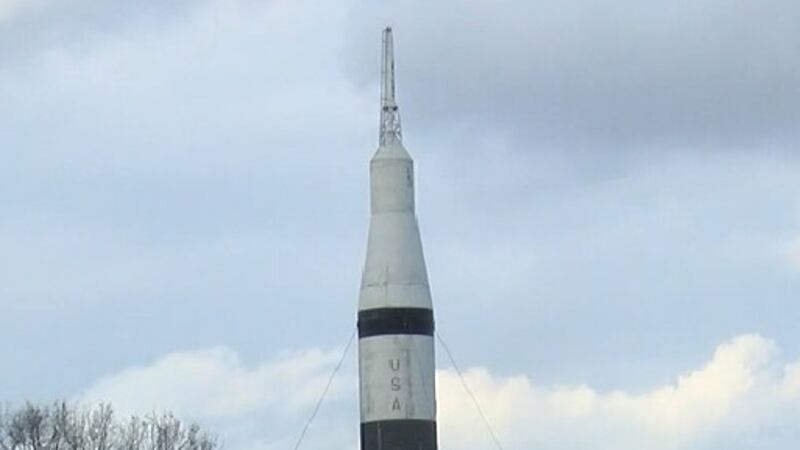 Published: Jan. 17, 2023 at 6:15 PM CST
|
Updated: Jan. 20, 2023 at 6:03 AM CST
ARDMORE, Ala. (WAFF) - The Saturn 1B Rocket will be removed in Ardmore.
A statement released by the Marshall Space Flight Center on Thursday said:
"NASA and Marshall Space Flight Center recognize the significant interest in NASA artifacts as a way to acknowledge and remember accomplishments in space exploration. NASA, with community partners, works to honor and preserve NASA's history to the maximum extent possible. The Saturn 1B located at the Ardmore Welcome Center in Elkmont, Alabama is on loan to the U.S. Space and Rocket Center and has been a beacon to travelers along I-65 for many years. This rocket was not built to withstand more than 40 years of continuous exposure to the elements of nature. The support structure has deteriorated over the years, the damage is too significant to repair, and could potentially pose a structural safety issue if left in place. In partnership with the state of Alabama and the U.S. Space & Rocket Center, we are supporting the safe removal of the Saturn 1B rocket and looking toward what may take its place in the future."
The rocket has graced the eyes of many traveling by the Ardmore Welcome Center for more than 40 years.
The U.S. Space and Rocket Center donated the rocket and since 1979 Saturn 1B has been on display. It is one of three vehicles in the Saturn group of rockets developed in Huntsville. The other two rockets are on display in Huntsville and at the Kennedy Space Center in Florida.
The welcome center has been closed since Nov. 28, 2022, and has plans of being rebuilt with demolition starting sometime this week. While the center is receiving a makeover, there have been questions about what there is to do with this historic rocket that towers over it.
"Unless you have been up close to the rocket, you are not aware that it is not in very good shape," Director of Alabama Tourism Department Lee Sentell said. "There has been some concerns about the safety of people around it."
There is an ongoing discussion with the Marshall Space Flight Center and U.S. Space and Rocket Center on if the rocket should be taken down and restored or if anything, what should be in its place.
"This rocket was never built to be outside for 40 to 50 years because rockets were built to be used one time. So the use of this rocket was never intended to last outside in the weather for more than 40 years," Sentell said. "That's a challenge right now to decide what should be done. Not doing anything is not the right answer."
Sentell explained that the destination of Saturn 1B is up to not only Alabamians but also people outside of the state. He is unsure if there is a timeline to make a decision but he feels as though it may be several years until a decision is made.
According to Sentell, in the 1980s he worked at the U.S. Space and Rocket Center and recalls the moments when the doors opened. He explained that he has been a huge fan of the rocket since Ed Buckbee, the founder of the U.S. Space and Rocket Center, suggested placing it at the Ardmore Welcome Center.
When it comes to opinions, Sentell believes that Huntsville is about the future and wants to see something that resembles that in place of the Saturn 1B rocket.
"When you look at all the people that are moving into the Huntsville area and all the new responsibilities that Marshall Space Flight Center and Redstone Arsenal have, I would like to see a symbol of the future," he said. "I just think it needs to be something dramatic and exciting, something that makes people think,' oh my gosh look at that. We have to stop and see what's going on with that.' So just like the Saturn 1B has done for 40-something years, I would like to see something just as exciting for the next 30-40 years."
Alabama House District 6 Representative Andy Whitt believes the rocket should stay where it is.
"To permanently remove the rocket from North Alabama would be similar to removing the Battleship Alabama from Mobile Bay," he said. "This is our state's welcome mat. We must find common ground and a path forward to ensure a rocket will continue to grace our skyline."
Construction for the new Ardmore Welcome Center is scheduled to begin in February.
Copyright 2023 WAFF. All rights reserved.