Tracking a cooler Friday and the return of rain this weekend
Periods of rain and few thunderstorms are in the forecast this weekend, with another bout of rain expected Tuesday into Wednesday.
Published: Jan. 19, 2023 at 4:49 AM CST
|
Updated: Jan. 19, 2023 at 7:29 PM CST
MONTGOMERY, Ala. (WSFA) - A few clouds will remain in the forecast tonight. Low temperatures will dip into the 30s and 40s with a northwest breeze.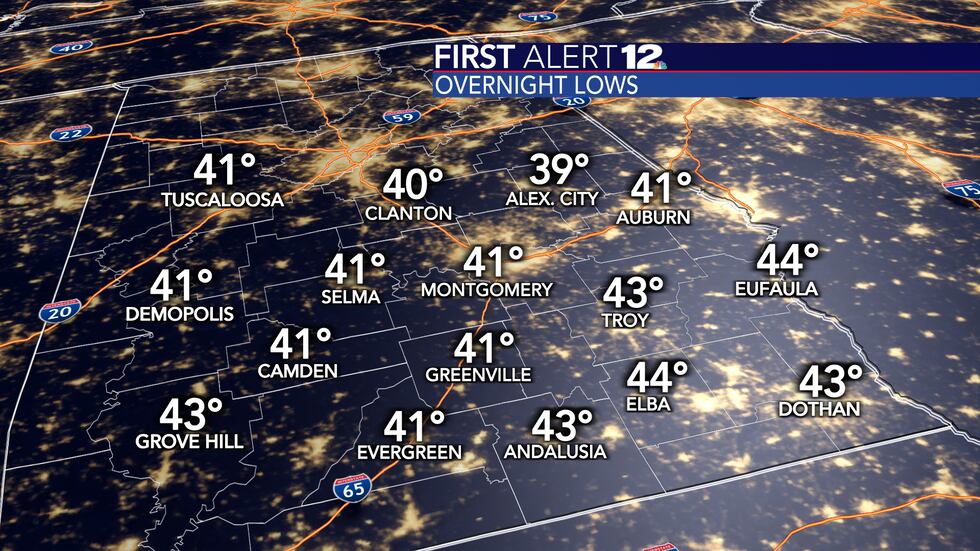 Friday will be dry and winds will be noticeable out of the northwest around 5 to 10 mph. Skies will be partly to mostly sunny and afternoon highs will only warm into the 50s and 60s area wide.
Clouds build across the area Friday night, with a passing shower possible. Low temperatures will hover in the 40s and winds will remain out of the north around 5 to 10 mph.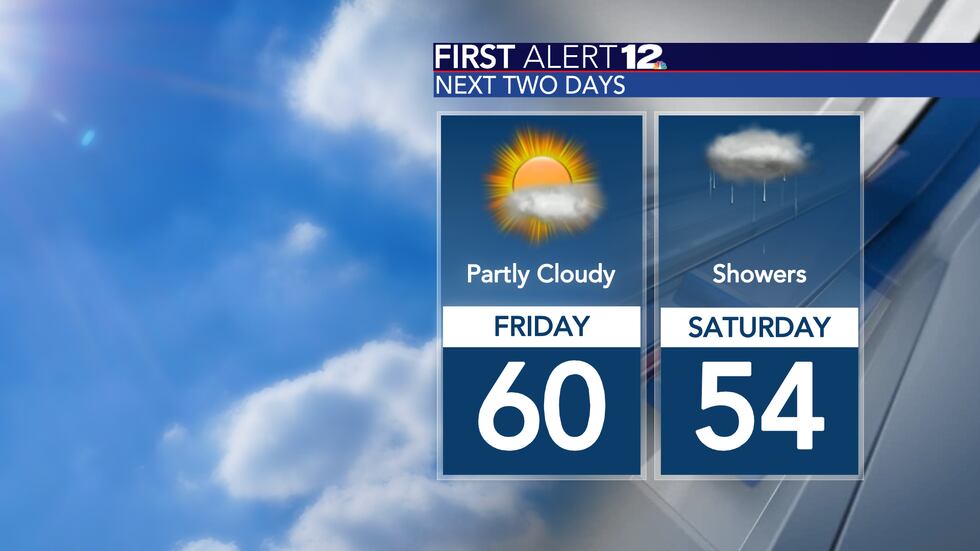 This weekend is looking a bit wet as we track a low pressure system that will pull gulf moisture into the area. Saturday features lots of clouds with widely scattered showers. Highs will hover in the 50s with north winds becoming east in the afternoon.
Rain and a few storms are in the forecast Saturday night into the morning hours on Sunday. Lows will hoover in the 40s and 50s under cloudy skies and east winds around 5 to 10 mph.
Scattered to isolated pockets of rain remain in the forecast for Sunday. Cloudy skies persist and high temperatures will be right around 60 degrees. A few leftover showers are possible Sunday night, but the bulk of the system will have exited the area. Cloudy skies remain Sunday night and lows will hover in the 30s and 40s.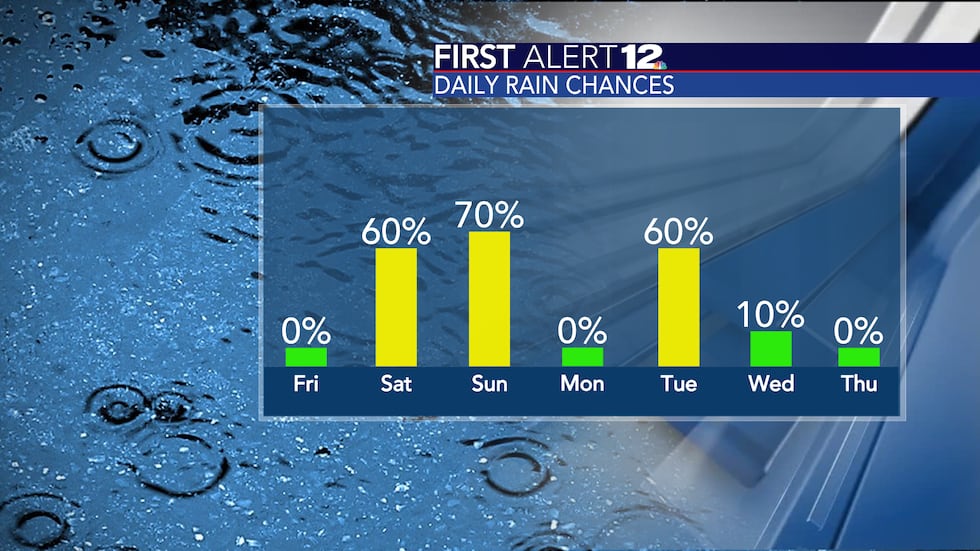 We are back to dry conditions for Monday. Sunshine and a few clouds are expected for the start of next week and afternoon highs will remain in the 50s and 60s. Calm conditions are in the forecast Monday night with lows in the 30s and 40s.
Our next system arrives in Alabama on Tuesday. Showers and a few storms are in the forecast as we progress into the afternoon and evening hours Tuesday. HIghs will hover around 60 degrees with lows in the 40s. Rain and a few storms remain in the forecast Tuesday night into the morning hours on Wednesday.
As of this typing, rain looks to exit by midday Wednesday and skies will begin to clear. Temperatures will lower into the lower 50s with Wednesday night lows dropping near freezing.
Thursday is looking dry with partly to mostly cloudy skies and afternoon highs in the 50s and 60s area wide.
As always, remember to download the free WSFA 12 News First Alert Weather app. That way you can gain the latest weather information from the First Alert Weather Team wherever you go. Just search WSFA Weather in the Apple App Store or Google Play store today.
Copyright 2023 WSFA. All rights reserved.