FEMA assistance extended to additional counties following tornado outbreak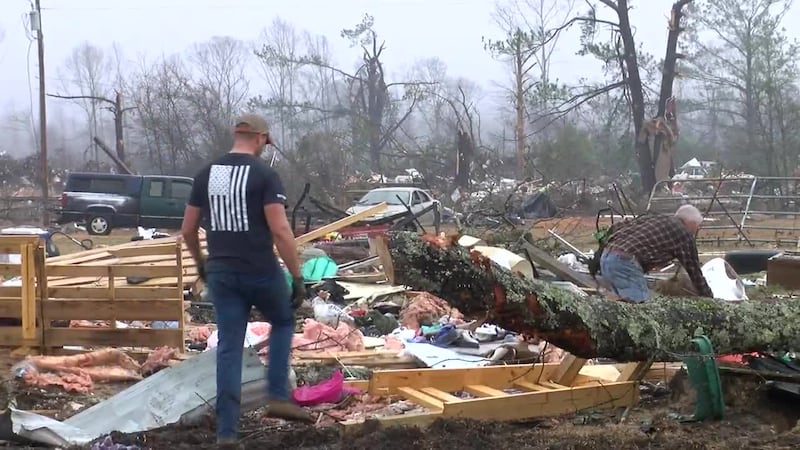 Published: Jan. 20, 2023 at 6:28 AM CST
MONTGOMERY, Ala. (WSFA) - Federal assistance is being extended to additional counties recently affected by the tornado outbreak.
According to Emergency Management Agency Director Ernie Baggott, FEMA assistance will be extended beyond Autauga and Dallas counties to include Elmore, Coosa and Hale.
Those in Coosa, Elmore and Hale counties can apply for FEMA Individual Assistance, which may include temporary housing assistance, basic home repairs and certain other uninsured disaster-related needs.
FEMA released the following information for survivors:
Survivors can apply for disaster assistance at disasterassistance.gov, by using the FEMA mobile app, or by calling 800-621-3362. The helpline is open, and help is available from 6 a.m. to 10 p.m. Central Time in most languages. If you use video relay service (VRS), captioned telephone service or others, give FEMA the number for that service.
When you apply for assistance, have the following information ready:
A current phone number where you can be contacted

Your address at the time of the disaster and the address where you are now staying

Your Social Security number

A general list of damage and losses

Banking information if you choose direct deposit

If insured, the policy number or the agent and/or the company name
Survivors may be eligible to receive assistance for uninsured and underinsured damage and losses resulting from the tornadoes. If you have homeowners, renters, or flood insurance, you should file a claim as soon as possible. FEMA cannot duplicate benefits for losses covered by insurance. If your policy does not cover all your disaster expenses, you may be eligible for federal assistance.
Take photos to document damage and begin cleanup and repairs to prevent further damage. Remember to keep receipts from all purchases related to the cleanup and repair.
Disaster assistance may include financial help with temporary lodging and home repairs, as well as other disaster-related expenses.
For an accessible video on how to apply for assistance, go to youtube.com/watch?v=WZGpWI2RCNw.
For information on Alabama's disaster recovery, visit fema.gov/disaster/4684. Follow FEMA on Twitter at FEMA Region 4 (@femaregion4) / Twitter and at facebook.com/fema.
MORE INFORMATION
There are multiple ways that you can help those affected by the Jan. 12 tornadoes.
Not reading this story on the WSFA News App? Get news alerts FASTER and FREE in the Apple App Store and the Google Play Store!
Copyright 2023 WSFA. All rights reserved.