Green comet to appear in night sky for first time in 50,000 years
Comet C/2022 E3 (ZTF) will be visible with binoculars or a telescope through early February
Published: Jan. 20, 2023 at 11:33 AM CST
|
Updated: Jan. 20, 2023 at 6:13 PM CST
MONTGOMERY, Ala. (WSFA) - For the first time in 50,000 years, Comet C/2022 E3 (ZTF) is zipping by the predawn night sky.
According to NASA, the comet will continue to do so for the next couple of weeks.
Want to get a chance to view it? The closest approach it makes to earth will be February 1st and 2nd, according to the astronomy website Earth Sky. The comet will be viewable at any point between now and then and just beyond, which will be a great opportunity to spot the icy space rock.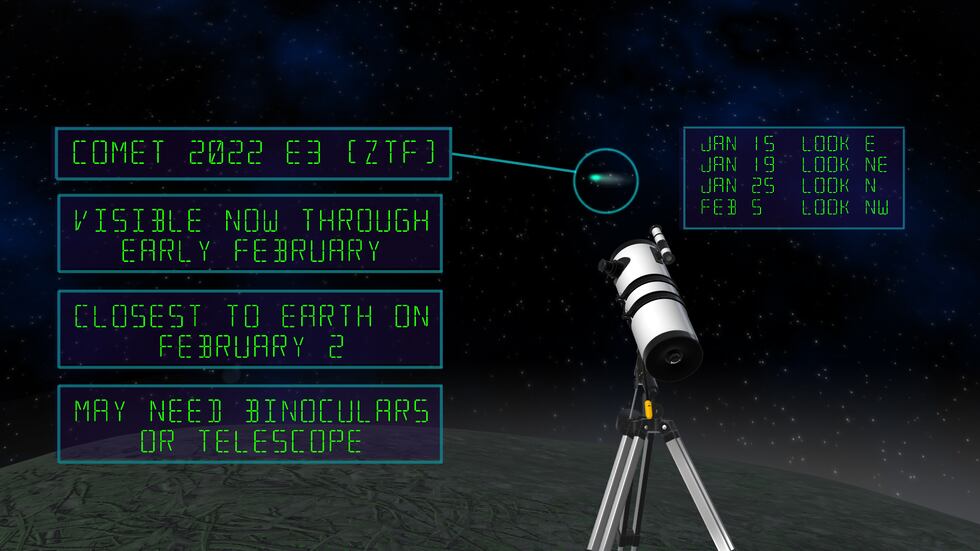 It will be greenish in color and will best be seen using binoculars or a telescope. While the brightness of comets is notoriously unpredictable, you could catch a glimpse of this greenish comet with the naked eye. But, you need to be in a very dark spot, have good eyesight and ensure the moon's light isn't too bright. Look for it near the bright star Polaris, also known as the North Star.
The comet should be visible through binoculars in the morning sky for sky-watchers in the Northern Hemisphere during most of January and those in the Southern Hemisphere in early February, NASA adds.
Not reading this story on the WSFA News App? Get news alerts FASTER and FREE in the Apple App Store and the Google Play Store!
Copyright 2023 WSFA. All rights reserved.