Electronic voter registration kiosks added to area Montgomery high schools
Published: Jan. 31, 2023 at 1:11 PM CST
|
Updated: Feb. 7, 2023 at 5:39 AM CST
MONTGOMERY, Ala. (WSFA) - The Montgomery County Probate office and Montgomery Public Schools are partnering to ensure students exercise their right to vote.
On Tuesday, Montgomery County Probate Judge JC Love introduced the second phase of implementing voter registration kiosks.
"As probate judge here in Montgomery County, my greatest responsibility is to ensure that every resident here in the county has the opportunity to cast their vote," Love said. "I also have a responsibility to ensure that any and every resident that wants to vote has the ability to vote."
Love said the probate office discovered during the 2020 election cycle several college students who thought they were registered to vote but, unfortunately, were not.
"When the board of registrars went back and investigated about why those students who believe they registered to vote were not on the voter rolls," Love said. "They learned that during the 2020 election cycle that many of these students had been encouraged to register to vote via groups that were advertising on various social media platforms, Facebook, Instagram, Snapchat TikTok. And unfortunately for them, those organizations did not transmit their information to the Secretary of State's office."
To continue to expand access, Love said the office of the probate began looking at an even younger generation of voters. The idea was born to put voter registration kiosks inside Montgomery high schools.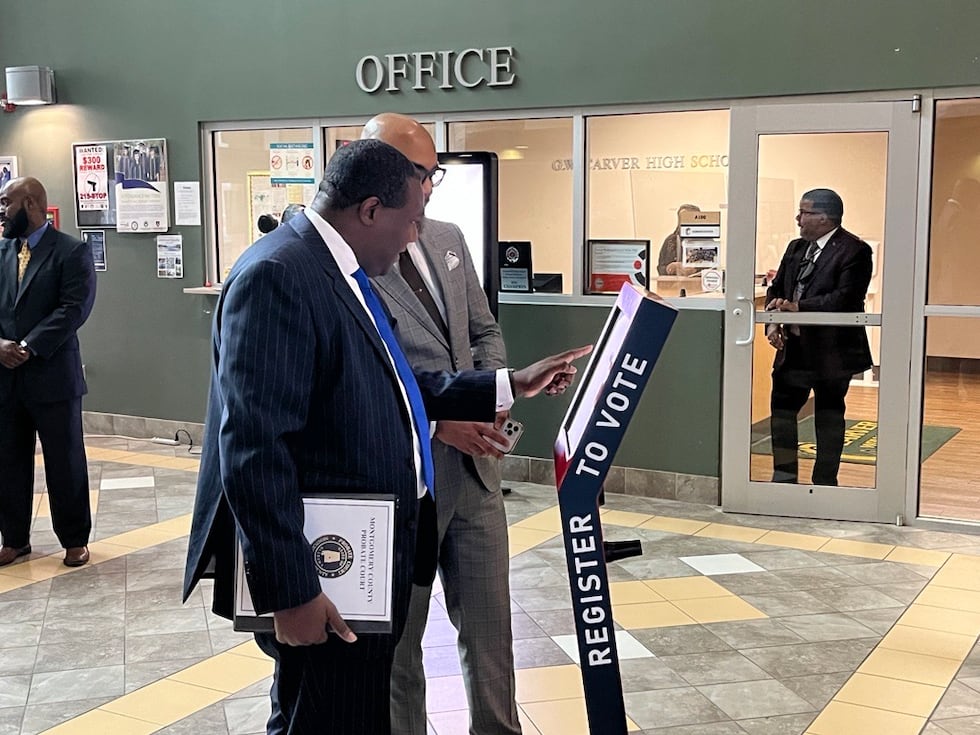 "The second phase, we wanted to put these kiosks at all of our local high schools to really try to capture those students who are about to graduate and come into the world," Love added.
One important aspect of the kiosk is its mobility. The only thing it requires is an electrical outlet that runs on a cellular service.
"One of the things that the schools can do is they can move it around, you know, to the cafeteria, if they wanted to do a voter registration drive there, or if the student government or cheerleaders or Spanish club, wanted to do a voter registration, right up before the basketball game, they can hold it down there," Love added.
Love said, as an elected official, he felt the need to make sure younger voters were engaged and understood the political process.
"We don't have a city if you all go ahead, graduate and leave," Love said. "The things you've seen in other cities that you want here in Montgomery, you need to go ahead and get behind and support those officials who are running for office that believe in those things."
Not reading this story on the WSFA News App? Get news alerts FASTER and FREE in the Apple App Store and the Google Play Store!
Copyright 2023 WSFA. All rights reserved.