Sen. Tuberville halts Defense Dept. nominations amid new Biden abortion policies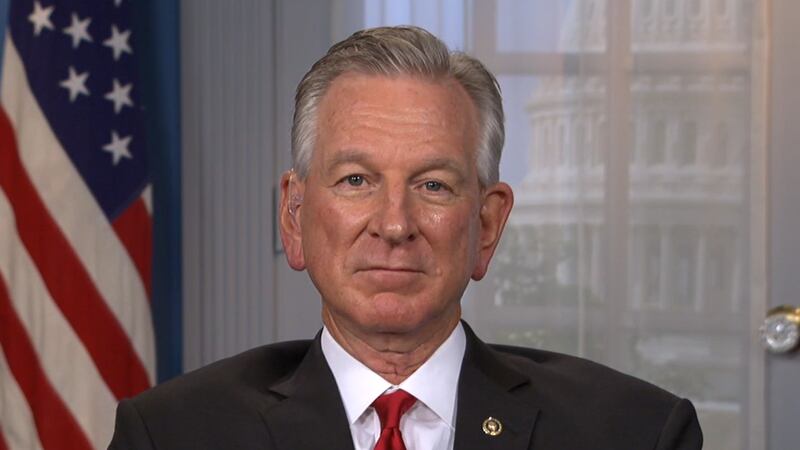 Published: Feb. 17, 2023 at 3:41 PM CST
WASHINGTON, (WSFA) - U.S. Sen. Tommy Tuberville, R-AL, says he's following through on a promise he made to halt Department of Defense nominations in the Senate should the Biden Administration implement policies related to "taxpayer-subsidized abortions for service members and dependents."
That happened Thursday, Tuberville said, when the Department of Defense officially released three new personnel policies, available to read here.
Tuberville contends the policies are violations of "both the letter and spirit of the law," and said the defense department's authority to fund abortions is spelled out in 10 U.S.C. 1093, which limits abortions at DoD facilities to cases in which there is either rape, incest or life-threatening risk to the mother.
"The Secretary of Defense is following through with his radical plan to facilitate thousands of abortions a year with taxpayer dollars. So, I will follow through with my plan to hold all Department of Defense (DoD) civilian, flag, and general officer nominations that come before the U.S. Senate," Tuberville said.
The DoD policies were crafted after the U.S. Supreme Court reversed the landmark abortion rights case Roe v. Wade in June, prompting a number of states to either end or severely limit a woman's access to an abortion procedure. The Biden Administration has since moved to find ways to secure abortion access across the country, including to those serving in the military.
The DoD's policies were laid out by the defense secretary in an October memo called "Ensuring Access to Reproductive Health Care," which the department said "reinforce the Secretary of Defense's commitment to taking care of our people, ensuring their health and well-being, and ensuring the Force remains ready and resilient."
The policies allow for reproductive health and abortion-specific administrative absences.
"As described, a dependent who lives in a state with abortion limits would be flown to another state with fewer restrictions to receive an abortion, adding to the cost and resource burden on the taxpayers and the military," Tuberville's office said.
The policies also provide for travel and transportation allowances for service members and their families should their duty station state prohibit abortion services and/or if reason for seeking an abortion is not covered by statute 10 U.S.C. 1093.
"Our Service members and their families do not control where they are stationed, and due to the nature of military service, are frequently required to travel or move to meet operational requirements," the DoD stated.
Tuberville's office said "DoD is attempting to skirt the law by paying for travel expenses and paid time off, but not the procedure itself," and noted that the senator "believes policy change is outside the department's authority, highly controversial, and will have a major impact on readiness and the department's budget."
The DoD disagrees, however.
"The efforts taken by the Department today will not only ensure that Service members and their families are afforded time and flexibility to make private health care decisions, but will also ensure Service members are able to access non-covered reproductive health care regardless of where they are stationed," the DoD wrote.
"As I've stated, if Secretary [Llyod] Austin wants to change law, he should go through Congress," Tuberville said. "This is an illegal expansion of DoD authority and a gross misuse of taxpayer dollars — and I will hold him accountable. The American people want a military focused on national defense, not facilitating a progressive political agenda."
Not reading this story on the WSFA News App? Get news alerts FASTER and FREE in the Apple App Store and the Google Play Store!
Copyright 2023 WSFA. All rights reserved.