A brief warm-up ahead of Friday's wet weather
St. Patrick's Day will be wet, then it turns cold once again
Published: Mar. 15, 2023 at 5:58 AM CDT
|
Updated: Mar. 15, 2023 at 8:03 PM CDT
MONTGOMERY, Ala. (WSFA) - Get ready for another cold night across Central and South Alabama. Skies will remain clear and lows will fall into the 30s with light winds. We will again see the chance for frost development the closer we move to sunrise in the morning.
The wind direction will shift Thursday, which means much warmer air is in store for the region. High temperatures will rise into the lower 70s, giving us the most seasonal and pleasant day we will see over the course of the next week.
Thursday's sunshine and pleasant weather will give way to a rainy and stormy day on Friday. As of this writing, it looks like wet day from start to finish for many locations with some breaks in the rain mixed in during our St. Patrick's Day.
Some heavy rain and a few strong thunderstorms will be possible given the ingredients that will be in place. A severe storm or two can't be ruled out, especially the farther south you are in the state. That risk is currently very low, but not zero. Something we will be tracking very closely through the reminder of the week.
After the rain ends Friday evening, we're in for another blast of unseasonably cold air through the weekend. Both Saturday and Sunday will bring a mix of sun and clouds with highs in the 50s and overnight lows back down in the 30s.
Additional frost and perhaps freeze concerns are looking possible both Saturday and Sunday nights, if the forecast continues to stay on track. So keep that cold weather gear handy!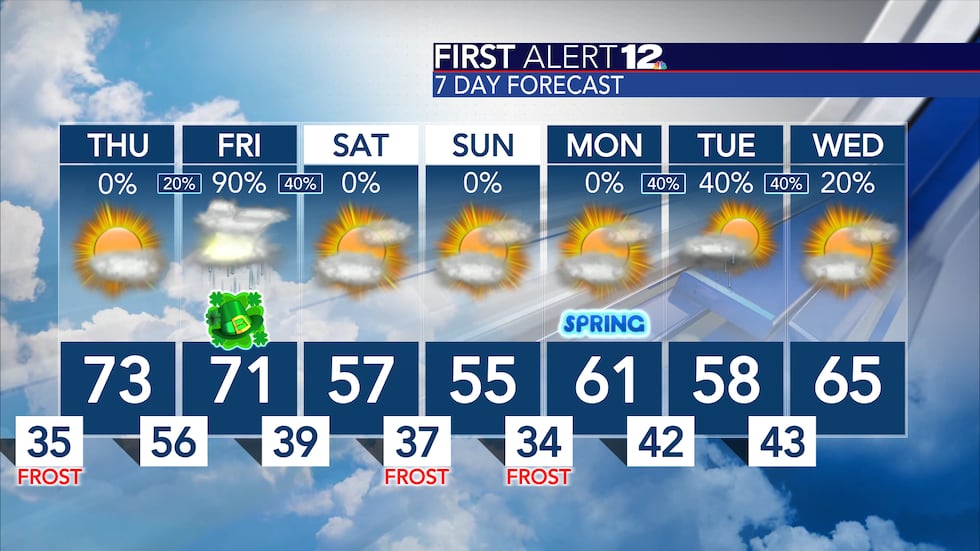 Fortunately, for those who prefer warmer weather, it does look like the second half of next week will bring warmer temperatures. Highs are expected to return to the 70s and overnight lows back in the 40s and 50s.
Before that warm-up we will again have the chance for more rain across Central and South Alabama. While that chance is not set in stone, as long-range forecast models disagree on how an early week system next week will come together. Just know, there is enough evidence to continue advertising a medium to low end, 30-40% chance of rain from Monday night through Tuesday night. This part of the forecast will certainly change so be sure to continue checking back for updates!
As always, remember to download the free WSFA 12 News First Alert Weather app. That way you can gain the latest weather information from the First Alert Weather Team wherever you go. Just search WSFA Weather in the Apple App Store or Google Play store today.
Copyright 2023 WSFA. All rights reserved.