NOAA releases its spring 2023 outlook
Alabama favored to see a warmer than normal April, May and June
Published: Mar. 23, 2023 at 7:42 AM CDT
MONTGOMERY, Ala. (WSFA) - It may seem hard to believe, but April is just one week away. That means it's the time of year once again when the National Oceanic and Atmospheric Administration (NOAA) releases its spring outlook.
It's a singular collective outlook valid for the months of April, May and June. It includes maps that break down precipitation, drought, flooding, and temperature projections.
According to the outlook, Alabama has a good chance of seeing above normal temperatures and near normal precipitation over the next three months. That does not mean every single day will be warmer than normal; it means April, May and June has a solid chance of ending warmer than normal as a collective whole.
There will definitely be some cooler than normal days in the mix. I'd just expect that the above normal days will outnumber the cooler days. The average high and low temperature in April, May and June looks like this:
April: 79°/53°

May: 86°/61°

June: 92°/69°
So look for plenty of days to resemble and exceed those values over the next three months here in Central Alabama!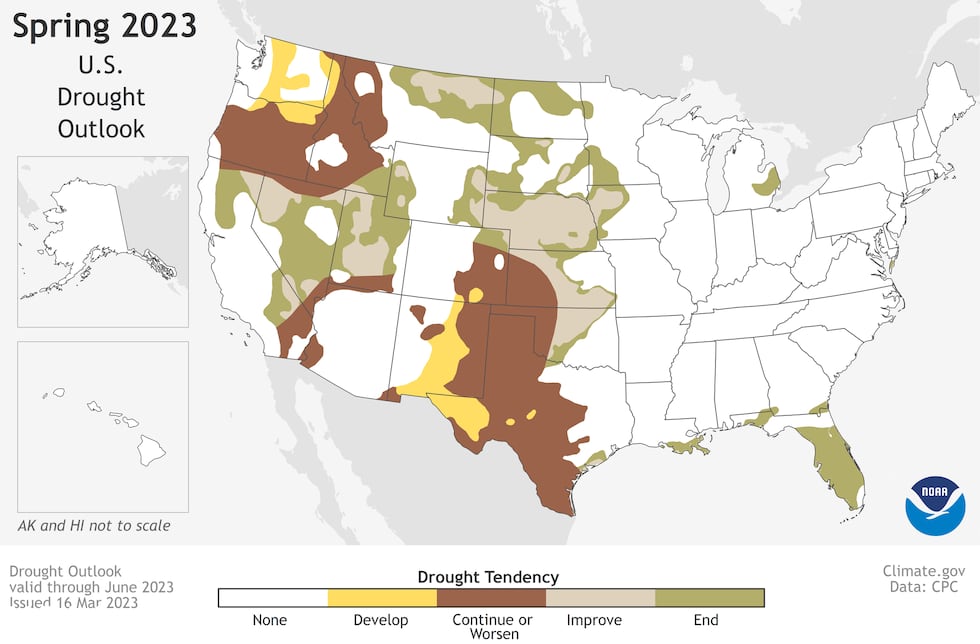 The pattern does not really point towards an overly wet or overly dry April, May and June at this time. For that reason much of Alabama has an "equal chance" of seeing either above normal or below normal rainfall between April 1st and June 30th.
In instances where the pattern doesn't favor either extreme we usually end up close to the climatological norm. For Montgomery, the typical amount of rainfall we see over the next three months looks like this:
April: 3.99″
May: 3.88″
June: 4.08″
I'd expect your classic periodic chances for rain and storms with cold fronts in April and early May. Those can, as we all know, lead to severe weather opportunities in the Deep South. That would then be followed up by on and off rain and storm chances in late May and June. This activity would probably come in the form of daily pop-up storms.
Even with this rainfall outlook, the chance of springtime flooding does exist. This is not unheard of in the Southeast this time of year. Any strong system that brings rain and thunderstorms this time of year can bring with it an attendant flood risk.
The spring flood risk potential for the entire state of Alabama is labeled as being "minor" according to NOAA. This outlook carries us through May 31st.
The good news is the precipitation outlook keeps us wet enough to rid the state of drought conditions. There is also no risk of drought development through the end of June for Alabama!
Not reading this story on the WSFA News App? Get news alerts FASTER and FREE in the Apple App Store and the Google Play Store!
Copyright 2023 WSFA. All rights reserved.