Rain and storms today, more rain into Tuesday
Low severe risk this morning, very low threat tonight into Tuesday
Published: Mar. 27, 2023 at 5:38 AM CDT
|
Updated: Mar. 27, 2023 at 4:13 PM CDT
MONTGOMERY, Ala. (WSFA) - After an active Sunday, today will be a little more on the tame side. There are still plenty of showers, downpours and thunderstorms out there this morning, and that will continue into the early afternoon. The trend for today will be for conditions to quiet down the later into the day we get; highs will end up in the middle and upper 70s with a little late day sunshine possible.
Here is some updated information on surveys the National Weather Service office from Birmingham is doing today:
Tonight will then start quiet before rain moves in closer to sunrise tomorrow. Those with the highest chance of getting wet tonight will be those in the southern half of the viewing area. This would mainly be south of U.S. 80, though the chance of rain isn't zero north of U.S. 80.
Rain will continue into Tuesday, with chances dwindling the later we get into the day. There will be some thunderstorms in the mix with this wave of rain, especially the farther south you go. However, the severe weather risk is very low as conditions will be cooler and much more on the stable side.
Dry, cool and nice weather returns briefly Wednesday ahead of another quick warming trend. Highs will be in the upper 60s with partly cloudy skies on Wednesday. Then we're in the middle to upper 70s Thursday and lower 80s Friday. There will be two cool nights well down in the 40s Tuesday night and Wednesday night if that's your jam.
Thursday and Friday will be dry. Plenty of sun will shine Thursday before clouds build heading into Friday. A cold front will sweep in late Friday night and Saturday, bringing with it a chance of showers and thunderstorms.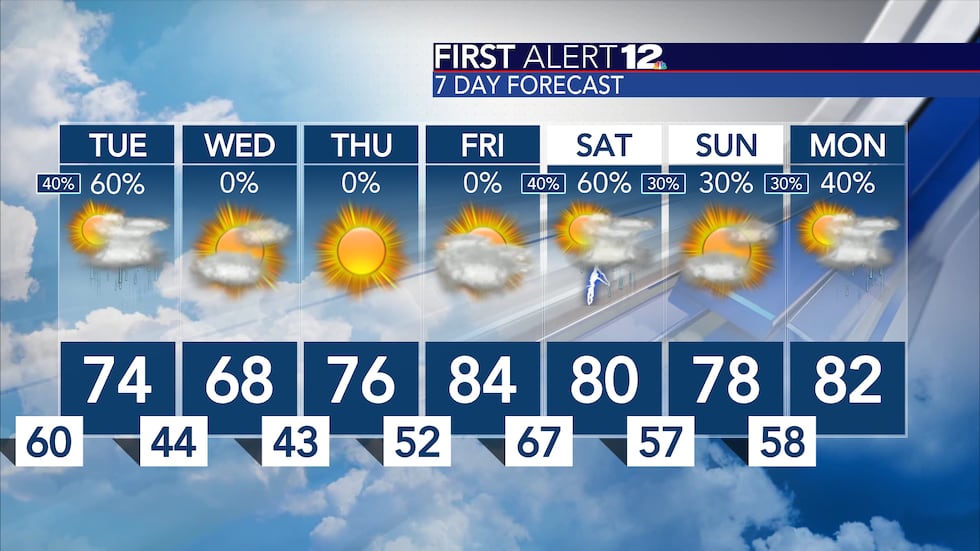 By the time it gets to Central Alabama it may not have much moisture left. Still, there will probably end up being at least some scattered shower and storm activity associated with it from Friday night through Saturday night.
A severe risk would exist if the storms maintain their intensity into Central Alabama. This is something we will have to watch closely throughout the week -- similar to the system we dealt with last Friday night into Saturday morning.
As always, remember to download the free WSFA 12 News First Alert Weather app. That way you can gain the latest weather information from the First Alert Weather Team wherever you go. Just search WSFA Weather in the Apple App Store or Google Play store today.
Copyright 2023 WSFA. All rights reserved.