Law passed by Gov. Kay Ivey for nursing homes statewide to receive funding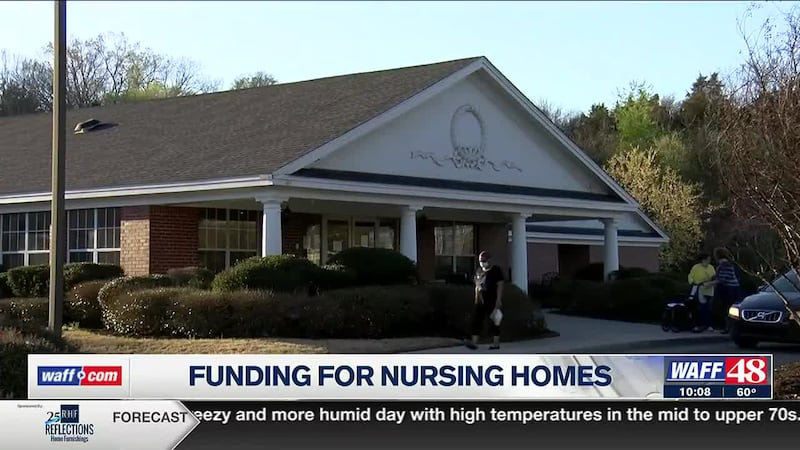 Published: Mar. 27, 2023 at 11:56 PM CDT
HUNTSVILLE, Ala. (WAFF) - Nursing homes across the state will soon be able to tap into extra funds geared toward providing relief.
$100 million will directly come from the American Rescue Plan that state lawmakers and the Governor recently approved.
Mike Dickinson, director of recruiting for NHS management believes the money could help some struggling facilities.
"Any little bit helps in this situation," said Dickinson, "We've seen a lot of nurses that have left the industry simply because they didn't want the exposure to COVID-19."
The money could be used for payroll, which would help combat another major issue nursing homes are facing, retention.
NHS Regional director for recruiting, Kacie Battles said nursing homes may lose staff members to stiff competition elsewhere.
"In North Alabama, there's a lot of other places to pull applicants there's just not a big pool," said Battles, "There are other places hiring as far as the hospitals and long-term care facilities."
Other uses for the money could be for medical equipment and general upkeep in facilities.
Dickinson said the company is still undecided on how it will use the funds, but he said keeping both staff and patients safe is a top priority.
"It all revolves around patient care, customer service, and what we can do to make the optimal patient experience for your loved one and the family at large," said Dickinson.
The framework of which facilities are eligible is still being worked out. After that, nursing homes will be able to request the funds.
Click Here to Subscribe on YouTube: Watch the latest WAFF 48 news, sports & weather videos on our YouTube channel!
Copyright 2023 WAFF. All rights reserved.