Officer Morin moved out of Surgical Intensive Care Unit following shooting
Published: Mar. 28, 2023 at 5:22 PM CDT
|
Updated: Apr. 8, 2023 at 4:55 PM CDT
HUNTSVILLE, Ala. (WAFF) - Huntsville Police Department officers and other law enforcement officials arrested a 24-year-old man who was involved in a shooting on March 28 that killed one Huntsville PD officer, left one officer in critical condition and injured a woman.
A spokesperson for the police department confirmed the two injured officers responded to a shots fired call in the 4600 block of Governors House Drive that injured a woman. The injured officers were taken to Huntsville Hospital with life-threatening injuries. The woman injured was also transported to Huntsville Hospital.
Alabama Attorney General Steve Marshall identified the fallen officer as officer Garrett Crumby, 36, and the officer in critical condition as officer Albert Morin, 34.
An official with the Huntsville Police Department said officer Morin is off the ventilator as of Tuesday morning. According to a spokesperson for the police department, Morin was up and walking Wednesday. Morin said he would like to do push-ups, sit-ups and to go for a run. He can't wait to get back to work, according to the spokesperson.
According to an official with the Huntsville Police Department, officer Morin was moved out of the Surgical Intensive Care Unit and into a private room Saturday as his recovery continues.
Officer Crumby joined HPD in 2020 after serving nearly seven years with the Tuscaloosa Police Department as a patrol and field training officer. He worked for HPD's West Precinct. Officials say Crumby aspired to become an HPD investigator with hopes of joining the department's Financial Crimes Unit.
In 2022, he joined the HPD Bike Unit and volunteered at local events, he was described by colleagues as someone who would do anything for people he loved and for anyone who needed help.
"Although Officer Crumby's tenure with HPD is young, his heart is big and drive is pure," one of his supervisors said in his most recent employee evaluation.
Funeral arrangements have been announced for Officer Crumby by HPD. The visitation and funeral will be at Mayfair Church of Christ, 1095 Carl T. Jones Drive. The visitation will take place on Sunday, April 2 from 3 p.m. to 6 p.m. and the funeral service will be on Monday, April 3 at 10:30 a.m.
The burial will be at Tuscaloosa Memorial Park on April 3 following the funeral service in Huntsville.
Officer Morin joined HPD in 2017 and is described by colleagues as someone who is dedicated to his duties a supervisor stated that Morin was the most productive officer on his squad in 2022.
"Officer Morin is a shining example to the public of the quality of service that is expected to come from the Huntsville Police Department," his supervisor said. "Officer Morin frequently responds to calls and helps junior officers in situations that are new to them."
Morin was named HPD's West Precinct Officer of the Year in 2019.
Condolences can be sent to Crumby's family and get-well cards can be sent to Morin c/o HPD P.O. Box 2085 Huntsville, AL 35804.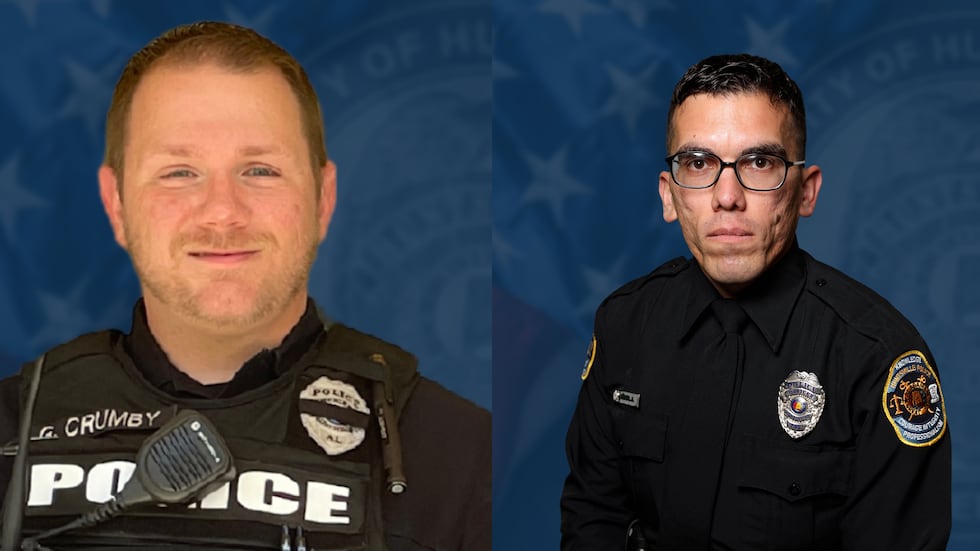 Officials confirmed Crumby succumbed to his injuries, and Morin underwent emergency surgery.
A police department spokesperson confirmed Juan Laws, 24, was taken into custody around 6:20 p.m. after barricading himself in an apartment. Laws was taken to the hospital with non-life-threatening injuries.
Laws allegedly shot both Huntsville PD officers and the female victim. Laws was charged with capital murder and booked in the Madison County Jail where he is being held without bond.
In January 2022, Laws was arrested and charged with assault after injuring two people near Goodyear on Clinton Ave. He was arrested again in March 2022 for carrying a pistol without a permit and was granted bond. He pleaded guilty to the charge on March 23.
"Our part of the country has been reminded again this week of the pure heroism of those who make up the thin blue line—the dividing line, at times, between life and death for the citizens that they swear an oath to protect. These two law enforcement officers responded to a domestic violence call this evening, knowing full well that they would be placing their lives on the line in defense of their fellow man. We must never take their service and sacrifice for granted," Attorney General Marshall's statement read.
Officer Crumby was transported by Madison County Coroner Dr. Tyler Berryhill to the Alabama Department of Forensic Sciences in Huntsville on Tuesday night. On Wednesday Berryhill announced that the autopsy was complete and it was confirmed that Crumby was killed as the result of gunshot injuries he sustained.
Officer Crumby was a three-year veteran with HPD and served for 8 years with the Tuscaloosa Police Department.
"This is a painful night for the City of Huntsville and for our police family," Mayor Tommy Battle said. "We are heartbroken. Words cannot express our loss. We have been overwhelmed by the show of love and support from our community, and we stand united with our police officers and their families in this tragic moment."
Huntsville Police Department officers transported officer Garrett Crumby to the Berryhill Funeral Home on Wednesday.
United States Senator Tommy Tuberville released a statement about the shooting:
"Last night, two law enforcement officers in Huntsville were shot in the line of duty. Tragically, one of those officers, Garrett Crumby, lost his life in service to his community. His partner on the scene, Robert Morin is in the hospital with critical injuries. I know people across Alabama will join me in praying for the families of these officers. This situation is a heartbreaking reminder of the dangers law enforcement officers face to keep us safe. We thank them for their bravery and pray for their safety today and every day."
Huntsville Police Department Chief Kirk Giles said the department is grieving for Crumby's family during this difficult time.
"This is a devastating loss for our department, the Huntsville community and the State of Alabama, HPD Chief Kirk Giles said. "We send our heartfelt condolences to the officer's family as they mourn their loved one who made the ultimate sacrifice. As we grieve with our fallen officer's family, we have another officer fighting for his life. Please keep all our officers and the entire department in your prayers."
Witnesses on the scene say they saw officers with tactical gear and rifles as well as heavily armored vehicles. Madison County Sheriff's Office deputies responded and assisted on the scene.
U.S. Representative Dale Strong released the following statement on Twitter:
"Two Huntsville police officers were shot in the line of duty tonight, an absolute tragedy. Details are limited at this time as a stand-off is ongoing, but I am following the situation closely. My prayers are with the officers and their families."
Governor Kay Ivey released the following statement on her Twitter page:
United States Attorney for the Northern District of Alabama, Prim Escalona, released a statement about the incident:
"My thoughts and prayers are with the family, friends, and fellow officers of Huntsville PD Officer Garrett Crumby who tragically lost his life in the line of duty. Officer Crumby bravely put his life on the line every day to protect the citizens of Huntsville, and his sacrifice will never be forgotten. My thoughts and prayers are also with Huntsville PD Officer Albert Morin who was wounded and is fighting for his life."
The Alabama Law Enforcement Agency (ALEA), released a statement regarding the shooting:
"Last night, Alabama lost yet another hero in blue and public servant who faithfully served our state and the city of Huntsville. Once again, our state and the law enforcement community will have to find a way to endure the heavy loss of Officer Crumby, who gave his life while fulfilling his sworn duty to protect the public ahead of his own personal safety.
On behalf of the Alabama Law Enforcement Agency, I would like to extend my deepest and sincerest condolences to Officer Crumby's family, his colleagues with the Huntsville Police Department and to all those who knew and loved him.
In addition to Officer Crumby's heroic sacrifice, our thoughts and prayers are also with his colleague, Officer Albert Morin, who was also struck by gunfire over the course of the incident. Officer Morin currently remains in the hospital in serious condition, but thankfully, is expected to survive.
While we join our fellow law enforcement partners and local first responders in mourning the loss of Officer Crumby, our Agency will continue to provide all available resources to assist the City of Huntsville and the Huntsville Police Department as they continue to grieve and cope with this heartbreaking situation."
Click Here to Subscribe on YouTube: Watch the latest WAFF 48 news, sports & weather videos on our YouTube channel!
Copyright 2023 WAFF. All rights reserved.