Phantom Vehicles: Putting your family in danger
InvestigateTV looked at how missing visual clues can lead to drivers forgetting their headlights or taillights — and not noticing
Published: Apr. 10, 2023 at 12:39 PM CDT
(InvestigateTV/Atlanta News First) - That driver in front of you with their headlights off probably doesn't know why you're flashing your high beams.
Or you could be the one driving without your lights on, with no visual cue that you're piloting a phantom vehicle.
InvestigateTV noticed a dangerous new trend: More and more vehicles on the road with their headlights or taillights off. We documented multiple examples just about every night.
But why is this happening and why now?
As auto manufacturers have developed high-tech gauge clusters and infotainment systems, they've set the dashboard lights to stay on day or night.
Before the dashboards went digital, analog gauges were illuminated only when the headlights were on. After sunset, a dark gauge cluster was glaringly obvious to drivers when they forgot to turn on their headlights.
The secondary cause is daytime running lamps. These were mandated decades ago by several countries — but not the U.S. — to improve visibility and reduce crashes during the day. Ironically, they may be leading to more collisions at night because the taillights do not turn on unless the full headlights are activated.
Drivers sometimes believe their headlights are on because the daytime running lamps light the roadway and their gauges are illuminated, but other drivers can't see the phantom vehicles from behind.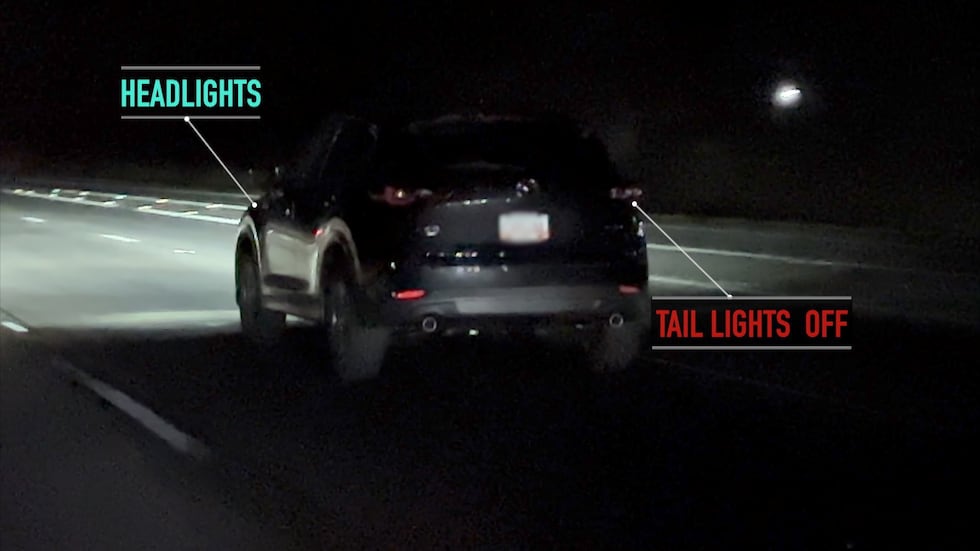 Night crashes are more common
About half of all car crashes occur at night, even though there are three times more vehicles on the road during daylight hours, according to the National Highway Traffic Safety Administration.
The most common crash at any time of day is a rear-end collision, accounting for about one out of every three accidents according to NHTSA.
While the primary cause of crashes can be attributed to speeding, alcohol use or distracted driving, the most important factor in avoiding a crash at night is visibility. That's why phantom vehicles are more than just a nuisance.
Canada to the rescue
The national governments behind daytime running lamps are in northern areas that experience many more hours of darkness in the winter (Canada, Norway, etc.).
Canada also noticed the always-on dashboard problem. A new regulation requires that all new cars sold in Canada after September 2021 must have one of the following safety features:
Taillights that come on automatically with daytime running lights

Headlights, taillights and side marker lights that turn on automatically in the dark by default regardless of switch position

A dashboard that stays dark to alert the driver to turn on the lights
Many new cars currently sold in the United States were designed to meet the tougher Canadian standards. Most already had auto headlights that turn on when darkness is detected, but the new models go a step further.
New Ford vehicles have a headlight dial that allows the driver to manually operate the headlights, but it switches back to auto the next time the car is started.
New General Motors vehicles have a spring-loaded dial that won't allow the headlights to stay in the off position. Once the car is restarted, the lights will default back to auto.
Atlanta-based Porsche North America developed its own always-on headlight system seven years ago starting with the 2017 Panamera. It's now installed on every new model that has an always-on gauge cluster.
"Most of our vehicles have technology where the headlights are automatically on as a default when you start up the vehicle," said Porsche's Frank Wiesmann.
Porsche gave InvestigateTV a demonstration on its track just off the runways of Hartsfield Jackson Atlanta International Airport. Wiesmann turned off the headlights while the all-electric 2023 Porsche Taycan GTS was parked.
"But as soon as you move off again, or above six miles per hour, headlights and tail lights come back on," Wiesmann said as he pushed the accelerator and the lights came back on automatically.
The Porsche system is designed to turn on the headlights and tail lights after dark — even if the switch is off — once the car hits six miles per hour or travels about 330 feet. The owner cannot deactivate the system. It lets you turn off the headlights only when stopped.
"And then if you wanted to turn them off while you're driving, you can't," Porsche's Wiesmann added.
Coming soon to a car near you
Some new cars for sale now still have the old manual headlight switch that can be left in the off position without defaulting back to auto.
With the new Canadian regulations, it will be easier — and cheaper — for manufacturers to build to the most-stringent requirements in North America rather than building a model for the United States and another one for Canada.
In the meantime, the average car on our roads is getting older. During the pandemic-fueled supply chain crisis, more drivers turned to the used car market and that led others to fix up their old cars rather than buy new.
As a result, the average car on U.S. highways today is more than 12 years old, which means most cars don't have auto headlights set by default, but they do have daytime running lamps and always-on gauge clusters. That combination can convince some drivers that their lights are on when they're really off.
It will take another decade for the nation's fleet of cars to have the new safety features.
Protect yourself
There are some simple steps you can take to make sure others can see you on the road at night.
Make sure your headlights are set to auto if your car has that feature

Get to know your car's dashboard symbols. Look for the headlight indicator

If the car behind you is flashing its lights — and you're not driving slowly in the passing lane — the driver may be trying to tell you your tail lights are off
Copyright 2023 Gray Media Group, Inc. All rights reserved.