Alabama Legislature to play charity softball game for tornado victims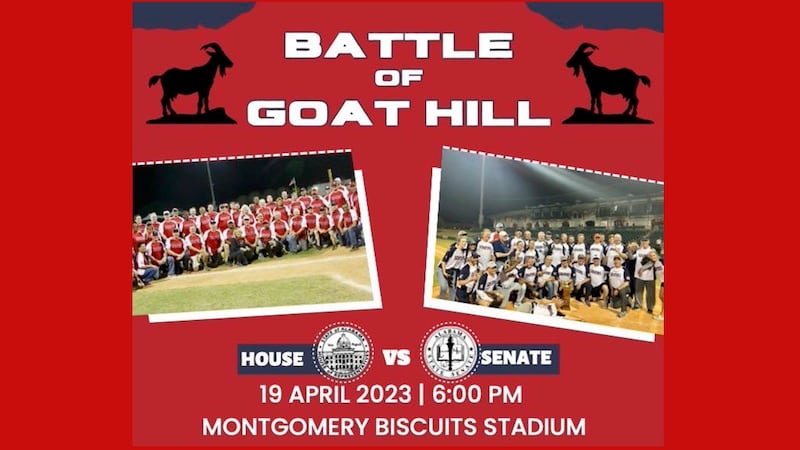 Published: Apr. 13, 2023 at 7:05 PM CDT
MONTGOMERY, Ala. (WSFA) - The Alabama House of Representatives and State Senate have announced that they will play the "Battle of Goat Hill," a charity softball game for tornado victims throughout the state's Black Belt Region.
This game is in partnership with the Montgomery Biscuits and is scheduled to take place at Riverwalk Stadium in Montgomery on April 19.
Admission will be $10 per person. All proceeds will be donated to the Black Belt Community Foundation's recovery efforts for victims of tornadoes that struck Dallas, Greene, Hale, Marengo, Perry, and Sumter counties in January.
The game will be the fourth time in recent history that the two chambers have competed in softball, with the House winning twice in 2000 and 2008 and the Senate winning twice in 2009 and 2022.
House Majority Leader Scott Stadthagen, who organized the softball games in 2022 and 2023, said the event gives legislators from both parties and chambers a chance to bond while also helping Alabamians who have suffered significant losses.
"The legislative charity softball game allows lawmakers to set aside our partisan differences, come together in friendly rivalry with the opposing chamber, and raise money for a deserving cause," Stadthagen said. "The competition between the House and Senate is surprisingly intense, and I know that all of the state representatives from both sides of the aisle are determined to bring the trophy back to the fifth floor of the Alabama State House, where it belongs."
Montgomery Biscuits General Manager Mike Murphy expressed excitement that Riverwalk Stadium will once again host the charity event.
"The core values of the Biscuits are to have fun, be different, and be impactful with everything that we do," Murphy said. "This event exemplifies each of those values and makes a huge impact across our state."
Not reading this story on the WSFA News App? Get news alerts FASTER and FREE in the Apple App Store and the Google Play Store!
Copyright 2023 WSFA. All rights reserved.