First Alert: Tracking cool nights & comfortable afternoons, to start the week
High pressure keeps rain chances away through Thursday, with temperatures rising back into the middle to upper 80s by mid-to-late week.
Published: Apr. 15, 2023 at 4:12 PM CDT
|
Updated: Apr. 16, 2023 at 8:30 PM CDT
MONTGOMERY, Ala. (WSFA) - Tonight skies will be mostly clear across the region. Lows will dip into the 40s with northwest winds around 5 to 10 mph. That means it will be a crisp start to the day Monday.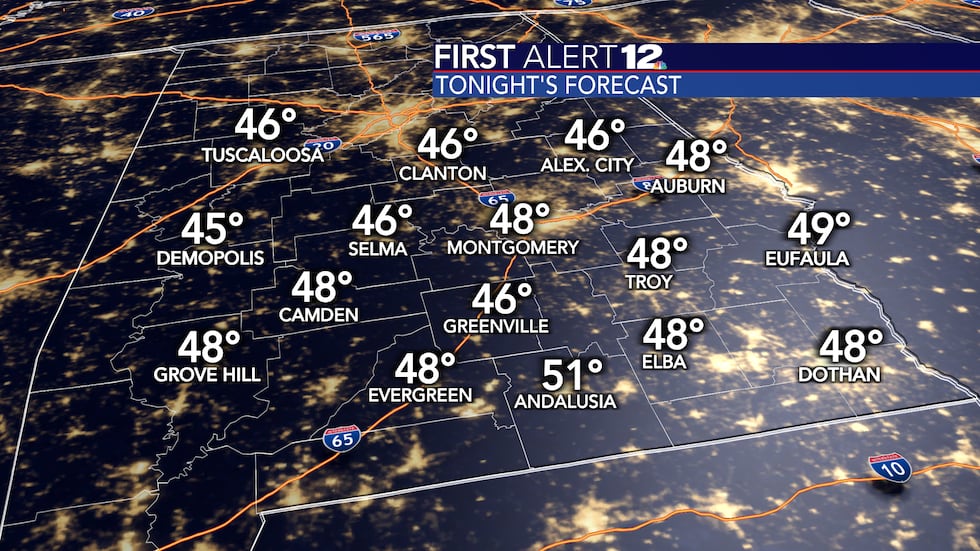 After a cool morning, temperatures on Monday will only warm into the middle to lower 70s, even under mostly sunny skies. Winds will remain out of the west around 5 to 10 mph through the day and into the night. Lows will again dip into the 40s, giving us another cool start to the day on Tuesday.
By Tuesday afternoon, high temperatures are back around 80 degrees with mostly sunny skies. Winds will shift to the southwest, helping aid in the warmer temperatures Tuesday and the big warm up expected for the remainder of the week. Lows Tuesday night are back into the 50s under clear and calm conditions.
The dry and quiet conditions continue Wednesday and Thursday. Afternoon highs will soar mid-to-late week, back into the middle to upper 80s region wide. A weak disturbance will push across Alabama Wednesday night into Thursday, that will bring a few extra clouds to the forecast, but no rain is expected. Lows will hover in the 50s both Wednesday and Thursday nights.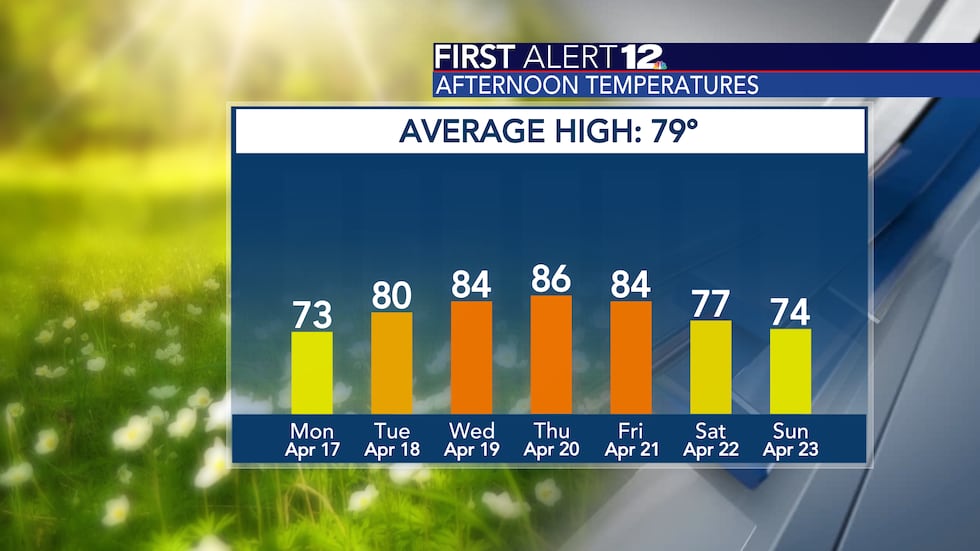 Rain chances are back into the forecast for the end of the week and the weekend ahead. We are giving you a FIRST ALERT, as a cold front is expected to swing into the state Friday going into Saturday.
Showers and thunderstorms are expected along this front that will increase rain chances on Friday, lingering through Friday night and into the day on Saturday. There is also some indication that another quick moving disturbance will increase rain chances on Sunday as well.
We are still a bit too far out for exact timing and impacts with this late week cold front, just know the First Alert Weather team will continue to track and update the forecast this week, with the latest information on the Friday into Saturday rain/storm chance.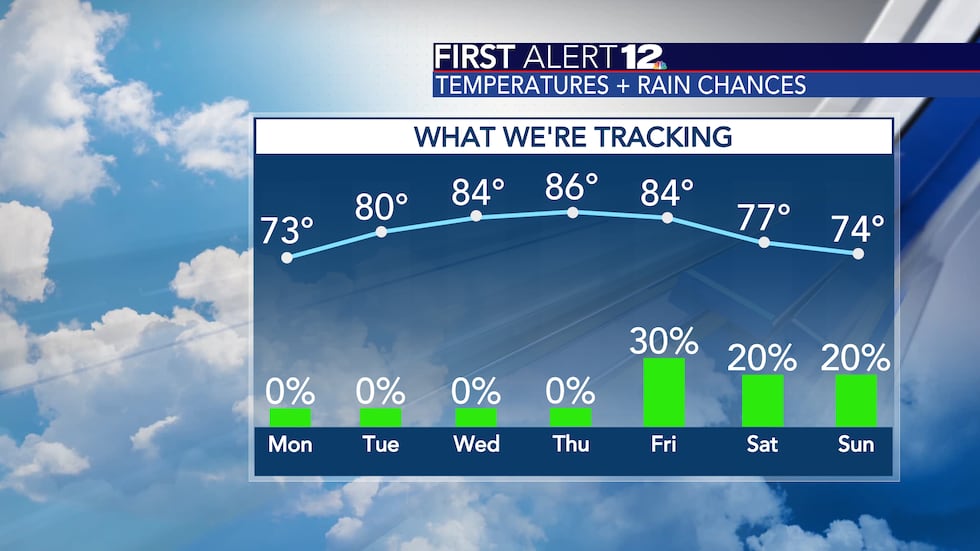 As always, remember to download the free WSFA 12 News First Alert Weather app. That way you can gain the latest weather information from the First Alert Weather Team wherever you go. Just search WSFA Weather in the Apple App Store or Google Play store today.
Copyright 2023 WSFA. All rights reserved.